North-South MedTech Summit to feature healthcare and technology speakers across the UK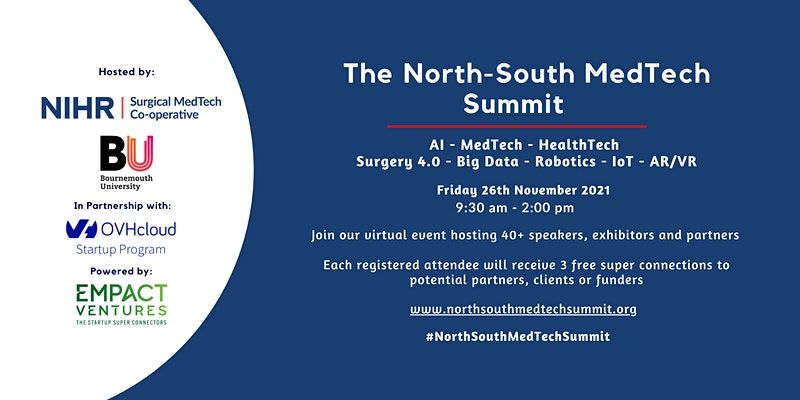 A new virtual MedTech summit will welcome SMEs, innovators, academics and clinicians to explore new collaborations together.
The North-South MedTech Summit is led by the NIHR Surgical MedTech Co-operative and Bournemouth University in partnership with the OVHcloud Startup Program and powered by Empact Ventures.
The free-of-charge virtual event will take place on Friday 26th November 2021 to create new discussions, insights and collaborations from the UK MedTech ecosystem and beyond.
The North-South MedTech Summit follows on from the Virtual Northern MedTech Summit in January 2021, and the Market Access for MedTech Course powered by the NIHR Surgical MedTech Co-operative, Empact Ventures and other partners.
The upcoming summit is supported by HealthTech World and the Leeds Academic Health Partnership (LAHP) who will join 40+ speakers across 8 roundtables featuring Innovate UK, IQ Capital, the Yorkshire and Humber Academic Health Science Network, the University of Sheffield Advanced Manufacturing Research Centre (AMRC), the University of Leeds, Brandon Medical Co and more.
The summit will also feature a Startup & Scale-up Showcase of MedTech Startups and Scale-ups across the UK, Ireland and Europe selected by the NIHR Surgical MedTech Co-operative from the Super Connect for Good 2021 Competition.
These will include QV Bioelectronics in Manchester, CanSense in Swansea, UNEEG Medical UK and Medisieve in London, iLof (Intelligent Lab on Fiber) in Oxford, Miwendo Solutions in Barcelona, VirtuLeap in Lisbon, Happyr Health in Cambridge and RemmedVR in Warsaw.
There will also be a MedTech Exhibition to connect over video with support organisations including the NIHR Surgical MedTech Co-operative, OVHcloud Startup Program, Leeds Academic Health Partnership (LAHP) and BSI Group with other MedTech SMEs like Be Nosy and Miicare in London, DiabTrend in Budapest and others.
There will also be an opportunity for attendees to take part in one-to-one video speed networking with other attendees. In addition, for those that opt-in, the Empact Ventures team will facilitate 3 free super connections to potential partners, clients or funders.
Vee Mapunde, Programme Director of the National Institute for Health Research Surgical MedTech Co-operative, commented: "As part of our research programme grant, the NIHR Surgical MedTech Co-operative hosts a National Meeting annually which is an opportunity for delegates to network and create new multidisciplinary collaborations and secondly to stimulate the development of innovative ideas to address challenges in surgery. This year we will be co-hosting this event with Bournemouth University as the North-South MedTech Summit to showcase and stimulate MedTech collaborations between our two organisations, supported by Empact Ventures and OVHcloud. We are really looking forward to some stimulating discussions that will hopefully lead to fruitful collaborations for the use of big data/robotics/internet of things/AR/VR to drive the next surgical revolution also known as Surgery 4.0."
Ian Jones, Head of External Engagement at Bournemouth University commented "We're delighted to be involved in supporting this conference. At BU, we're committed to helping people live better for longer, through the research we conduct, to the courses we teach and our industry partnerships and are looking forward to engaging with the latest industry technology which may support our future work"
Philip Marais, UK-Northern Europe Lead of the OVHcloud Startup Program "We are very pleased to be a partner of the North-South Medtech Summit. It is exciting to see the level of innovation in HealthTech and MedTech in the UK. This event will certainly bring together key players from the MedTech ecosystem and also create opportunities for those attending. Don't miss it!"
Kosta Mavroulakis, Founder & CEO of Empact Ventures & Super Connect for Good, added: "We are delighted to be introducing our third MedTech initiative of 2021 following the success of our previous two with the NIHR Surgical MedTech Co-operative. We look forward to bringing together a local to an international audience from across the MedTech ecosystem to share insights and explore collaborations that will benefit society in years to come".
To learn more and register, please visit https://empact.ventures/north-south-medtech-summit/
READ MORE:
About NIHR Surgical MedTech Co-operative
The NIHR Surgical MedTech Co-operative supports the development of medical technologies in the fields of colorectal, vascular and hepatopancreaticobiliary (liver, gall bladder and pancreas) surgery to improve healthcare and quality of life for patients. We are hosted by the Leeds Teaching Hospitals, the second biggest healthcare provider in the UK, working closely with the University of Leeds, a leading UK University with strengths in biomedical research.
There are important challenges that cut across General Surgery. "Safer Surgery" is a priority area of national (UK National Patient Safety Agency) and international (WHO Safer Surgery Saves Lives) importance. 30% – 50% of patients undergoing major abdominal surgery suffer a complication, inflating the cost of care by ~6-fold and causing long-term physical, psychological, and financial consequences. Surgical site infection and anti-microbial resistance are high on the national agenda, and there is a real need to improve outcomes for the most vulnerable patients undergoing emergency surgery.
One of the most significant advances in surgical practice has been the introduction of minimally invasive therapies (laparoscopic and endoluminal), with benefits for patients in terms of quicker recovery, and healthcare providers in terms of efficiency savings. Although there is no shortage of surgical innovation, few devices make it into clinical practice; only 9.8% of surgical innovations are translated to first-in-man studies, with ~1% being widely adopted. Early clinical involvement has been identified as the biggest obstacle to successful translation. By working with our key stakeholders, the NIHR Surgical MIC will address many of the important unmet surgical needs and provide the expertise and resource needed to translate new technologies into patient benefit.
For more information, visit https://surgicalmic.nihr.ac.uk/
About Bournemouth University
Bournemouth University has more than 19,000 students and is ranked as one of the top 100 young universities in the world. It also features the Institute of Medical Imaging and Visualisation (IMIV) to support high-quality research and education in the fields of medical imaging and medical visualisation including a state-of-the-art Siemens 3T MRI Scanner.
For more information, visit www.bournemouth.ac.uk
About OVHcloud Startup Program
OVHcloud is a leading European cloud hyperscaler and has been a cloud and infrastructure provider for over 20 years, with more than 1.5 million customers worldwide served by 32 global water-cooled data centres. The OVHcloud Startup Program is a global program that has been running since 2015 and has received 7000 applications of which more than 2000 have been assisted with cloud credits and solution architecture support. It provides tech startups with €10,000 of cloud hosting credits and up to €100,000 for scale-ups, enabling them to facilitate exponential and international growth.
For more information, visit https://startup.ovhcloud.com/en-gb/
About Empact Ventures
Empact Ventures are global super connectors who co-design initiatives, scout for world-class innovation for larger organisations and funders and open the right doors at the right time for tech startups and scale-ups.
We bring people together based on mutual need and interest in a personalised and facilitated way to support you in creating strong relationships and partnerships. We work with both people and organisations in the private, public and third sector to understand their needs, interests and challenges. We then bring them together with those that can address these areas through our initiatives, projects and ventures.
Our co-designed initiatives include the Super Connect Series, Super Connect for Good Competition, Virtual Northern MedTech Summit, Market Access for MedTech, StartUp Britain and more.
For more news from Top Business Tech, don't forget to subscribe to our daily bulletin!