Founders Feature: Darren Winterford, founder of EdApp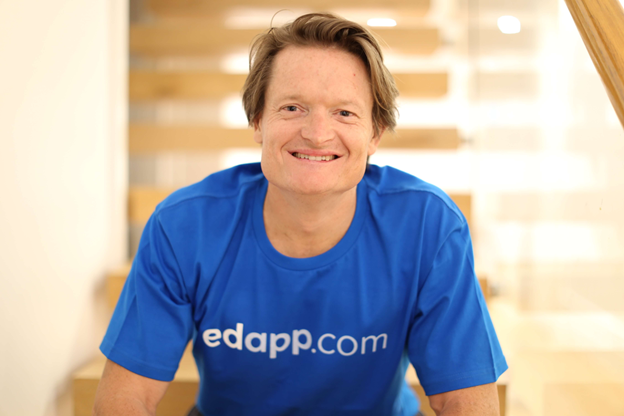 In our latest Feature, we catch up with Darren Winterford, the CEO founder of EdApp, the Mobile Learning Management System (LMS) solution.
Could you tell us a little about yourself, and how you came to found your company?
I grew up, and am still based in Australia, in a beach town called Manly, near central Sydney. My career started in marketing for FMCG brands both here in Australia and across the UK.
In the late 2000s, I founded a digital agency that specialised in building mobile apps for large brands, taking advantage of the opportunity that appeared after the iPhone was introduced. It was while working with the team here that we saw an opportunity to build EdApp. We were able to understand the software needs of many businesses from a broad perspective, and it became apparent that workplace training experiences needed serious improvement, it was an obvious opportunity.
We pivoted to solely building EdApp in 2017 and today we support approximately 50,000 lessons per day across 90+ countries. It's been an incredible journey.
---
What does your company specialise in?
There are still far too many cases where workplace training or learning programs are happening in white-walled rooms, walking through a 50-page PowerPoint presentation. This is particularly true for frontline workers in deskless industries like hospitality, retail and construction. We created EdApp as the modern alternative to tedious workplace training.
At the heart of EdApp is the mobile learners' app, where anyone can take training in an easy-to-digest microlearning format in less than five minutes. We brought our experience building beautiful mobile applications from the agency and applied it to our learner's experience to create an engaging way to train teams.
Training managers can import courses from EdAppp's library, add company branding and edit them to be relevant to their needs. Courses can also be built from scratch with our template-driven course creator for completely custom content.
We don't just support internal teams; we've seen some amazing use cases where leading brands like Princess Yachts use EdApp to train a global network of sales and service partners to deliver a consistent experience.
---
What metrics are you using to measure the success of your business?
We're completely focused on one number to measure the success of our business right now, and that's users. We want to get EdApp in the hands of as many users as possible, from businesses of all sizes; all the way from a small café owner, right through to some of our biggest customers like Colgate, Deloitte and Shell.
Of course, we still have financial goals to be mindful of as we grow, but we've got great confidence in the product and believe that strong usage will translate into a financially sustainable business as well.
For understanding team engagement, we use an EdApp feature called Rapid Refresh, which is our quiz maker within the platform. It's used as a knowledge check where we can understand if the key messages we're communicating at our all-hands and stand-ups are really sinking it. It gives us fantastic real-time feedback to understand the best way to communicate with the team.
---
Could you tell us a little about your daily routine? (Including morning and evening routine, and hours of sleep)
The day always starts with some exercise. I'm so lucky to live in a part of the world where I can enjoy a bike, swim or run in the morning with some amazing views. Afterwards, it's usually straight into calls with our US team before they sign off for the day.
On days when I'm heading to the office, I take the ferry to work with a coffee and might take a call, or just chat with some of the others heading in (some of our best customers have been won on that ferry). Then it's into a busy day, usually spending time with our marketing, product and engineering teams to understand how we can continue to innovate our product and get it in the hands of potential users.
I'll try to head home on time to spend some of the evenings with my wife and daughters around dinner, before checking in with the UK team in their morning. It can be a big day, but I genuinely enjoy every moment of it. 
---
What is your favourite aspect of your company?
It has to be the opportunity to work with such an incredible group of people. The team at EdApp is a young, diverse and passionate group that is always innovating. They're constantly challenging me, and each other, to build an amazing product that we can all be proud of.
I also really love some of the amazing partnerships that I get to contribute to, like working with the UN to create our Educate All initiative, or creating a global summit with the likes of Arsène Wenger!
---
Do you have any mentors that you would like to mention, who have supported you in your journey?
I was lucky enough to meet Luke Anear, the CEO and Founder of SafetyCulture in 2017. He has been a fantastic mentor to help expand the business over the last 4 years. It's been inspirational to watch him take SafetyCulture through hyper-growth from 30 to 500+ employees, alongside helping thousands of businesses to return to work safely during the pandemic.
I constantly learn from the way Luke leads and that's by looking further into the future than anyone else, while still driving ongoing business growth. We've developed a fantastic relationship over the years which led to SafetyCulture contributing to our early funding rounds and followed this up with the full acquisition of the business in 2020. I'm still learning so much from Luke and now we're proud to contribute to the amazing SafetyCulture growth story and its operations platform.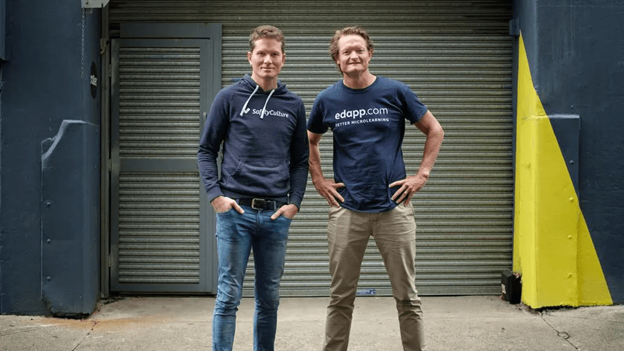 ---
What advice would you give to other innovators?
Don't keep your ideas and your growth ambitions to yourself. One of the reasons that we see so much great innovation coming out of California is that they share openly and they aren't afraid to ask for help. There is so much evidence of people helping each other out, just for the sake of helping each other out. I find I often speak to other innovators who are keeping their cards close to their chest. One of the best ways to grow your business is to rely on the help of others, take them on a journey with you.
We've noticed this trend of openness shifting to our customers with more companies sharing training content publicly via our course library which was once considered IP. It's been even more noticeable over the last 18 months, where I think everyone is happy to share content if it helps us all overcome a challenging situation. I'm incredibly proud to see the platform being used in this way.
---
What is the largest challenge you think we will see in the way the world learns at work over the next 12 months?
Lack of travel limiting face to face learning will be a huge challenge for many businesses who haven't pivoted fast enough to digital-based training. I think we will see more industries forced to permanently move away from face to face training and become more reliant on digital tools to survive.
We've had a rewarding experience working with luxury retail brands over the past year, who have been forced to find new ways to trade, but also to keep their teams engaged through a challenging period. Creating a consistent luxury retail experience used to be reliant on teams flying around the world to ensure the right experience was delivered every time. Over the last 12 months, we've worked extensively with Dunhill and Monica Vinader on that exact challenge, whether it's their stores  in Paris, Shanghai or LA. Being able to deliver a consistent training experience from their London headquarters is vital.
---
READ MORE:
---
What's on the horizon for your company?
We want to be the largest mobile training platform in the world. We're incredibly proud to have created a product that truly revolutionises how we learn and are trained at work, but we still continue to hear about terrible training experiences that people have at work.
Worse still, is those who don't have access to the right resources to do their work correctly. As our next step to solve this challenge, we recently launched Trade-In Your Training where anyone can submit their training in any format for free, and we'll make it mobile accessible for anyone with a mobile device.
For more news from Top Business Tech, don't forget to subscribe to our daily bulletin!