Smart City Britain: What will London look like in 2050?

A smart city is more than just access to fast internet. As London becomes a tech epicentre, it will embrace futuristic infrastructure in the next 30 years.
London is one of the fastest-growing cities in the West. A hub for technological and cultural advancement in the UK, the city is unlike any other in the country. With over 300 languages spoken in the city and over 17 million tourists visiting the capital every year, it's perhaps no surprise that there are petitions for its independence as a city-state.

Generally, technology finds its feet in London first before being rolled out to the rest of the country. Amazon Go's flagship store is set to open on Oxford Street and 500,000 brick-sized mobile masts on lamp-posts and public buildings are set to turn London into the best city in Europe for picking up 5G.
London is getting smarter. When the term "smart city" is mentioned, you may think of IoT traffic lights that turn green for emergency vehicles or sensors that take note of the air quality. "Smart city" is a broad term though. It's not reserved for the most futuristic advancements of a town: we've already seen smart city developments in smaller spots like Milton Keynes and Southampton.
By 2050, London's population could rise to 13 million citizens. There is a fear that the city's climate could be comparable to levels currently in Barcelona. "The Smoke" could be set for big changes and will adapt to keep up with them. Buildings tend to have a 30-year lifespan: it's entirely feasible that much of London's infrastructure will look unrecognisable to how it does today.
London is already investing in smart city projects
"The challenge we face and why there needs to be a formula for success is that people are rushing to cities," says Chris Johnson, Nokia's Senior Vice President for Global Enterprise. "Infrastructures are under pressure and the smartness of cities needs to accelerate and quickly."
It comes as no surprise that there is a voracious appetite for smart city projects in London. The city is a base for 240,000 jobs across 46,000 tech companies: it's guessed that the industry as a whole is worth a staggering $44bn. It makes sense that London already has a lot of data ready to be used for the benefit of the city.
The London Datastore is a collection of 700 datasets open for anyone to access that can help to address urban challenges and improve public services. With housing, demography, air quality data and much more, it becomes clear from the information collected where and how to approach projects. A relevant case is London's network of air quality monitors, which is larger than any other city's in the world. With the data that this network collects, London can forecast emissions and look to reduce them accordingly.
---
TFL's infrastructure is already set up for RFID, a technology that many smart cities of the future could rely on heavily.
---
Another example that could be considered smart city technology is one that many Londoners and tourists alike have probably used on the Underground. Transport For London's Oyster technology has been in use for years but the ability to tap in and out of stations with contactless payment is lightyears ahead of many world cities. With wearables and IoT devices for making payments developing year on year, TFL's infrastructure is already set up for radio-frequency identification (RFID), a technology that many smart cities of the future could rely on heavily.
This is just one case of where London's "smartification" process has already started. One of the areas of the city set for the biggest development is in Queen Elizabeth Olympic Park, the site of the 2012 Olympic Games. Seven years on from an Olympic project focused on legacy, the community in Stratford is now what the government describe as a "test-bed" for smart data and sustainability.
Over £100m has been invested in a district energy system that includes data infrastructure through smart meters, with a data platform that publishes data on air quality and energy being built, too. In 2017, TRL was granted over £13m in Connected and Autonomous Vehicle (CAV) funding for a Smart Mobility Living Lab to test the technology and 5G connectivity infrastructure.
How dramatically will London change?
London has changed a fair amount since 1990. The likes of Canary Wharf and the London Eye have been added to the skyline and the population has rocketed by a third.
The capital could see even more dramatic growth in the next 30 years. This kind of evolution doesn't happen to an urban area in isolation though; London is one of thousands of towns and cities in the world that is embracing technology. IoT and AI are revolutionising the world but it's perhaps in London that Britain will see the results first.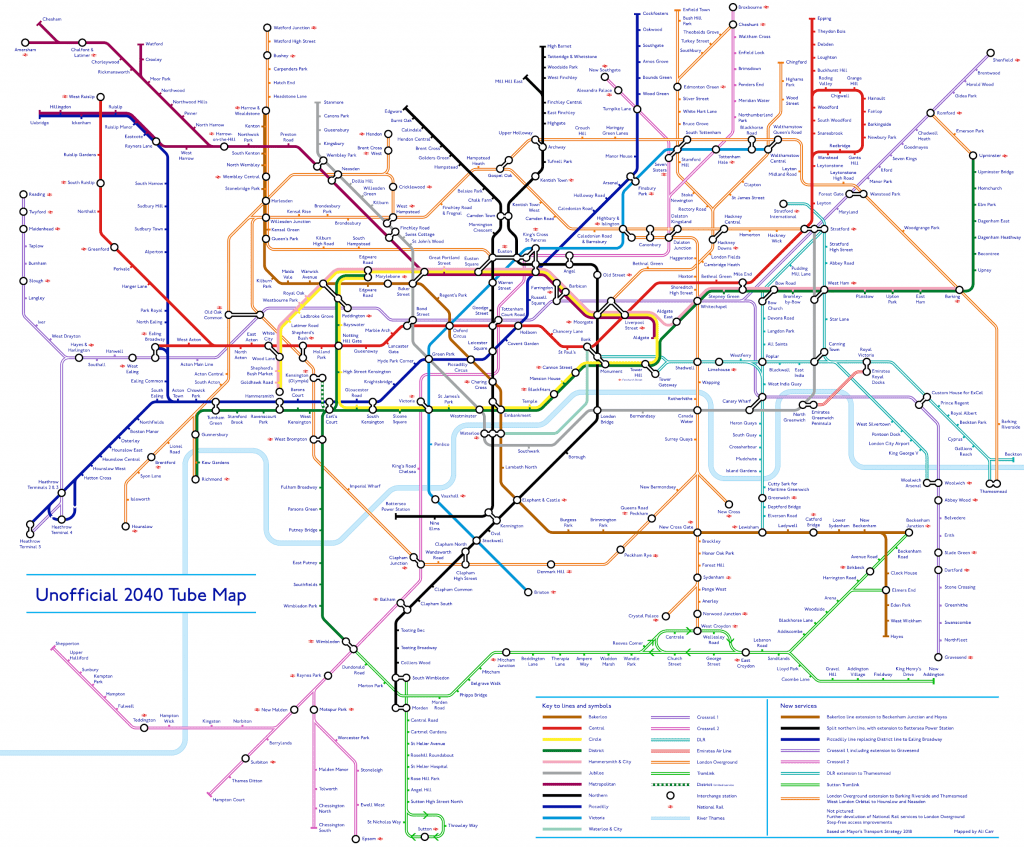 It's a possibility that the internet may be free in big cities in 2050. Just about everything will run from online, as IoT becomes omnipresent. Driverless cars will no doubt become the only kind on the road but the Underground will embrace driverless vehicles too. With drone advancements, it's likely that Londoners could rely on drones not just for deliveries, but taxis, emergency services and more.
London's green spaces may become vital in the evolution of technology too. Generating electricity from photosynthesis is a genuine possibility of the future: could we see Regent's Park, for example, providing energy to nearby buildings? At the very least, IoT devices of the future – the smartphone should be obsolete by 2030 at the latest – could be powered by nature.
If IoT is omnipresent by 2050, AI could be omniscient. Buildings themselves could be artificially intelligent rather than the devices that we currently fill them with, making decisions on how to regulate temperature, air and much more. The most rudimentary blocks of flats built in London in the thirty years could be capable of things reserved for state-of-the-art smart houses of 2019. We could end up 3D-printing property rather than building it, too.
It's more a case of when rather than if, when it comes to how technologically advanced London will become.
Should projections of ideas such as residential communities or farms being housed in giant skyscrapers come true, it seems likely that London will be the first place in the UK to receive a taste of it. Factoring in potential advancements such as the sentience of AI and enhancing human beings with implants, our way of life could look unrecognisable in thirty years' time.
A city adapts to its people. London has grown, modernised, evolving culturally and sprawling out its tentacles to the surrounding areas, bringing in outer communities to its web. Over the next decades, the capital will adapt to ideas instead, as sustainability and efficiency begin to shape Britain as a whole.
As the heart of the nation, London could well become one of the most exciting places in the West over the next few decades.