The plan to deliver affordable and clean technology by 2030

Prime Minister Boris Johnson launches an international plan to deliver affordable and clean technology everywhere by 2030 at COP26.
At the UN climate conference COP26, the UK Prime Minister launched an international plan to deliver clean and affordable technology by 2030. Over 40 world leaders, including the US, India, EU, China and various developing countries, have supported and signed the new Breakthrough Agenda. Modelled on the UK's landmark Net Zero Strategy, the Breakthrough Agenda will see countries and businesses coordinate and strengthen their climate action each year to dramatically scale and speed up the development and deployment of clean technologies and drive down costs this decade.
The aim is to make clean technologies the most affordable, accessible and attractive choice for all globally in each of the most polluting sectors by 2030, particularly supporting the developing world to access the innovation and tools needed to transition to net zero.
To start off, Prime Minister Boris Johnson has set out five main goals that will collectively cover over 50% of global emissions. These goals include
Power
Clean power is the most affordable and reliable option for all countries to meet their power needs efficiently by 2030.
Road Transport
Zero-emission vehicles are the new normal and accessible, affordable, and sustainable in all regions by 2030.
Steel
Near-zero emission steel is the preferred choice in global markets, with efficient use and near-zero emission steel production established and growing in every region by 2030.
Hydrogen
Affordable renewable and low carbon hydrogen is globally available by 2030.
Agriculture
Climate-resilient, sustainable agriculture is the most attractive and widely adopted option for farmers everywhere by 2030
The plan will see countries and businesses work closely through a range of leading international initiatives to accelerate innovation and scale-up green industries. Delivering the first five breakthroughs could create 20 million new jobs globally and add over US$16trn across emerging and advanced economies.
This comes as the PM hosts world leaders on the second day of the COP26 World Leaders Summit at a clean innovation and technology session.
Download our COP26 Sustainability E-Mag here: https://tbtech.cowhite-papers/the-clock-is-ticking-cop26-exclusive-tbtech-e-mag/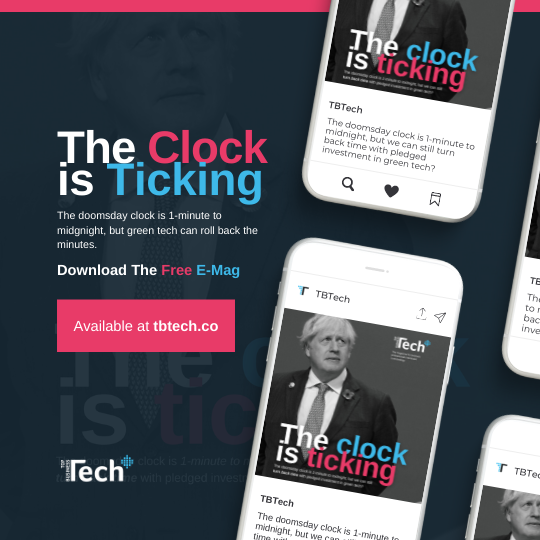 READ MORE:
Read more about the Breakthrough Agenda and how they plan to achieve a net zero.
The above information has been sourced from the Prime Minister's Office, 10 Downing Street and The Rt Hon Boris Johnson MP.
For more news from Top Business Tech, don't forget to subscribe to our daily bulletin!