Empact & Hays' Super Connect for Good contest is back!

Hays and Empact Ventures have teamed up to bring us Super Connect for Good, 2021 edition, and true to its name, it's going to be a good one.
Hays and Empact Ventures, which have been working together since March 2018, have collaborated once more to launch Super Connect for Good, the event that seeks to connect tech startups and scaleups with Corporates, SMEs, funders and the public sector. By bringing this melting pot of talent from across the industry together, Super Connect for Good will create invaluable opportunities for collaboration.
Alongside Hays Technology and Empact Ventures, the competition will be supported by partners including NatWest, Siemens Mobility, Microsoft for Start-ups, OVHcloud Start-up Program, FinTech Scotland, Leeds Teaching Hospitals NHS Trust, Seedrs, RTC North, Royal Agricultural University, Linkilaw Solicitors, NIHR Surgical MedTech Co-operative, Dublin BIC, Boardroom Advisors, Top Business Tech and HealthTech World.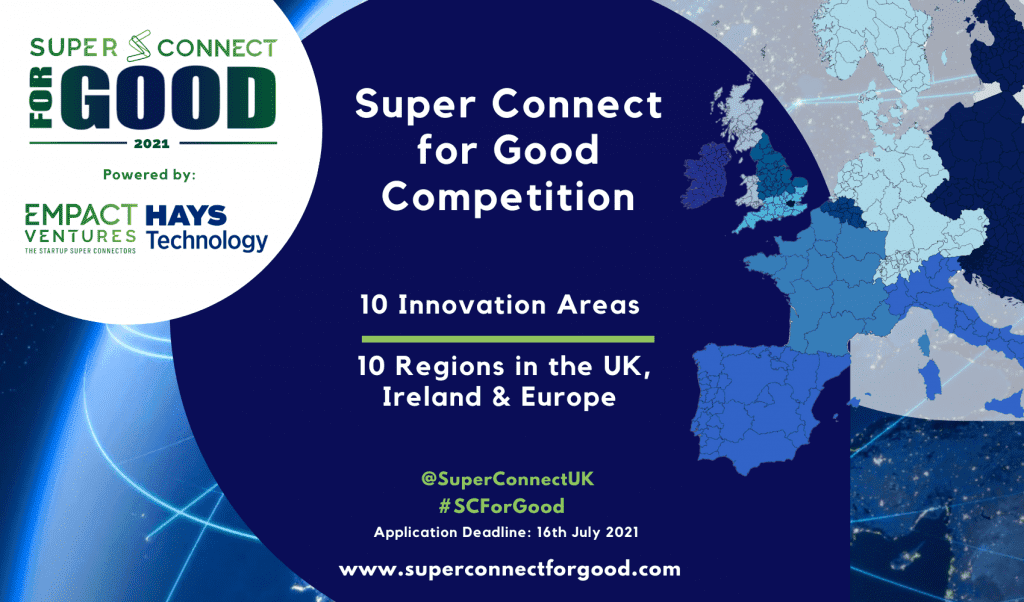 The competition
The competition will occur across five regions in the UK and Ireland, and five areas across Europe, with applications judged by over 30 judges, including regional experts, entrepreneurs, funders, and professionals. The UK regions divide into North (North East, North West and Midlands), South (South East, South West, East England), London, Island of Ireland (covering Northern Ireland and the Republic of Ireland) and a joint region of Scotland and Wales. The five areas across Europe include D-A-C-H and Nordic countries, France, BeNeLuX, Southern Europe and Centre and Eastern Europe.
Last year's inaugural competition was a hit, with hundreds of individuals from across 24 countries attending the digital event and over 40 seed-stage tech startups placing as victors in the competition. This year, there will be 21 winners, including an overall winner, 10 regional winners, and 10 innovation stream winners within the themes of AI for Good, edtech, healthtech, medtech, smart cities, fintech for good, cleantech and general tech Pre-Seed and Industry Challenge.
"Following the success of last year's competition, we are looking forward to again uncovering startups and scaleups across the country and highlight the social change and difference to people's lives they make," said James Hallahan, Director, Hays Technology UK and Ireland. "Not only do we endeavour to showcase the work of these organisations, through the various prizes on offer, we will be able to provide exceptional support and networking opportunities to help these organisations accelerate to the next stage of their growth."
Who is eligible to participate
The competition is open to tech startups at the seed stage and scaleups at Series A-B, with the Pre-Seed Challenge launched this year dedicated to early-stage startups in partnership with Microsoft for startups. In addition, a new industry challenge has been established with Siemens Mobility to improve public safety through innovations that support transport infrastructure.
The next step
The Top 100 Innovation Applicants will be invited to pitch at the Top 100 Innovation Showcase event on 30 September 2021. The top 10 in each innovation stream will go head-to-head to place in the Top 10 Tech for Good innovations in Europe announced at the Virtual Final. In parallel, the regional judges will review all applications to decide which 10 Regional Winners will pitch at the Virtual Final on 18 November 2021 to go head-to-head to become the Super Connect for Good 2021 Overall Champion.
Kosta Mavroulakis, Founder & CEO of Empact Ventures, said: "We are honoured to be working on this high impact initiative with Hays once again after the success of the last year's competition which really demonstrated how tech startups and scaleups are changing people's lives in every area from education to healthcare and public services. In 2021, we are excited to be expanding the reach, opportunities and super connections to a wider variety of tech startups and scaleups including those in CleanTech, those at the pre-seed stage and based outside of the UK and Ireland across Europe."
Luke Conrad, Digital Editor here at Top Business Tech, echoed the sentiments: "It's fantastic to be a part of another competition with Hays. Following on from a tough year, we're excited to see how startups and scaleups across the board have adapted and evolved to transform peoples lives today following what has been an unprecedented year. We at Top Business Tech look forward to discovering inspiring entrepreneurship stories from a diverse array of ambitious and growing businesses. As an official partner to the event, we look forward to awarding PR opportunities as prizes to help drive this recognition."
Joe Allen, Director at Top Business Tech's parent company, Belu Media, said: "Belu Media is excited to attend Super Connect For Good and discover stories from cutting-edge scaleups, while also supporting them in a marketing capacity to deliver national and international lead generation campaigns."
READ MORE:
To apply to the competition, please submit your application here by 11pm on 16th July 2021 or to attend the virtual events please register here. For enquiries, please contact [email protected]
About Hays
Hays is a leading global professional recruiting group. The Group is the expert at recruiting qualified, professional and skilled people worldwide, being the market leader in the UK and Australia and one of the market leaders in Continental Europe, Latin America and Asia. The Group operates across the private and public sectors, dealing in permanent positions, contract roles and temporary assignments. As of 31 December 2020, the Group employed c. 10,000 staff, operating from 257 offices in 33 countries across 20 specialisms. For the year ended 30 June 2020:
– Hays reported net fees of £996.2mn and operating profit (pre-exceptional items) of £135.0mn.
– Hays placed around 66,000 candidates into permanent jobs and around 235,000 people into temporary roles.
– 17% of Hays' net fees were generated in Australia & New Zealand, 26% in Germany, 23% in the United Kingdom & Ireland and 34% in Rest of the World (RoW).
– The temporary placement business represented 59% of net fees, and the permanent placement business represented 41% of net fees.
– IT is the Hays' largest specialism, with 25% of net fees, while Accountancy & Finance (15%) and Construction & Property (12%), are the next largest.
– Hays operates in the following countries: Australia, Austria, Belgium, Brazil, Canada, Chile, China, Colombia, the Czech Republic, Denmark, France, Germany, Hungary, India, Ireland, Italy, Japan, Luxembourg, Malaysia, Mexico, the Netherlands, New Zealand, Poland, Portugal, Romania, Russia, Singapore, Spain, Sweden, Switzerland, UAE, the UK and the USA.
About Empact Ventures
Empact Ventures are global super connectors who co-design initiatives, scout for world-class innovation for larger organisations and funders and open the right doors at the right time for tech startups and scaleups. It brings people together based on mutual need and interest in a personalised and facilitated way to support you in creating strong relationships and partnerships. Empact Ventures works with people and
organisations in the private, public, and third sectors to understand their needs, interests, and challenges. It then brings them together to address these areas through our initiatives, projects and ventures.
Its co-designed initiatives include the Super Connect Series, Super Connect for Good Competition, Virtual Northern MedTech Summit, Market Access for MedTech, StartUp Britain and more.
For more news from Top Business Tech, don't forget to subscribe to our daily bulletin!