Dart Marina Automates Processes with Aqilla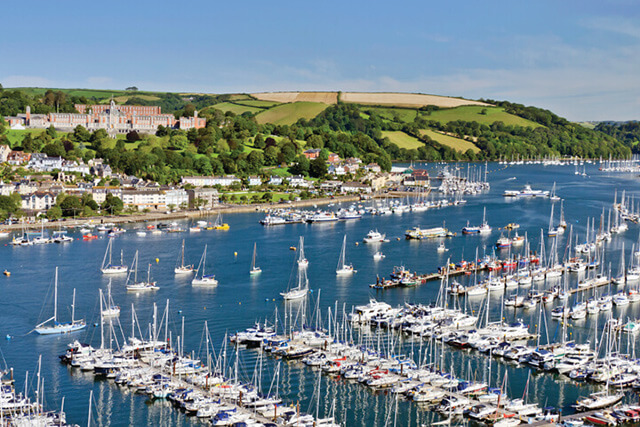 Using an inflexible, costly and obsolete accounting system will slow any good business down and make regular finance tasks, such as end of month reporting, a drag. Investing in a cloud-based accounting and ERP solution can revolutionise such processes and save significant amounts of time and money – two of a business' most valuable assets.
The most comprehensive accounting software also utilises other technologies, such as APIs, to enable customers to integrate other tools with their offering, providing total visibility of accounts. This has additional benefits such as allowing finance teams to interrogate live data, find answers to questions and gain insights in real time, all of which adds huge value to the business.
This has been the experience of Dart Marina – a privately owned Dartmouth business of 74 employees made up of a 49-bedroom hotel with apartments, a marina and a ferry. Switching from Sage to Aqilla has almost halved the time that the finance team spends on month-end reporting, by replacing this complex manual work with the automation of such financial and accounting processes and freeing up employees' time to add further value to the business.
Background
Dartmouth's privately owned Dart Marina Hotel comprises three business entities; a 49-bedroom hotel with apartments, a marina and a ferry. Until 2021, accounting system Sage 200 had been in place. However, it had become costly to maintain and didn't offer the flexibility the accounting team needed to improve business processes.
To address these issues, Financial Director, Lynda Redman, wanted to move from software that relied on on-site servers to a more modern, flexible and scalable cloud-based solution. Having reviewed several entry-level systems, including QuickBooks and Xero — neither of which could cope with the company's volume of transactions — she chose Aqilla integrated with the Sharperlight reporting tool. Since making the switch, Lynda has swapped expensive maintenance costs for a simple, manageable monthly subscription while greatly improving her department's productivity.
The Challenge
Month-end reporting using Sage was time-consuming work; the lack of reporting capabilities meant it took seven to eight days to complete. Year-end reporting required extensive manual data manipulation outside of the system, in a process that spanned an arduous two weeks. Two further factors accelerated the need to urgently replace Sage; the pandemic required remote workers to be able to process electronic invoices – a capability that came at an extra expense with Sage. In addition, the Making Tax Digital (MTD) deadline was looming. Lynda explains, "To be truly compliant with MTD, we needed to completely review our systems and processes." Aqilla was one of the first mid-market cloud-based accounting solutions to offer MTD compatibility. This made it a an even stronger contender to replace Sage which, Lynda recalls at that time, did not offer similar functionality.
Another requirement from the new system was the capability to handle both cost centres and departments. While the ferry and marina businesses simply have departments, the hotel accounting requirements are more complex. Lynda explains, "We have a number of cost centres — the hotel, the apartments and staff housing — as well as 12 departments. We need to take analysis codes and apply to both cost centres and departments. Our new accounting system needed to be able to handle this kind of multidimensional analysis."
The Solution
Aside from the time saved at month and year-end, Lynda and her team now enjoy more simplified and automated processes on a day-to-day basis.
Lynda describes how the team's daily routines have changed, "With Aqilla, we've got all our invoices stored with every entry and we are able to access it instantly. We've also got Making Tax Digital reporting, and because it is Cloud-based, we can access the system from anywhere. Furthermore, our processes became far more intuitive and, with its own built-in tools, the solution replaces complex manual work with simple automated processes, for example, there are templates in the system which mean we can upload whole spreadsheets of data in an easy to follow format."
Using Aqilla's Excel add-in allows the team to upload information into the system, saving considerable time. Lynda says, "Because the upload is a repetitive process, we are able to create templates and automate it." She adds, "Since adopting Aqilla, the time spent on month-end has been reduced by three days. For year-end, it's down from two weeks — and there's plenty of scope for more streamlining."
Specifically referring to the ferry business, Lynda adds, "The ferry's bespoke ticketing system is linked to Aqilla via API, so we just need to check the sales to receipts and allocate the cash. It saves so much time."
Sharperlight is Dart Marina's reporting tool of choice, and it is fully integrated with Aqilla. The Sharperlight business intelligence tool allows Lynda to interrogate live data, find answers to questions and gain insights in real time. It also allows her to look at this year's accounts instead of waiting for the previous year's to be closed — a process which previously could take up to nine months, depending on how quickly the accounts were audited. Expanding on the flexibility of Sharperlight, she explains, "The Sharperlight side of things gives us the advantage of live reporting and it allows us to mimic how our previous management reports looked, for consistency. The reporting via Sharperlight is live and up to date, allowing me to query the data whenever I need to. I don't have to wait for one process to complete before I get the information I need from Aqilla."
Summing up, Lynda reports a significant improvement in how the team operates: "It was proving too expensive to make Sage fit for operations. Having replaced it with Aqilla, we now have modern, compliant and streamlined processes."