Scaleup Spotlight: How BuzzStreets supports hospitals and venues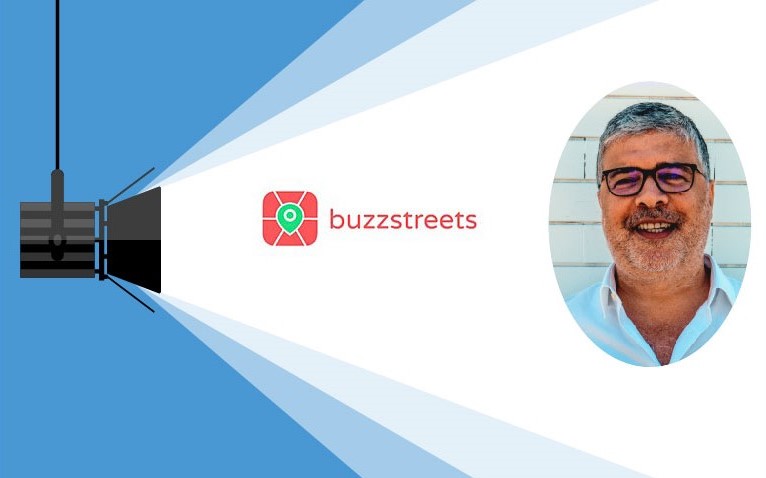 Ever got lost in a hospital, or struggled to find a specific shop in a shopping mall, or spent ages trying to locate your seat at a sports stadium? Those days are numbered, thanks to an innovative startup called BuzzStreets. Here we chat with BuzzStreets' founder, Joe Fernandes.
Could you tell us a little bit more about BuzzStreets?
BuzzStreets is a tech start-up focused on revolutionising the Geolocation industry. We are a B2B solution providing mapping, navigation and tracking people and objects in complex indoor and outdoor environments. 
Through our navigation system, complex facilities like hospitals, shopping centres and airports can improve their visitor experience by helping users navigate their home, through traffic and public transport, to a specific location within a building.
In addition to seamless outdoor to indoor navigation and enhanced user experience, BuzzStreets provides data analytics services. The system helps plan and optimise commercial and public spaces by recording user analytics and providing venue owners with an understanding of user indoor behaviour. We help owners of large and complex environments to transform their data into valuable insights to drive their business.
The BuzzStreets idea was created to help people to manage their time and companies to drive their business.
How do you differentiate yourselves in the market?
BuzzStreets is a managed service, not an off-the-shelf solution, and our technology can be easily deployed, providing an accurate wayfinding system in a short time.
The company aims to work closely with all its customers to understand their requirements to deliver a service that fully meets their needs. We start by analysing our clients' needs as our clients differ from a hospital to a shopping mall and from an airport to a sports stadium. Then, we handle the entire project for our customers, from start to finish, and ensure that the system is fully operational and live tested. Of course, every system is different as each client has different needs, but at the heart of it all is the desire to help people save time and reduce stress. This can be done by making navigation from their start point right through to the very room they need to be in as easy, smooth, and seamless as possible. 
What was your last major milestone?
We just signed a contract with CUF, the largest private health care provider in Portugal. CUF is a network of healthcare facilities, including 18 hospitals and clinics. Our technology is now available at CUF Tejo Hospital, in Lisbon and we plan to expand our solution to the entire CUF network.
In the UK, our most recent milestone is signing with the most innovative and advanced hospital in London: Chelsea and Westminster Hospital. BuzzStreets and Chelsea and Westminster Hospital have signed an agreement to roll out the first-ever indoor way-finder for hospitals that will help the NHS save over £240mn per year. With the pilot project successfully completed, the Chelsea and Westminster Hospital App will now be made available to other hospital Trusts around the UK, starting with West Middlesex University Hospital.
How has your company adapted to the outbreak of COVID-19?
As we work primarily with health entities, we have not seen a decrease in the number of our contracts, quite the reverse: we have won our most significant contracts during the COVID-19 pandemic. Large-scale contact tracing is a must-have for reopening venues and businesses in a post-COVID world.
The COVID-19 pandemic has pushed the NHS to modernise at a scale and pace previously thought impossible. Companies like BuzzStreets have played a key role in supporting healthcare professionals throughout this crisis. Vital solutions have been rolled out in a matter of days or weeks when previously it would have taken years.
To prevent a COVID-19 relapse, social distancing is probably a thing we will have to live with for some time. This means that venues need to figure out how to meet ongoing social distancing regulations. BuzzStreets' technology has risen to this challenge. We are developing solutions for large and complex venues that can help users and enterprises ensure the recommended distance between visitors and staff.
How do you see the industry changing in a post-COVID-19 world?
2020 was not a good year for airports, stadiums, and offices around the world. But, hopefully, this year (2021) will allow us to start travelling more, visiting stadiums and returning to our workspaces. Naturally, venues can't be expected to continue business just as they did pre-COVID, as multiple factors, such as hygiene and avoiding crowds, need to be considered now more than perhaps they were in the past.
Industry leaders have embraced technology like never before as part of their response to COVID-19. Coronavirus has tested every aspect of our infrastructures, giving us a new appreciation for what works and what doesn't. Technology will be key to moving forwards, but we should always remember that people are at the centre, not the technology.
Venues need to reassure clients that the venue is safe and secure, and that's largely down to effectively communicating the steps that have been taken to allow it to adhere to government guidelines. In addition, venues across industries have to be adapted to the new normal and offer staff, visitors, and customers a safe return to their facilities.
While we can't predict the future, we can start acting on the trends we're seeing right now and keep people's safety and health at the forefront of our plans.
READ MORE:
About Joe Fernandes 
Founder and CEO of BuzzStreets
Joe Fernandes is the founder and CEO of BuzzStreets, an award-winning navigation platform that enables organisations (hospitals, shopping malls, airports, offices, stadiums, etc.) to offer their customers an indoor way-finder to navigate inside the building. The client arrives at the entrance or reception and then uses the bespoke app to navigate to the specific location (room, shop, check-in, office, or even seat) they need. BuzzStreets also supplies movement analytics that can help improve building efficiency and keep track of vital equipment. 
For more news from Top Business Tech, don't forget to subscribe to our daily bulletin!