Meet Huddly, the smart conference camera you never knew you needed

Credit: Huddly
Huddly is an AI-powered video camera that's shaking up conferences around the world. What makes it so special? We spoke with the company to find out.
Skype is now a verb as much as a noun. It's a sign of how important video calling has become in modern times.

Videotelephony has been a vision for humanity's future so long as the telephone has been part of the present. FaceTime has revolutionised the way that we keep in contact across the globe and conference calls have connected the business world. With the advent of AI, video calling could be about to develop again.
Artificial intelligence wants to learn. It analyses the data sets that it is fed and produces a result from it. AI is already lighting up so many industries with its smarter, smoother ways, so it seems logical that it could provide answers in video calling.
---
---
"Huddly IQ is more than a camera, it's an intelligent sensor," says Anna Verena Brandt of Huddly. Huddly was founded as a company based in 2013 by a designer and an engineer in Oslo, Norway. Anders Eikenes and Stein Ove Eriksen simply had the goal of making top-end boardroom video telepresence systems.
"We have come a long way since then," says Anna. "Today, Huddly builds tools for teams – powerful products and features that use AI to enable team collaboration and make people's workday easier. We combine Scandinavian-designed hardware, software and AI to create cameras that bring artificial intelligence into the meeting room."
What are the benefits of an AI-powered camera?
AI is already used in cameras across the tech industry.
Artificial intelligence is already used in smartphone cameras to help steady and focus shots, and surveillance cameras can recognise specific objects with the power of machine learning. Similarly, Huddly's technology can determine who is in front of the lens.
"Huddly IQ's on-camera neural engine has been trained and optimised to detect the people in the meeting room, allowing it to see, understand and respond to its environment in real-time," says Anna. "With Genius Framing, Huddly IQ automatically frames the people in its field of view."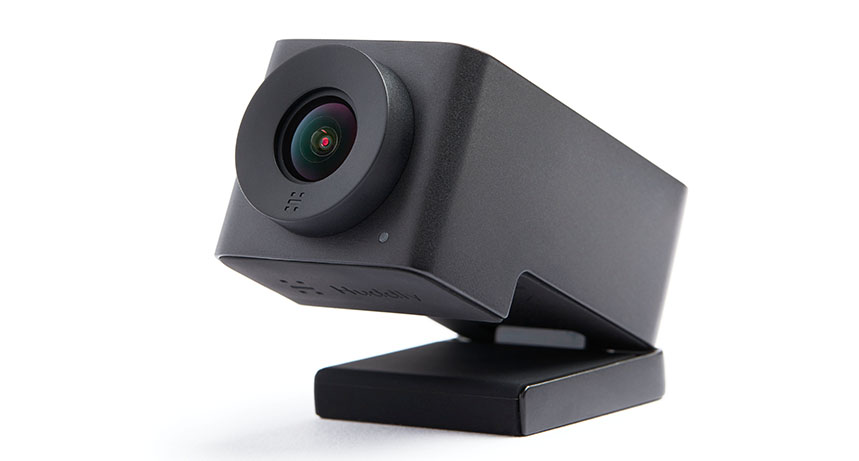 "Additionally, it can count the people in the room. This data can be accessed via our InSights Analytics API and securely shared with management dashboards."
On top of what Huddly's tech can do in terms of recognising people, the software is even capable of recognising written content in much the same way that Natural Language Processing (NLP) can.
"Our newest technology is Huddly Canvas, which allows Huddly IQ to digitally enhance and capture content from analogue whiteboards," Anna explains.
How does the Huddly IQ work?
The Huddly IQ uses machine learning.
The technology performs a specific cognitive interpretation of a meeting room, using Huddly's object detection algorithm. With this AI, the camera can locate objects in its view through localisation and identify them with classification. When it comes to Genius Framing, Huddly supplies training data to help the technology know exactly where people should be in the shot.
"The Huddly IQ is the only camera to use the Intel Movidius Myriad X chip, a VPU specially designed for Machine Learning," Anna says. "By providing intelligence and high-quality image sensoring at the edge, we can provide a cognitive understanding of collaboration spaces and our cameras are then able to act on the understanding."
---
AI in the UC industry is about simplifying the employee experience and allowing teams to be more productive

Anna Verena Brandt, Huddly
---
The edge is key. Huddly's equipment runs on edge computing, which enables the tech to make quicker decisions. The lower latency makes for a more efficient, accuracy and more secure device, and the edge can still handle the heavy machine learning algorithms required.
"We use AI to improve the meeting experience in three ways," says Anna. "To automate previously manual processes (Genius Framing), to integrate analogue processes into the digital workflow (Canvas), to provide advanced analytics which enables businesses to make better decisions about how to use their facilities (InSights Analytics API)."
AI is helping to transform an industry beyond just Huddly
Machine learning is complex by nature. It relies on computers as dense as a biological brain and yet despite how complicated it is, Anna says that machine learning is actually helping to simplify industries.
"AI in the UC industry is about simplifying the employee experience and allowing teams to be more productive," she says. "There is definitely an effort to make the video meeting experience work seamlessly for distributed teams, for example with the automation of manual tasks and the use of voice assistance (e.g. Google Assistant in Hangouts Meet)."
Anna talks of the new ways to improve communication and workflow as being "exciting", citing automated voice transcription – where a meeting is automatically transcribed and made searchable – along with real-time translation as being ways that AI is helping to change video conference calling. Meeting room analytics, too, is helping to relay important information back to users.
Huddly is taking full advantage of all of these technological advancements. "2019 has been a great year for Huddly," Anna says. "In addition to our existing partnerships with Google, Crestron, NEC, Avocor, and Zoom, we entered new ones with Lenovo, Yamaha and Stem Audio. Our revenue is expected to more than double this year… and we are very excited about the real-life applications of our new Canvas technology."
So what does the future hold for the company?
"In the future, we are going to continue delivering intelligent solutions that simplify meeting experiences, extend our portfolio of products and create new innovate experiences based on AI."