Scaleup Spotlight: How AssureStor 'punches above its weight'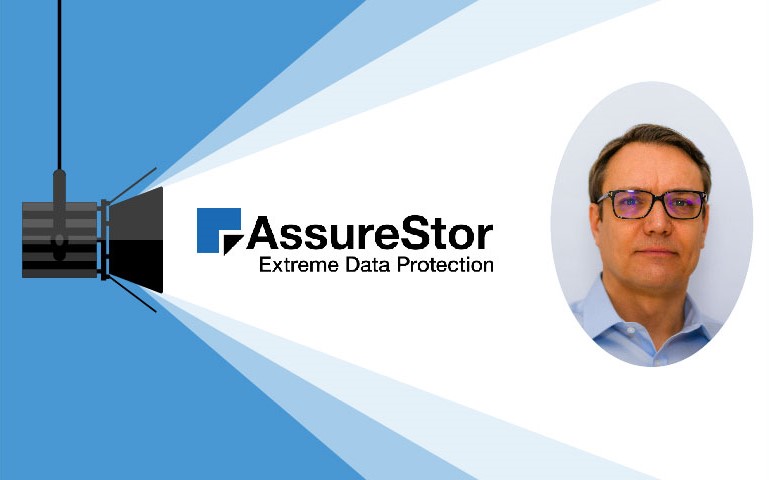 As we continue our Saleup Spotlight series, we catch up with Stephen Young, Director, AssureStor, a small British scaleup specialising in helping businesses recover after a disaster, like a cyber attack or theft of data providing disaster recovery and cloud backup services.
Hi there Stephen. Could you tell us a little bit more about AssureStor's services
AssureStor provides cloud backup and disaster recovery-as-a-service (aka BaaS and DRaaS) to improve a company's data resilience and help reduce disruption and downtime from the loss of critical services/data. This loss could be the result of a 'traditional' business disaster like fire, flood and theft, or user error and malicious acts. With more people working remotely or from home, cyber-attacks have become a significant risk. Many users now operate outside the secure perimeter they worked behind previously, so any mistakes or lapses in concentration can have serious consequences for a company and its data.
As a small business that 'punches above its weight', we pride ourselves on delivering exceptional customer service and technical know-how, offering a business-savvy approach to tackling problems and delivering the right solutions. We quickly identify customers' needs and bring a level of awareness and expertise that our partners and customers seldom have in-house.
Our business model is selling via a select group of partners in the UK and EMEA and we have recently expanded these due to new growth opportunities. Our services are delivered via our cloud platforms, which requires little or no capital investment or risk, or directly from the partner's data centre/s.
What sets you apart from your competitors in the UK market?
As a channel-based cloud services company, we are the only UK provider offering the Zerto aggregator program to resellers. This service provides resellers, previously unable to provide the Zerto platform, a new zero risk, low-cost entry to deliver the solution with minimal commitment. Resellers can provide a top tier disaster recovery (DR) and data resilience solution overnight.
Through our DRaaS platform, we offer rapid recovery times with granular recovery points to within seconds of a disaster happening. It also allows a business to conduct thorough DR tests without impacting their production environment.
Our biggest differentiator is our partner portal, called my2cloud. This is sector-leading with integration and advanced features that allow a reseller, or hybrid partner, to be wholly self-sufficient whilst fostering confidence all the way through the partner relationship due to its transparency. Included is a scheduling system that automatically checks that protected systems can start and run successfully with event logging. Any issues will be identified, and customers do not have to wait until they experience a disaster to know that their DR systems will run. When a customer is informed a DR test was 100% successful, they can log on and see the results to satisfy themselves.
Have you got any major achievements that you would like to share with our readers from the last 12 months?
We recently announced significant growth over the last 12 months, mainly driven by a growing demand for disaster recovery and cloud backup with businesses shifting to home working practices and looking to manage the ever-increasing number of threats to their IT. Our cloud-based disaster recovery platform, dr2cloud, powered by our premier partner Zerto, has grown by 33%, and our hybrid platform has grown by 355% in the last year. Being offered the opportunity to deliver a new Zerto aggregator model providing a lower entry point to resellers looking to sell in this market, is a significant recognition of how the business has grown and the confidence in AssureStor's ability to support the channel.
How have you and your team adapted to the outbreak of COVID-19?
Our business model and services we provide are cloud-based, so we have adapted quickly with little impact to the business or the way we work with customers. The real change is the face-to-face relationship building that's integral to the industry. Video calls are a game-changer, and we are more efficient and spend less time travelling to and from meetings, but face-to-face is still important for vendor–partner relationships.
In addition, conferences and events where you meet colleagues and peers in the industry, evaporated overnight hindering the ability to experience new technology. Virtual events and webinars are great and have kept the engagement going, but there's an appetite now to get back out there and re-engage with people.
From a service delivery perspective, we have definitely noticed a heightened level of anxiety amongst our channel partners about the remote working and cyber-attacks connection and the devastating impact this can have on their customers. Our messaging has adapted because the way people are now working has placed emphasis on cybersecurity and user vigilance, but if this protection is breached, the urgency becomes data recovery and as quickly as possible with minimal data loss and disruption.
What is the role of cloud technology in a post-COVID-19 world?
The pandemic has accelerated the shift to the cloud, and businesses have had to put aside any concerns and adopt an IT solution that's accessible to staff working from kitchen tables and home offices. Most companies have done this well, but as we slowly return to normality, some of these trends will be difficult to change even if they wanted to.
Many organisations were already moving to remote working and able to do this at short notice with the policies in place to ensure it was done securely. But for others, their IT strategies will need to catch up with the reality of new ways of working. Security is lagging, which will impact data security, recovery and disaster planning.
Companies migrating to the cloud are not always aware that cloud service providers do not include data backup as part of the service. Even when it's included, it doesn't always align with a business's requirements. This can come as a surprise when a disaster does occur, which can be devastating. This shift to cloud computing will form the centrepiece of many drivers for delivering IT, forcing cloud providers to improve their offering and consider data security and recovery.
READ MORE:
About Stephen Young
Director, AssureStor
Stephen Young is working with the company on the next stage of its development as one of the fastest-growing providers of cloud-based disaster recovery, data resilience and backup in Europe. Leveraging his depth of knowledge, he is helping AssureStor to become a leader in its field. Stephen has been a successful business owner and entrepreneur focusing on technology start-ups for over 30 years. Across various facets of IT, his experience covers infrastructure, software development, data centres, service and support, IT governance combined with the disciplines to build a business, management, finance and business development.
For more news from Top Business Tech, don't forget to subscribe to our daily bulletin!