Your home office must-haves

Top Business Tech shares its choice picks for hybrid workers looking to spruce up their home office.
With Hybrid work becoming the new normal, many workers need to improve their home office spaces to ensure they are fitted with everything they need to conduct their business.
First up, it's essential to have a proper desk. It's time to stop working from your couch and bed by purchasing one of the below desks depending on your space and needs.
If you are looking for an affordable, modern and simple style, the HOMIDEC Computer Desk is an option for you. The exquisite non-woven drawer can store more items to keep the desk tidy. There are additional hooks that can be used for hanging earphones or bags. This desk is composed of sturdy MDF board and steel frame. The tabletop and the steel frame have a special protective layer design to prevent impact and waterproof. The smooth tabletop can protect your skin. When cleaning, you only need to wash with water and air dry.
Don't have much space for a desk? Well, this corner option is a great solution to your problem. The HOMOOI Computer Desk comes with fashion two-color stitching and has been designed in an L-shaped with enough space for storage while still providing plenty of room for work. The storage space is big enough to store some of your favorite books as well as some of your important work documents. This high-quality multifunctional desk is the perfect addition to your home office.
Now for a standing desk option. The CharaVector electric height adjustable standing desk provides a superior ergonomic sit-stand office experience. Whether you prefer to work sitting down or standing up, you will be able to find the perfect position with our desks and liberate your body while working and studying. Reading, checking email, or catching up on work at home has never been so convenient. This large desktop comes with added storage basket and a headphone holder which bring more space and comfort for your busy working periods.
There are various benefits of using a standing desk, these include:
Standing desks help in lowering your risk of weight gain and obesity
There are signs that standing can lower blood sugar levels as well as heart disease
Standing desks have appeared to reduce back pain
Standing desks help improving mood and energy levels
Next most important aspect to your home office is a really good ergonomic chair. Ergonomic chairs can help to reduce the stress on your body by providing proper support and improved comfort. Ergonomic chairs are no longer a luxury but a necessity to help with: posture support, relieving back pain, reducing neck pain, relieves hip pressure, improved blood circulation and boosting productivity.
The YONISEE Swivel Computer Chair Rocking Executive Chair comes with a variety of adjustments that allows you to further customize your chair for maximum comfort and support. The S-shaped backrest fits the natural curve of your body while protecting your lumbar spine and back. The premium mesh material backrest keeps the body cool and cozy by enabling continuous airflow. A cool feature of this product is that the adjustable padded armrests can flip 90° when you want to tuck your chair under your des to save space.
The YONISEE High-Back Breathable Mesh Task Chair is designed with ergonomic construction built with a headrest and lumbar support structure that helps in reducing back pain. This chair comes with a thicker and softer seat cushion that brings you a brand-new experience while helping with tiredness and keeping you cool and relaxed throughout the day. The high-back mesh chair has a 120° tilt tension and can be adjusted to the perfect fit for you.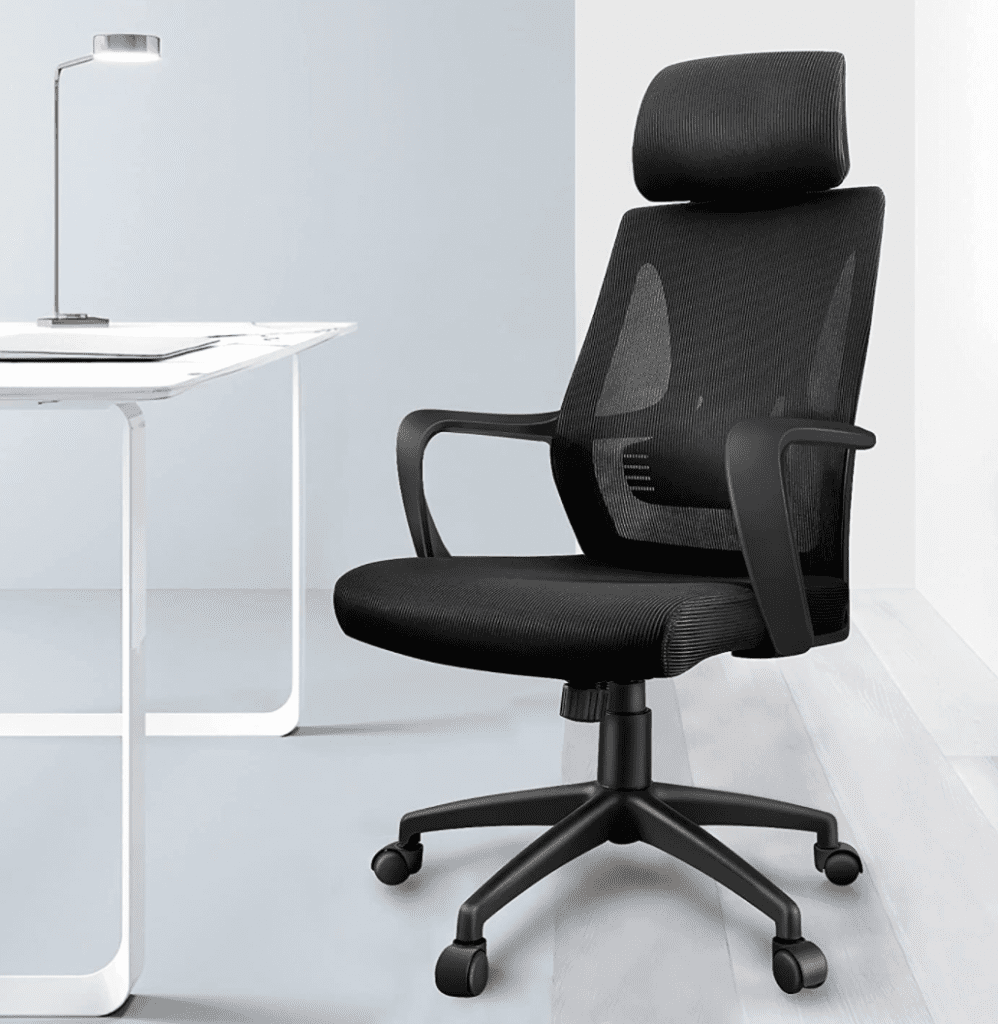 The final office chair we are going to recommend is the mfavour Ergonomic Office Chair. Compared with other office chairs, this mesh office chair is designed with 6 ergonomic adjustability's which includes: adjustable lumbar support, headrest height and angle adjustment, adjustable seat height, adjustable armrest and a 90°-126° reclining function.
Now onto the printers. By having a printer, you provide yourself with the opportunity to print those important documents all from your own home office. In 2021, finding a printer that is just a printer is very rare, and now most come with a built-in scanner and photocopier.
The HP Envy 6020e All in One Colour Printer is a great, inexpensive and easy-to-use home printer for those busy families. The HP ENVY 6020e is designed to generate documents and work in the environment of home and family and therefore, it has a modest 800 MHz processor and 256 MB of memory. It guarantees a duty cycle of up to 1,000 pages per month and unfortunately this is its limit. So, if you are not one of those people that needs to print a lot, this is perfect option for you. This printer comes with 6 months of Instant Ink with HP+ which allows you to print up to 700 pages a month free when you enroll in Instant Ink. Ink is delivered automatically before you run out at no extra cost.
The HP OfficeJet 8025e All in One Colour Printer is great for printing professional-quality colour documents like forms, reports, brochures, and presentations. This is a multipurpose printer that helps handle a range of tasks, from printing to making copies and scanning documents. With reliable connectivity and mobile printing capability, the HP OfficeJet 8025e All in One Colour Printer allows you to work from anywhere and supports Alexa, so giving command to this device is easy. This printer comes with 9 months of Instant Ink with HP+.
The HP Smart Tank Plus 570 Wireless All-in-One Printer is a cartridge-free printer with an automatic document feeder which delivers uncompromising quality. With this all-in-one printer's integrated ink tank design and automatic ink sensor, you get a compact, spill-free refill system with convenient, resealable bottles that make it easy to manage ink This printer also comes with up to 3 years of ink included in the box. You can count on this printer for easy home printing, scanning, and copying while providing consistently dark, crisp text and vibrant color graphics for all your prints.
Lastly, there are always those creature comfort items that we like to have around the house, and now you need to add some into your home office.
Usually in a home office, there are various items that need to be connected to a power point, but there isn't always enough in your space. The TESSAN 13A 4 Way Multi Plug Extension Cable converts one AC outlet to 4 AC and 3 USB ports for multiple devices to be used used/charged at one time. This product features a wall-mountable flat plug design with 2 keyholes and can be installed on the wall firmly in many different places.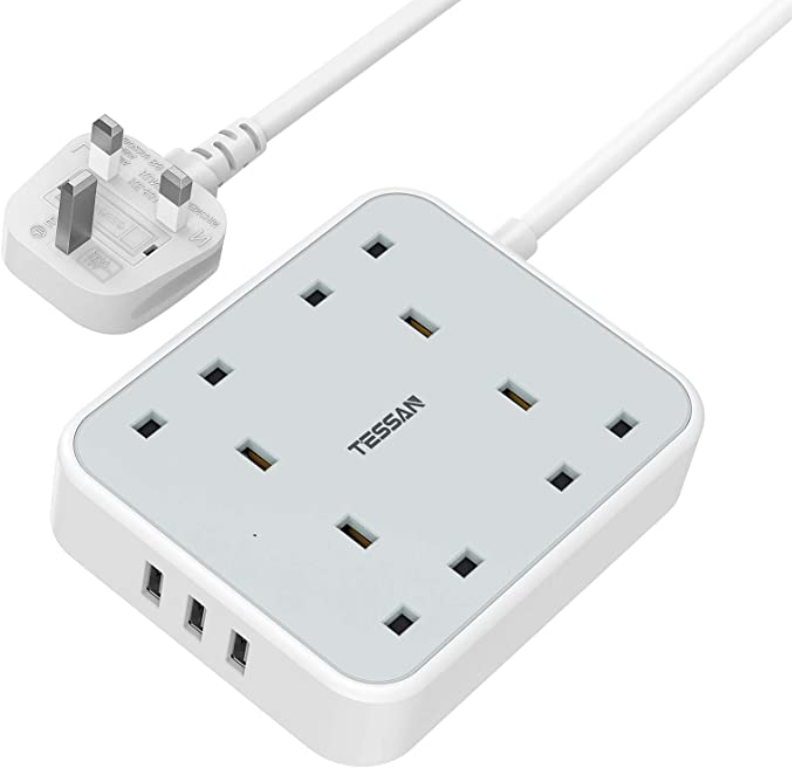 With having all of the above plugged in, you will need a SOULWIT® Cable Holder to keep all your messy cables organized and accessible and in the positions you want them in require. This cable holder is suitable for holding cables less than 6mm such as computer cables printer cables, audio cables, USB charging cables, and network cables.
To complement your ergonomic chair, you can add in a HUANUO Adjustable Footrest. This ergonomic footrest improves posture and blood circulation by holding your feet and legs up, which makes you feel more comfortable. Footrests can also correct sitting posture but also help relieve discomfort in the shoulder or intervertebral disc area.
Still suffering from a stiff or painful neck? The BONTEC Wood Monitor Stand Riser helps to keep your screen at a comfortable eye-level height and effectively improves posture, relieve eyestrain and prevent back & neck pain throughout the workdays.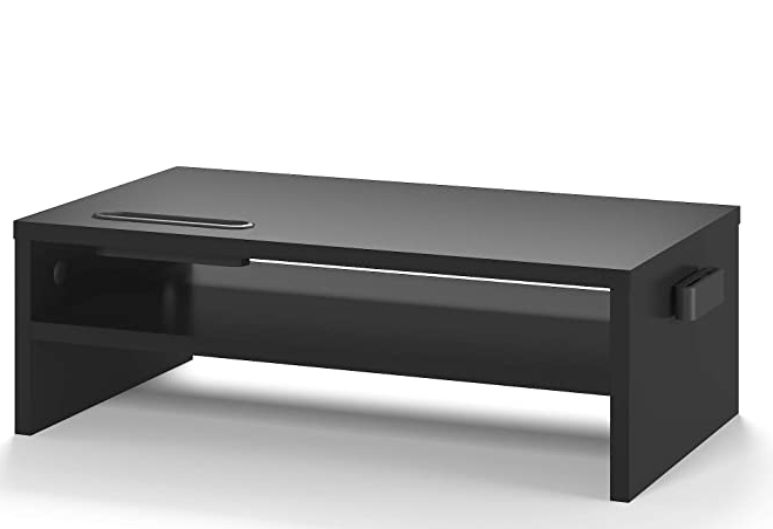 If you do not have a separate monitor, to make the above more helpful, you can get a wireless keyboard and mouse set. This will allow your work to be at eye level while keeping her hands closer to the desk.
READ MORE:
Do you love your cup of joy throughout the day, but impromptu meetings make your coffee or tea cold? Well the Ember Temp Control Smart Mug is the ultimate creature comfort to have on your home desk. This smart mug allows you to control with your smartphone by pairing with the Ember App to set your temperature, customize pre-sets, receive notifications and more. The Ember heated mug intelligently senses when to turn on and off. The mug enters sleep mode when empty and wakes up when it senses movement or liquid. With an extended battery life this mug keeps your drink perfectly hot for up to 1.5 hours on a single charge.
For more news from Top Business Tech, don't forget to subscribe to our daily bulletin!