The UK joins China and the US as the only nations to have triple digit unicorns.
Today, the UK tech sector reaches new heights with 100 UK tech companies valued at $1bn or more, according to new data from Dealroom and Tech Nation. The UK's 100th tech unicorn, Tractable, an AI startup building computer vision tools and a member of Tech Nation's late-stage Future Fifty programme, has today announced a US$60mn Series D raise that takes the company's valuation to $1bn.
Tractable joins the likes of travel search engine, Skyscanner, from Scotland, Durham-based challenger bank, Atom Bank, and Cambridge-based Darktrace, who utilise AI to develop cybersecurity solutions.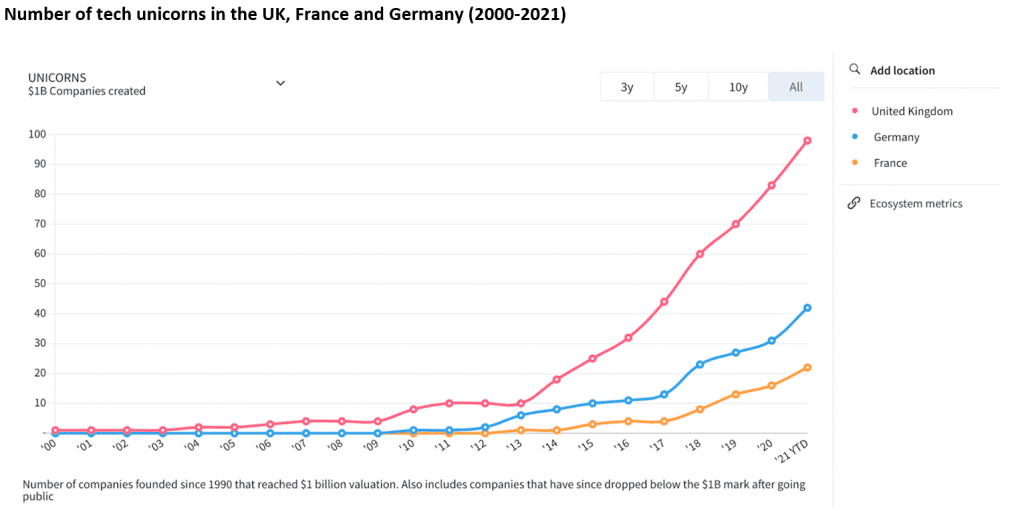 Source: Dealroom.co

UK tech unicorn creation reflects the rapid growth of the tech sector. So far in 2021, 13 UK tech unicorns have already been created, compared to 7 in the whole of 2020, and UK tech unicorn creation has increased by 127% since 2017, when the UK was home to 44 tech unicorns.
Collectively, the UK's 100 tech unicorns have raised almost $32bn (€28.9bn) in VC investment, across multiple tech sub-sectors, including e-commerce, insurtech, and cybersecurity and energy. 34% of UK tech unicorns are fintech companies, 14% healthtech, 8% travel and transport tech, 5% foodtech and 4% gaming.
The UK now joins the US and China as the only nations to have triple digit tech unicorns globally, and is the first country in Europe to reach 100 tech unicorns, with more tech unicorns than Germany (42), France (22) and the Netherlands (18) combined.

These high levels of tech unicorn creation reflect the continued strength of the UK tech sector, which reached record highs in the first half of this year. UK tech startups have raised €13.2bn ($14.5bn) since the start of the year, beating the previous record of €8.1B ($8.9bn) (H2 2020), with two weeks still left to go.
VC investment in UK tech companies by stage of investment (2011-2021)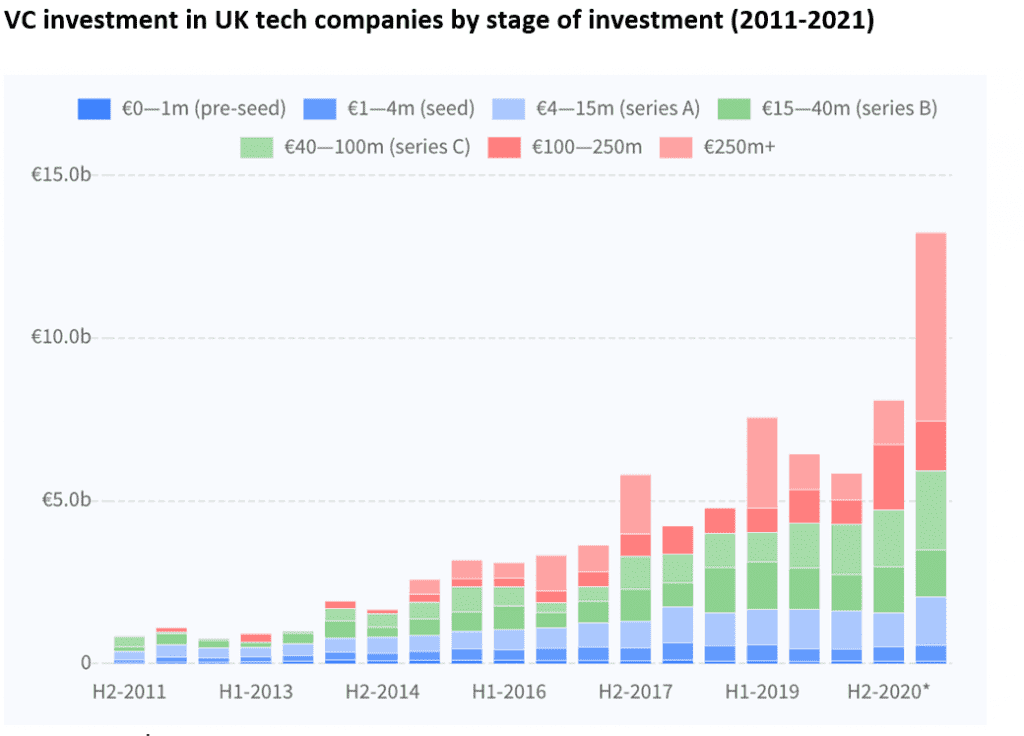 Source: Dealroom.co
Digital Secretary Oliver Dowden said: "Smashing through this milestone cements the UK's place as one of the world's top tech hubs. The government is backing our brilliant innovators and entrepreneurs by investing in world-class digital infrastructure and people's skills, so that we can create hundreds of thousands of new jobs and level up opportunity across the country."
Gerard Grech, Chief Executive, Tech Nation, said: "With UK tech unicorn creation growing by 127% over the last 3 years, it's clear that the UK tech sector has become a rapidly growing hub for unicorns, culminating in 100 companies with unicorn status today. It's a privilege to have worked closely with many of these inspiring companies, helping them navigate scaling challenges as they continue to transform every corner of UK industry. At Tech Nation, we look forward to continuing to support these rapidly-growing businesses, as well as nurturing the next generation of tech unicorns."
Yoram Wijngaarde, Founder and CEO, Dealroom, said: "The UK has just passed a major milestone. Only three countries have created unicorns in triple figures: the US, China and the UK. The raw unicorn figures can be a sign of a maturing ecosystem, but there is also no let up in pace. Europe is an entrepreneurial hotbed attracting international investor attention, with 2021 investment already breaking all records. The 2021 Unicorn Founders Club will be welcoming new members before long."
What makes a unicorn?
A tech unicorn is a digital tech company valued at or over $1bn, and founded after 1990. We exclude companies that passed $1bn as a subsidiary, but we include companies that may now be worth less than $1bn, but exited at $1bn+. Read more about this definition, and edge cases, in Dealroom's blog on unicorns from March 2021 here.
The UK's 100 unicorns:
Find the full list here.
READ MORE:
About Tech Nation:
Tech Nation is the leading scaleup accelerator. Tech Nation fuels the growth of game-changing founders, leaders, and scaling companies so they can positively transform societies and economies. We provide them with the coaching, content, and community they need for their journey in designing the future. Tech Nation has years of experience facilitating and helping UK tech companies scale, both at home and abroad. Over 20 cohorts and 600 companies have successfully graduated from Tech Nation's growth programmes. Alumni include Skyscanner, Darktrace, and Monzo.
For more news from Top Business Tech, don't forget to subscribe to our daily bulletin!