How Connected Kerb is guiding local authorities through the electric vehicle transition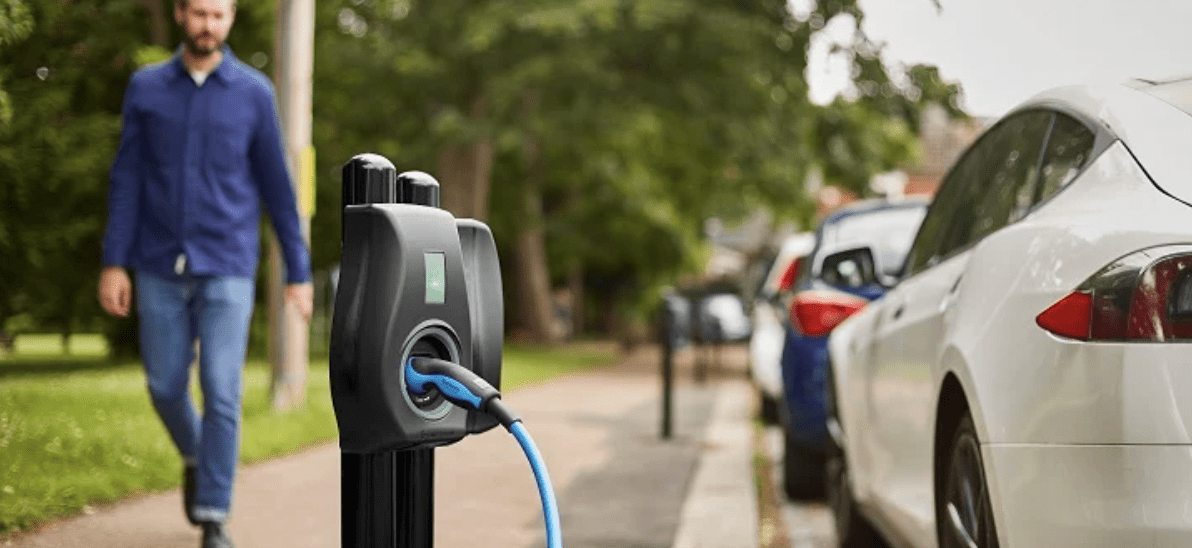 Connected Kerb's Account Director Ashleigh Braund explains how the company is collaborating with councils across the UK to further their EV agenda.
Connected Kerb works with local authorities to help them achieve their net-zero goals by providing reliable, affordable and sustainable EV infrastructure. Making EV charging accessible to all, regardless of social status, where they live, or their physical ability is also central to their ethos.
Ashleigh started her career in Environmental Business Management before joining Connected Kerb as one of its first team members. Since starting, she has helped grow the business whilst developing relationships for Connected Kerb within the public sector.
A core element of her role is building strong community engagement, raising EV awareness amongst local communities in collaboration with local authorities. Ashleigh's passion for the cause has enabled her to unite different stakeholder groups around the company's social value objectives.
Connected Kerb aims to ensure that no part of society gets left behind in the EV transition, especially, the 62% of people who do not have a driveway, or off-street parking, where they might install their own home-based charge points (Housing Survey, 2016). They support local authorities through their strategy, network plans, and financial models to achieve this.
In the past year, Connected Kerb has reached several milestones, one of which was signing contracts for over 10,000 charging points. They are deploying up to 5,000 units this year alone and aim to further develop intelligent charging networks across the UK. Their 'EVolution' is gathering pace, strengthening the network for EV drivers by mobilising local authorities, one council at a time (download the report here).
They have worked with private and public sector bodies in Cambridge, West Sussex, and Gloucestershire, including county councils, public services, residential developers and workplaces, to help them achieve their EV charging aspirations.
Ashleigh says, "It is great to give back and build social change within these communities from the ground up." For this reason, Ashleigh urges public sector authorities to get in touch with Connected Kerb and her team.
The EV charging challenge ahead of 2030
There are two significant dates for the world of EV: 2030 and 2050. In 2030 we will see the ban on new petrol and diesel engine sales come into play. By 2050, the aim for the UK is to reach net-zero emissions. The Climate Change Committee insists that to meet the COP26 emissions reduction agenda, there will need to be "23.3 million electric vehicles on the road by 2032", moving away from traditional engines.
Connected Kerb is proving a catalyst for change in transitioning from traditional petrol or diesel vehicles to electric vehicles. As a UK-based company, they are expertly placed to provide flexible procurement and financing options to support the spectrum of local authority circumstances.  
Ashleigh reveals that while some public sector decision-makers have capital, some are hesitant to commit long-term to EV infrastructure. She believes the collaboration must be seen as a partnership from both sides rather than just a "fit and forget" project. 
Changing Public Sector Perception Through Collaboration
There has been a remarkable shift in perception that now sees the private and public sectors beginning to reap the benefits of working together. It is hoped that this will unlock the investment required to meet the funding challenge of the next decade. Connected Kerb's flexibility and focus make them an obvious choice for building a sustainable EV-ready public sector. They are trying to bridge the gap, and build a "triangle relationship", by bringing together the public, private sectors, and local authorities to "build something more than just a business," she says. 
The public sector should recognise that they are not alone and that there have been great success stories. Ashleigh mentions that Connected Kerb can "replicate those and produce frameworks that demonstrate due diligence and care, throughout the entirety of the journey". This includes data-driven site selection, support in applying for ORCS funding, OZEV funding, public consultation, and maintaining key public sector charging points. 
Ashleigh emphasises that replicating the structure and project management styles set out by Connected Kerb in their work with councils could make this transition far less scary and problematic for public sector communities to support. 
First-class customer support 
Connected Kerb focuses on looking after their customers to implement a supportive and efficient EV process. She adds that support is available to customers on a 24/7 basis to let them know that they do not have to be responsible for everything in the transition to EV.  She emphasises that the public sector needs to consider what it can offer residents to feel confident, especially when charging at home or at night.
Connected Kerb on Affordability and Accessibility 
For everyone to move over to EV is, of course, a considerable jump. The public sector and EV industry need to provide an efficient infrastructure for people to make the switch.
Connected Kerb has made steps to improve affordability with its Agile Streets project, the UK's first public smart charging trial which will be extended across its network. By offering users the chance to charge when cheapest during times of low demand such as at night or when there is a surplus of renewables such as wind and solar, charging can become more affordable for everyone.
Getting the basics right remains important. Ashleigh says "There are so many charging points that do not work. Some have not been cleaned or had maintenance done, meaning that families and EV road users might find it harder to make their journeys". She says that this needs to change and states that Connected Kerb has carried out research on user need and can pass on this knowledge to their clients who want to deliver the benefits of EV to their users.
Accessibility is also a pressing issue. This means not just deploying charging points that cater for those with physical and cognitive impairments but also ensuring that those in rural areas have sufficient provision, given that up to 30% of the UK network has until now been focused on London. This is by no means easy – or cheap – but Connected Kerb is rising to both the economic and logistical challenges of accessibility by striving for the big prize – sustainable mobility for all.
In Conclusion
When we asked Ashleigh what was next on the horizon for Connected Kerb, she hinted that everyone should stay tuned as they are paving the way in public sector EV infrastructure. We at tbtech are looking forward to following along with their journey. They are not just about providing innovative charging points although that is a big part of what they do. They are delivering social value that brings EV charging to every community and every walk of life in every corner of the country. Only by doing this, can electric vehicle charging be genuinely affordable, sustainable, and accessible for all.