Founder Feature: Bruce Talley, CEO and Co-founder of NAKIVO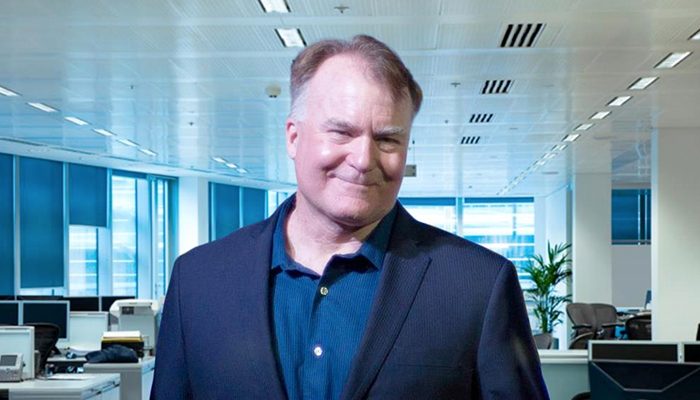 In our latest founder feature, we speak to Bruce Talley, CEO and Co-founder of NAKIVO.
Bruce is responsible for the overall vision, direction, and revenue attainment for NAKIVO, a global company developing data protection and site recovery software for the SMB and enterprise market.
To learn more about Bruce's founder journey, read on below.
---
---
---
Could you tell us about your company and what you're striving to achieve?
---
My name is Bruce Talley. I'm co-founder and CEO of NAKIVO, a fast-growing data protection company headquartered in Sparks, NV. We started out in 2012, and it took us less than 10 years to propel ourselves from zero to the current 16,000 customers worldwide — a stellar accomplishment for a company in my books. Our primary product is a comprehensive backup solution called NAKIVO Backup & Replication, which offers data protection for virtual, physical, cloud, and SaaS environments. We pride ourselves on providing the most comprehensive and customizable backup and recovery solution while staying a step ahead of the technological curve and our customers' ever-evolving needs. I believe that if you're not moving forward, you're falling behind, especially when it comes to highly competitive markets. This is why NAKIVO focuses so much on providing timely updates and improvements to NAKIVO Backup & Replication. This year alone, we've rolled out six versions of NAKIVO Backup & Replication, and we have version 10.2 scheduled for release before the end of the year. Given that 2020 was very tough on everyone, I feel that we've done an excellent job.
---
---
---
What made you decide to launch your own company?
---
I enjoy a good challenge. Sure, starting a business is a risky endeavor, but you have to take the plunge. Of course, I knew that there would be setbacks, disappointments, doubts and doubters. By that time, I'd been in the virtualization and data protection business for a number of years and knew the industry from the inside. I also had experienced what it takes to be CEO of an IT company while running VirtualFabrix and CoroSoft. VirtualFabrix was an automation and process management platform for virtualized IT environments, and CoroSoft was a virtualization management and automation platform for data centers. This experience, along with the contribution from other co-founders, was a solid foundation for the startup.
---
---
---
What is the core technology behind your company's product?
---
As I mentioned, NAKIVO Backup & Replication is a data protection solution designed for today's IT infrastructures, including virtual, physical, cloud and SaaS. Fast and reliable, the solution provides backup, replication, instant restore, and disaster recovery from a single web-based interface. NAKIVO Backup & Replication employs a three-pronged approach — reliable backups for guaranteed recovery, improved backup performance, and backup size reduction for space savings. From the start, we designed the solution to meet the needs and budgets of small and medium businesses as well as larger organizations, including managed service providers or MSPs. The multi-tenancy feature, for example, allows MSPs to create and maintain up to 1,000 isolated tenants in a single deployment.
As companies continue to shift to remote work and dramatically increase their reliance on cloud and SaaS services, the team at NAKIVO is working hard to expand functionality for different cloud platforms. Over the past year, we've added support for Amazon S3 and Wasabi Hot Cloud Storage as backup destinations. We've also added backup for Microsoft 365 apps and services, like Exchange Online, OneDrive for Business, and SharePoint Online, included in the v10.2 version yet to be released this year. Of course, we're not going to stop at that.
---
---
---
---
What are the biggest challenges you've had to face?
---
I think the answer won't surprise you. 2020 has been a major challenge. Switching to remote work wasn't that difficult. Our IT team handled the transition quite efficiently, so we didn't experience a drop in productivity or any data safety or security issues. However, as lockdowns started to be enforced around the world, we observed a decline in customer activity, which came as no surprise. We were faced with a dilemma. Either we stick to the previously set path for growth and expansion, or we put some of our latest projects on hold to reduce our risk exposure, at least until the situation improves. We made the choice to stick with the first approach, and it paid off. As a result, among other things, we never had to consider laying off employees or cutting salaries. As we are getting closer to the end of 2020, NAKIVO is doing great, despite the current economic downturn. Looking back, I feel positive about that decision. Although the pandemic is far from over, and no one knows what the future holds, I feel confident that we will handle any challenge that comes our way.
---
---
---
What's most exciting about doing business in 2020?
---
It's exciting to see that NAKIVO is growing and solidifying its position on the market. Having said that, I am not sure how the company would have handled the COVID-19 crisis had it taken place five years ago. That's why I am so happy to see that NAKIVO has managed to overcome this challenge. Just a quick example: Back in spring, the NAKIVO team was working on a new version of the software, which was planned as a milestone. They were working on support for VMware vSphere 7 — the latest version of VMware's virtualization platform released earlier in April. We knew well that without support for the newest version of vSphere, we could lose business and have to deal with dissatisfied customers. Besides, NAKIVO Backup & Replication v10 was expected to include several other long-awaited features.
The COVID-19 lockdown had a significant impact on our customers and our own business, presenting all of us with enormous risks but also new opportunities. We found ourselves in a tough spot. Putting off the release until business activities got back to normal was not an option. We made the decision to keep plugging along, and despite the sharp economic downturn, released v10 of NAKIVO Backup & Replication in July. It was a success and a relief to all of us at NAKIVO!
As CEO, I'm grateful to be working with such an incredible team! Someone once said that employees are a company's greatest asset. I know this firsthand. With a strong team, NAKIVO is in the perfect position to deal with any challenges.
---
---
---
How do you measure success? What are your metrics?
---
Numbers, plain and simple! Today, NAKIVO has more than 16,000 customers worldwide, which is 1,000 more than in 2019. Some of the world's leading companies, such as Honda, Coca-Cola, DHL, and even SpaceX, are using our product. The number of our channel partners has exceeded 5,000. On top of that, NAKIVO Backup & Replication was named Finalist in the Resilience and Recovery category at the Best of VMworld 2020 Awards. It's a significant accomplishment for us. Finally, we continue to develop new functionalities and work on updates to NAKIVO Backup & Replication. We've already made plans for several future releases. Of course, we keep track of changes in the market and encourage and seek new ideas.
---
---
---
How do you handle the conflict between driving your business and managing day-to-day operations?
---
By practicing good time management and having enough rest. I believe these are the two things that any entrepreneur cannot survive without. My rule is never to let my job take over my personal life. I've learned that if I'm dreaming about work, then I've been working too much. After all, some time away always helps relieve stress and look at things from a different angle. This is one of the reasons why NAKIVO employees are never asked to work overtime unless something truly extraordinary happens.
---
---
---
What's one piece of advice you'd give to budding entrepreneurs beginning a similar journey?
---
Start slowly. Even if you have big plans, you want to start out on a solid footing. When we first established NAKIVO, our solution mainly supported VMware infrastructures. And over several years, we expanded NAKIVO Backup & Replication functionality to cover Microsoft Hyper-V, Amazon EC2, Nutanix AHV, Windows and Linux-based physical servers and workstations. So, my piece of advice is: do less but better. Find the niche that you're best at and invest the necessary time to earn your customers' trust. Remember that you mustn't stop when you achieve the desired results. Keep moving forward all the time. Pace yourself as you need to maintain the balance between innovation and stability.
---
---
---
To find out more about Bruce Talley and NAKIVO Inc., visit www.nakivo.com