Founder Feature: Andrew Jervis, CEO and co-founder of ClickMechanic

(L-R: Felix Kenton and Andrew Jervis, co-founders of ClickMechanic)
---
In our latest Founder Feature, we've partnered with the Super Connect Series, powered by Empact Ventures and Hays. We're talking with Andrew Jervis, CEO and Co-founder of ClickMechanic.
---
ClickMechanic is an online marketplace for car repair that connects car owners who need repairs, servicing and inspections to the UK's best mechanics. ClickMechanic has developed software with instant quoting functionality that matches customers with trusted and vetted mechanics all over the UK.
For car owners, ClickMechanic's solution brings newfound convenience and reliability, as well as the confidence that they are getting the best price when hiring a mechanic. The company has provided over 2 million quotes, has half of a million registered users and over 1000 mechanics on the network.
---
---
---
Could you please tell TBT about your company and what you're striving to achieve?
Simply put, ClickMechanic is an online marketplace for car repair that connects car owners who need repairs, servicing and inspections to the UK's best mechanics. We've developed software with instant quoting functionality that matches customers with trusted and vetted mechanics.
Our customers are currently UK car owners as well as independent mechanics and garages. Whether you are a driver in desperate need of car repairs, or a mechanic trying to fill up the diary, the platform provides convenience, simplicity and reliability for both sides of the marketplace. Both car owners and mechanics can also manage the entire booking process, including payment, from their smartphone via the website or the ClickMechanic app for mechanics. We've made the whole process of booking car repairs just super easy and hassle-free.
---
---
---
How has the business fared during covid?
During the first lockdown in March 2020, the government's announcement had an impact on garages and mechanics across the UK, and many businesses were forced to close down temporarily. We created a solution to help increase safety for both the mechanics on our network as well as our customers – by introducing contact-free car servicing. This ensured we were keeping everyone safe whilst adhering to government guidelines.
With instant prices, online booking, and mobile mechanics who come to the customer (meaning no garage visit) the business model has been highly attractive to car owners at this time and has led to a c15% onsite conversion increase.
---
---
Who are you…and what is your story as a Founder?
The auto trade industry isn't something I became passionate about overnight. With my grandfather being a military mechanic during the second world war, inevitably, the passion for the auto industry flourished in the family with my dad and brother also being in the trade.
Whilst at University, I decided to take my passion for the automotive industry to the next level. After intense research of the car repair space, I noticed that the industry was underpinned by a lack of transparency as well as trust, and it was largely archaic in its approach to helping customers repair their cars. Little innovation had occurred in this sector in the last 50 years. The exhaustive research resulted in a 70,000-word thesis on a solution, along with a business plan and joining the Entrepreneur First Accelerator program in London, where I met ClickMechanic's co-founder, Felix. ClickMechanic is a product of our determination and resilience that has today grown to become a competitive player in this marketplace.
---
---
---
What are the biggest obstacles you have faced both personally and as a business…. and how do you overcome them?
There are so many obstacles you face when starting and growing a business. From a personal perspective, growing a business is not an overnight success and takes many years of hard work and perseverance to stay the course and fulfil your vision. We started the business in 2012 which has meant we've given a lot of love and dedication to one project that we believe in, through the good times and challenging ones! In terms of the biggest obstacles as a business, there are so many! From hiring the right people to working with the right marketing partners and so much more.
---
---
---
What's most exciting about your traction to date?
The technology we have built has given out billions of pounds worth of quotes. We've completed 100,000s of car repairs and services for customers that have been worth tens of millions of pounds! When you think about all the drivers and mechanics lives we've touched and continue to help every day, it's sometimes hard to fathom.
---
---
How are you measuring success?
We have a variety of KPIs that we track and measure on a daily, weekly, monthly and annual basis. Some of the most important ones include the obvious ones like bookings and revenue but we're also extremely diligent when it comes to customer satisfaction rating by measuring Net Promoter Score (It's currently +90 which we are delighted about!). Another incredibly important one is customer acquisition costs and we like to understand this by marketing channel. Without understanding how much it costs to acquire a customer and how much you make from that customer, it's impossible to grow towards a profitable and sustainable business.
---
---
---
What's the plan to adapt the business if need be or if certain strategies do not pan out as you hoped?
We were very quick to adapt when the pandemic hit by launching services such as contact-free car repairs. In terms of growth beyond the Covid period, it's about continually improving our product, adding new product lines and finding new channels to reach more amazing customers.
---
---
---
Do you see yourself as an underdog?
Absolutely! More precisely, an underdog that offers a product that is significantly better than anything the other incumbents in our marketplace offer.
---
---
---
How much sleep do you tend to get?
In the early days, I believed that you should get the bare minimum you can get away with but in more recent years my philosophy has changed. I think it's important to get what's right for your mind and body and if that's 8 hours a night then you should aim for that. I currently shoot for 8 hours a night but that can be a little challenging on some nights with having a 16-month old!
---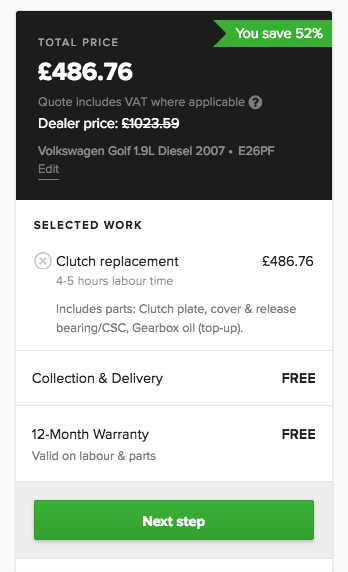 ---
How do you manage duality and prioritise tasks within the portfolio?
Prioritisation starts from the very top in terms of strategy and objectives. We run quarterly planning sessions to set company priorities and team priorities using an Objectives and Key Results framework (OKRs). Everything you work on should be aiming towards achieving those OKRs and if you're not prioritizing that then something is wrong and needs to change.
---
---
---
What are your goals moving forward as a business?
Our vision is to make car care easy for everyone everywhere. With this in mind, our goals are to continue to grow on a variety of fronts whether it is the service offering we provide, taking our offering to new countries or improving and growing the tools and solutions we offer both our customers and mechanics.
---
---
---
To learn more about ClickMechanic and Andrew Jervis, visit their website.