In today's business landscape, streamlining your organisation's communications and fostering collaboration are both key to ensuring continued viability. Technology can break down the barrier standing between a business and its clients, unlocking the potential to work and connect anywhere, at any time, and through any channel. Collaborative communication is fundamental to achieving this, and this is exactly what RingCentral is putting at the forefront of their service.
From all-in-one cloud phone systems, integrating team messaging and video calls, to a complete contact centre, the California based company are building solutions for every business, no matter the size.
Put simply, RingCentral is a pure-play UCaaS (unified communications as a service) and CCaaS (contact centre as a service) vendor. The company was founded in 1999, and are now the number one provider in the world in terms of both revenue and subscriber seats.
They cemented their superiority in the UCaaS space early on, earning them best-in-class industry awards year after year. They've been named the Gartner Magic Quadrant leader for UCaaS in 2016, 2017, 2018, and 2019, and scooped a whole host of awards praising their workplace culture, product, service and leadership.


---
By understanding intent and engagement through speech and body language, organisations can now save time and money by truly understanding the communications of their customers, employees and business partners
---

Curtis Peterson, Senior Vice President of Operations, has more than 20 years of experience managing IT and carrier-scale data and is considered a pioneer in VoIP services in the business communications space. He has been developing, launching, and operating VoIP systems since 2002. Peterson joined RingCentral a decade ago, and has been personally focused on "globalising and hyper-scaling the architecture of RingCentral."
Over the years they've focused on unifying identities and developing an omni-digital approach, integrating everything from social media to live chat and email, but all those services are data-heavy. Billions of minutes every year are processed through the platform, amounting to about 400 rows of data per transaction.
"That's a lot of data and it's got to go fast," Peterson said. "It had to be fast enough and large enough to be [up to speed with] where we were going to be five to seven years from now and not just today."
That amount of data had to be accounted for and handled correctly to ensure an efficient service for their customers. Fortunately for RingCentral, they'd planned wisely for this high volume of data, aligning their company goals with their architecture early on to ensure that scalability and globalisation was possible, and a resounding, lasting success.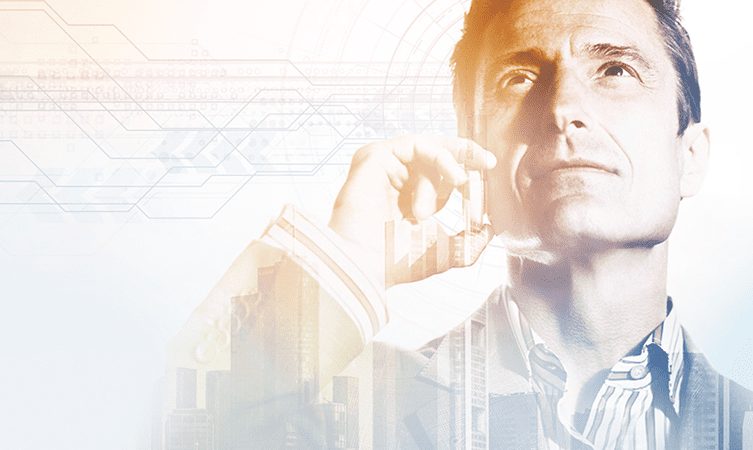 However, they weren't just content with generating and digesting the information generated by their platforms themselves, resigning it to a server somewhere with little use to their customers. Instead, they focused on being able to present that information to their clients as well, to improve their service and add further value to their platform. Curtis said that a lot of time has been spent asking important questions to do just that.
"How do you instrument a modern cloud platform? How do you move the data quickly and up through the system?" He asked. "We looked at getting call records and QoS (quality of service) scoring out during the phone call, with no delay." That real-time feedback is a tantalising prospect for businesses working on the go, and at speed.


RingCentral's role in Digital transformation
Drawing parallels to their own forward planning, RingCentral believe that the scalability and agility of their services are essential for growth. Their services can be fine-tuned and are flexible enough to serve both small businesses and enterprises alike, putting mobility at the forefront to complement the ever-transforming business landscape.
"Business communications used to be a very siloed activity in the company world," Peterson recalled. "People would put an 'on-prem' PBX (private branch exchange) or maybe a hosted system and it was literally your phone on your desk. If you wanted to call somebody with a four-digit code or if you wanted to appear like you were at work, you had to physically go to your building and pick up the phone and dial in. That just isn't how anybody works or operates in [today's] digital transformation age. So we really empowered mobility."


The changing face of business
As social media rose to prominence, organisations were keen to monitor and respond to the multiple customer-led discussions taking place on social networks, blogs, and other communication platforms springing up across the web.
In 2010, telecom giant Orange decided to reassess its corporate communications strategy, aiming to structure a new framework for a unified online presence. They wanted to be present and relevant. The competitive nature of telecoms meant that customer service was of the utmost importance, so RingCentral stepped in to assist.
In order to manage its omnichannel inbound communications, Orange chose RingCentral Engage. The platform processes approximately 90,000 messages per month, leveraging Engage's intelligent, self-teaching categorisation module to send those inbound communications to the correct person at Orange. Engage's targeted reporting tools allowed for Orange management to gain value from their statistics, in order to implement a system for monitoring their customer service team's responses too, in order to get to the heart of operations to ultimately provide a better service.


---
---

Now, the digital landscape is shifting again, and RingCentral still remains at the leading-edge, empowering enterprises the world over.
Looking to the future, Peterson is keen to help enterprises capitalise on their amassing data supply, consisting of hundreds of millions of data points generated by RingCentral's emerging computer vision and NLP technologies, using machine learning algorithms to interpret it all and provide valuable analytics.
"This is communications, having all that data," Peterson said. By understanding intent and engagement through speech and body language, organisations can now save time and money by truly understanding the communications of their customers, employees and business partners, ensuring streamlined business operations for continued growth and a constant flow of measurable insight.