New research suggests that a multicloud future will require new innovations in cloud security as organisations favour many providers, increasing the risk of sensitive data disclosures
The amount of data we generate each and every day is staggering. Currently, we create 2.5 quintillion bytes of data, but the pace is quickening as the internet of things (IoT) grows more prominent in our daily lives.
Google now processes 3.5 billion searches a day or 40,000 per second. Every minute, users watch over 4 billion YouTube videos. 12.5 million photographs are uploaded to Facebook every hour: that's 300 million each day.
All that data has to go somewhere. Physical storage is no longer viable, so we now rely on other methods to handle the vast majority of our data storage needs.


What exactly is cloud storage?
It can be a baffling concept for many. The intangibility leaves us a little perplexed by what isn't but theoretically is there.
Are we in the cloud now? Where is it? What does it look like? Well, it's in our pockets, on our desktops, around our city streets and everywhere else you can imagine, but we can't see it: we can only visualise it with software.
In basic terms, cloud storage is a computing model where data is remotely stored. It is accessed through the internet, as most things are in our hyper-connected world, and is often managed by cloud service providers, often huge tech companies which offer Infrastructure-as-a-Service (IaaS), like AWS, Google or IBM.
As more and more organisations rely on the cloud to store data, it has been proven that vulnerabilities grow. The sheer volume of information makes those organisations with less stringent container security vulnerable to attacks.
A number of high-profile sensitive data disclosures have come to light this year. The most recent of which, a hack on Capital One which exposed the personal information of over 100 million people, acts as a case in point. Details continue to emerge of another 30 companies who have fallen prey to the hacker responsible for the Capital One breach, showing severe vulnerabilities in not just a few, but many organisations.
However, research does show that the service is slowly improving, despite what these high-profile breaches might suggest. Nevertheless, attacks are still happening. As the reliance on cloud services grows, security experts must innovate in order to keep all that information safe.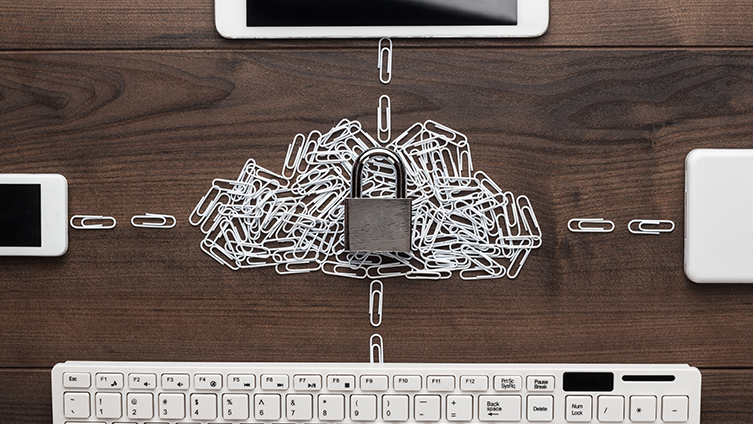 What does the research tell us?
In a SANS 2019 survey, security expert Dave Shackleford said: "We saw a significant increase in unauthorized access by outsiders into cloud environments or to cloud assets; this occurred at 19% of organizations in the 2019 survey."
This could be due in part to multicloud systems, which Shackleford said are increasing in prominence. Businesses are using two to three providers for their cloud and data needs, offering intruders more entry points than in previous years.
Another consideration is the type of information we store on the cloud. With so many data breaches being made, less and less personal information and employee records are being stored in the cloud. This year has seen a significant drop in the use of the cloud for sensitive data.
Business intelligence (48%) tops the list of those surveyed, the same percentage as intellectual property, closely followed by customer personal information (43%). But way down the list is customer payment information (17.6%), customer financial information (25.6%) and employee records (37.7%).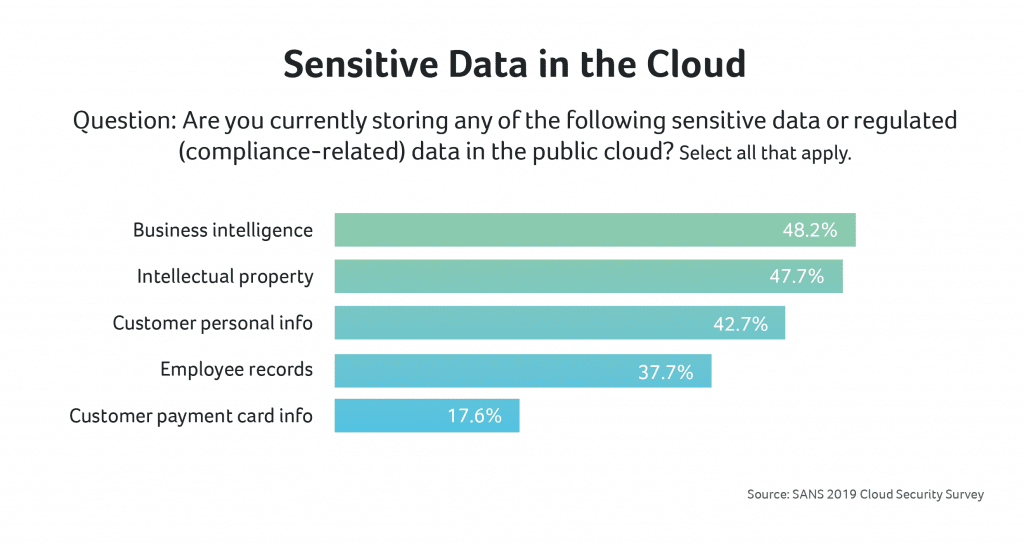 "Overall, the general trend is very similar to what we saw previously," says Shackleford. "Roughly one-half to one-third of organizations are willing to put a variety of sensitive data types in the cloud."
GDPR requirements also appear to be impacting upon organisations' storage strategies. The regulations have meant that they need to be sure that their service providers can sufficiently handle their privacy needs for certain types of data.
As it evolves, so too must the security to mitigate the threat of sensitive data breaches leading to irreparable damage to an organisation's reputation and bottom line.
Understanding how to effectively use it is vital for each organisation, as is knowing the best security strategy, lest they fall prey to breaches and hacks the likes of which we're now seeing at an unprecedented rate.