CLOUD EXPO EUROPE | ExCeL, London 2-3 March 2022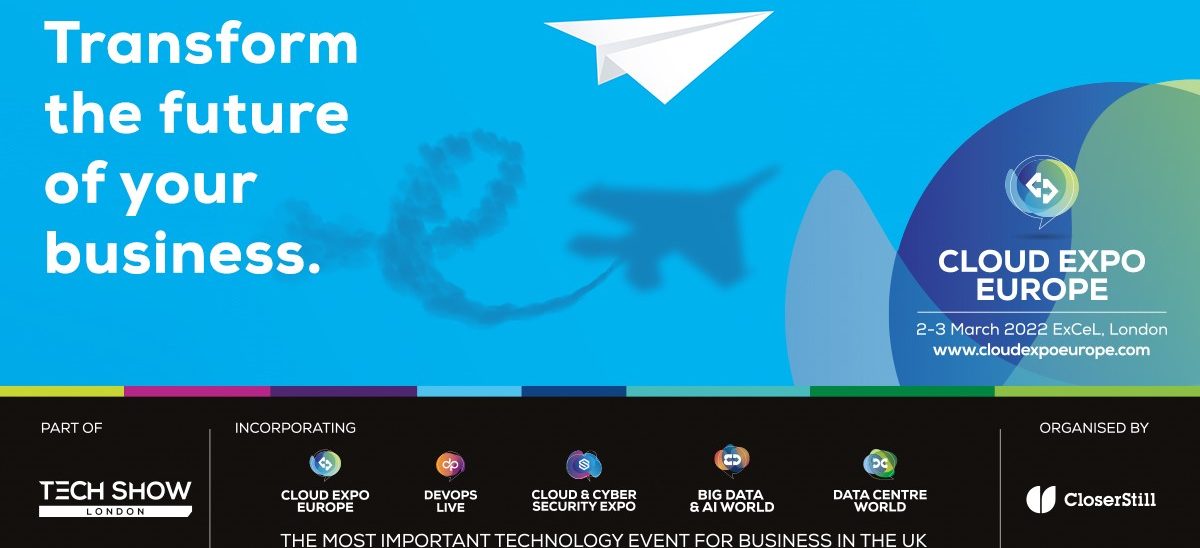 Cloud Expo Europe is the event that will bring the IT community back together, connecting technologists, business leaders and senior business managers from the public and private sector with technology vendors. It is a must-attend for anyone involved in specifying, maintaining, or managing an organization's technology architecture.
WHAT IS CLOUD EXPO EUROPE?
Cloud Expo Europe is the largest cloud computing event in Europe. It's where IT professionals can learn from their peers, meet with suppliers, seek advice, evaluate cloud solutions and services to help shape the future of their business.
The event is completely free to attend, with everything under one roof. It's also part of Tech Show London, giving you access to other industry-leading shows; Data Centre World, Cloud & Cyber Security Expo, Big Data and AI World, and DevOps Live.
You will enjoy more than 100 hours of high-quality content across two days. There is an incredible line-up of speakers, such as Tim Berners-Lee, to deliver keynotes and discussion. Our new interactive zone provides attendees with roundtables, hackathons, workshops, leadership discussions and drop-in clinics – no other show offers this much insight under one roof without an entry free… you really cannot afford to miss this!
With such a vast array on offer, Cloud Expo Europe always attracts a high-quality crowd. Immerse yourself in an event where heads of departments and senior managers flock to for the best inspiration for their organization. This offers you the opportunity to enhance and expand your network by liaising with the very best in the sector.
WHAT'S EXCITING AND NEW FOR 2022?
There are three exciting headline themes for 2022, which are: Controlling costs and complexity, Digital acceleration, and Future of the cloud. These have been chosen to reflect the trends within the industry, helping you to keep pace with the latest technologies and choose the best for your organisation.
Controlling Costs and Complexity
In theory, the 'X-as-a-Service' model for cloud computing should make controlling IT costs and complexity easier. However, the realities of maintaining oversight of IT infrastructure when apps, subscriptions and users can be generated at the click of a button is incredibly complex – particularly for organizations using a multi-cloud approach. In these sessions, we will be discussing methods for optimizing and predicting costs in the cloud (both using vendors' own tools, as well as third party technology), looking at how to avoid vendor lock-in and ways to manage built-in redundancy – among other practical insights.
Digital Acceleration
Most organisations have been undergoing a process of digital transformation for many years. However, the pandemic and the explosion in remote working has massively accelerated this shift towards reliance on digital and cloud-based technology. Companies are using cloud services more than ever, mobile technology is deeply entwined with processes, and firms are increasingly adopting artificial intelligence, IoT and edge computing. In these sessions, we will be exploring how organisations can increase their adoption of modern cloud-based tools, migrate complex legacy apps and decide what needs to be migrated – and what should be kept on-premises.
Future of the Cloud
What will the cloud look like in two, five- or ten years' time? This theme will explore emerging trends and 'signals' about what the future of the cloud might look like. It will look at innovative new technologies – particularly the emergence of edge computing which brings computing power closer to users. It will also be investigating key geopolitical factors and will ask what increasingly regional cloud ecosystems will mean for business. Then there is sustainability – how will demands for greater energy efficiency affect how cloud datacentres are run?
WHY SHOULD YOU ATTEND?
Cloud Expo Europe offers you a vast array of product demos and buying opportunities, an incredible networking opportunity, and a wealth of education and advice. It's everything you need to consider for your organisation for 2022 and beyond.
The speaker line-up for 2022 is outstanding, offering attendees the opportunity to hear from some of the leading lights in the industry. Enjoy an exciting discussion on driving innovations from Cloud to AI featuring the Head of Architecture at the BBC and immerse yourself in the keynote presentation with the Senior Software Engineer at Netflix who will provide insight on how to create a culture for fast digital transformation.
If you're looking to enhance your cloud strategy in 2022, you won't want to miss the in-depth panel discussion featuring the Chief Technology Officer at Bupa, and if sustainability in cloud technology is your focus, we have a debate featuring the Chief Information Officer at Macmillan.
This is just a snapshot of our speaker line-up, there will be a wealth of technical discussions taking place across the two-day event with esteemed speakers from Comparethemarket.com, Willis Towers Watson, Great Ormond Street Hospital and many, many more.
Cloud Expo Europe is a vital calendar date for technologists and business leaders in the public, voluntary and private sector who are involved in the design, build and management of digital transformation initiatives and specifying, maintaining, or managing an organisation's technology architecture.
READ MORE
All co-located events will be happening under one roof at the ExCel, London, 2-3 March 2022. Register once for Cloud Expo Europe and you'll have free access to all Tech Show London co-located events.
Join the technology conversation, live and in-person.
_________
For more news from Top Business Tech, don't forget to subscribe to our daily bulletin!