Super Connect for Good 2021: top 10 startups and scaleups for good announced

Following a virtual final, Hays Technology and Empact Ventures have released the ten Innovation Winners of the Super Connect for Good competition
Hays Technology, the recruiting experts and global super connectors, Empact Ventures, have released the ten Innovation Winners of Tech for Good start-ups and scale-ups for the 'Super Connect for Good' competition, as well as the overall champion. The competition was set up in 2020 to uncover the best emerging tech start-ups and scale-ups creating a positive impact on people's lives through technology.
The overall champion was revealed as Medisieve, a biotech company, developing "Magnetic Blood Filtration" (MBF), a combination of a device and a therapeutic platform for treating blood-borne diseases by removing pathogens, toxins or other targets directly from a patient's bloodstream. The company aims to provide hospitals with a tool to tackle diseases such as sepsis, malaria and leukaemia and viral infections such as Covid-19.
The 10 Innovation Winners were selected by 10 leading public sector and private sector organisations in areas from AI for Good to HealthTech and more who will win prizes to support them.
The innovation winners include BrainBerry, based in Loughborough, developers of artificial intelligence and personalised enabled cognitive behavioural therapy to help those with neurological symptoms, including Alzheimer's.
Nosy, based in London was also included in the top ten winners, developers of cutting-edge wearable technology to provide effective protection against air pollution. Also featured were Kide Science in Helsinki who supports children to get excited about the natural sciences through play-based learning, storytelling and dramatic arts.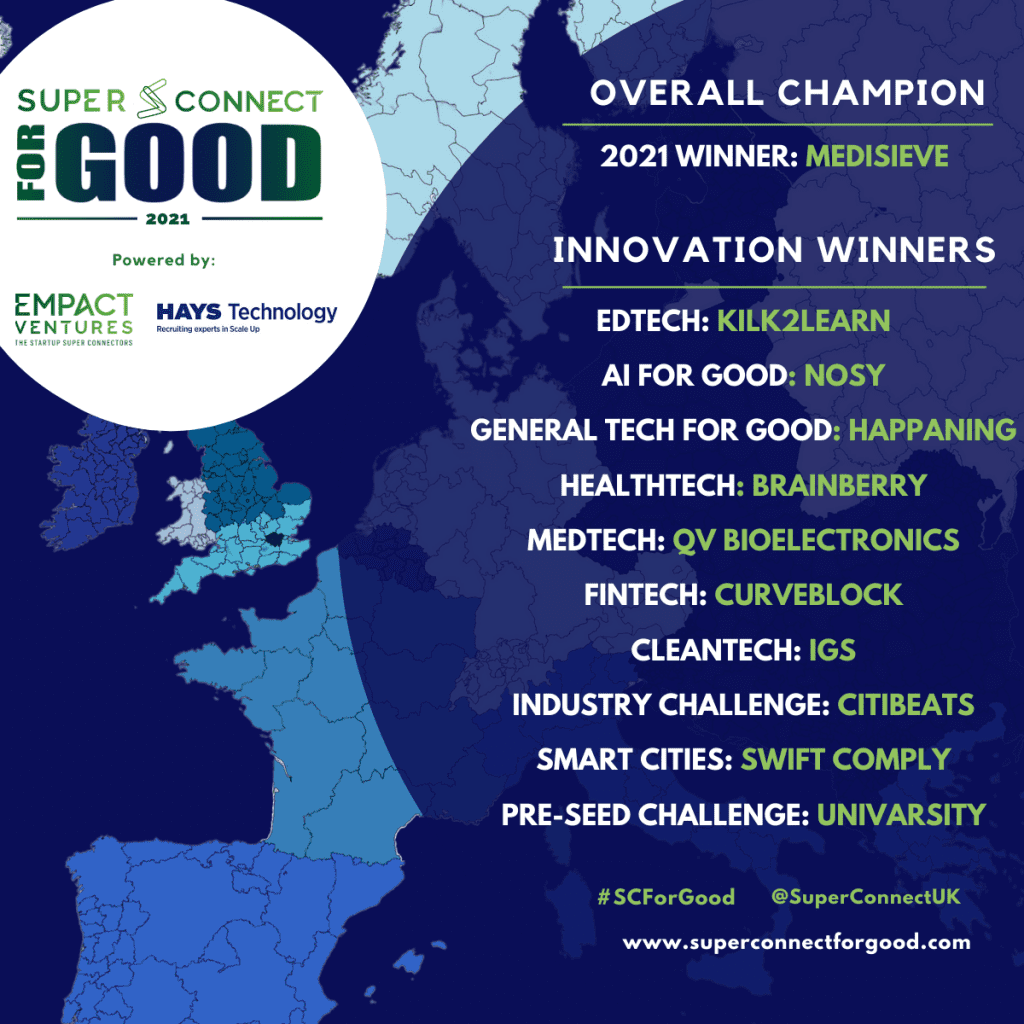 The 10 Innovation Winners announced were:
Nosy (AI for Good)
Klik2Learn (EdTech)
Brainberry (HealthTech)
QV Bioelectronics (MedTech)
CurveBlock (FinTech for Good)
Swift Comply (Smart Cities)
Citibeats (Industry Challenge)
IGS (CleanTech)
Univarsity (Pre-Seed Challenge)
Happaning (General Tech for Good)
Simon Winfield, Managing Director of Hays UK & Ireland, and judge at the virtual final, said: "Having the opportunity to hear about the innovative ideas developed by the winners who feature within the top ten list was incredibly impressive, and highlights the creativity the start-up scene has to offer across the UK, Ireland and European regions.
All of the winners are genuinely creating technology that will improve and enhance lives and we're looking forward to supporting these organisations in the next stage of their growth."
Kosta Mavroulakis, Founder & CEO, Empact Ventures, said: "Congratulations to Medisieve and our inspirational innovation winners for the aggregate social impact they are creating today and tomorrow. I'd like to thank Hays for making this initiative possible and all our fantastic partners and judges for volunteering their time to support it."
The competition, which took place across 9 regions in the UK, Ireland and Europe was judged by over 50+ judges including regional experts, entrepreneurs, funders, and professionals. Regions include North (North East, North West and Midlands), South (South East, South West, East England), London, Island of Ireland (covering Northern Ireland and the Republic of Ireland) and a joint region of Scotland and Wales. This is in addition to four regions across Europe including D-A-C-H and Nordics, France and BeNeLuX, Southern Europe and Centre and Eastern Europe.
Innovation partners include NatWest (General Tech for Good, OVHcloud Startup Program (AI for Good), Leeds Teaching Hospitals NHS Trust (HealthTech), NIHR Surgical MedTech Co-operative (MedTech), FinTech Scotland (FinTech for Good), Microsoft for Startups (Pre-Seed Challenge), Siemens Mobility (Industry Challenge and Smart Cities), Royal Agricultural University (EdTech) and Greenbackers Investment Capital (CleanTech).
Alongside Hays Technology and Empact Ventures, the competition is backed by partners including Seedrs, RTC North, Linkilaw Solicitors, Red Flag Alert, Dublin BIC, Boardroom Advisors, Top Business Tech and HealthTech World.
READ MORE:
About Hays
Hays plc (the "Group") is a leading global professional recruiting group. The Group is the expert at recruiting qualified, professional and skilled people worldwide, being the market leader in the UK and Australia and one of the market leaders in Continental Europe, Latin America and Asia. The Group operates across the private and public sectors, dealing in permanent positions, contract roles and temporary assignments. As at 30 June 2021 the Group employed c.10,800 staff operating from 256 offices in 33 countries across 20 specialisms. For the year ended 30 June 2021:
About Empact Ventures
Empact Ventures are global super connectors who co-design initiatives, scout for world-class innovation for larger organisations and funders and open the right doors at the right time for tech startups and scale-ups.
We bring people together based on mutual need and interest in a personalised and facilitated way to support you in creating strong relationships and partnerships. We work with both people and organisations in the private, public and third sectors to understand their needs, interests and challenges. We then bring them together with those that can address these areas through our initiatives, projects and ventures.
Our co-designed initiatives include the Super Connect Series, Super Connect for Good Competition, Virtual Northern MedTech Summit, Market Access for MedTech and more.
For more news from Top Business Tech, don't forget to subscribe to our daily bulletin!