Unlock the full power of Microsoft Sentinel and optimize your cloud investment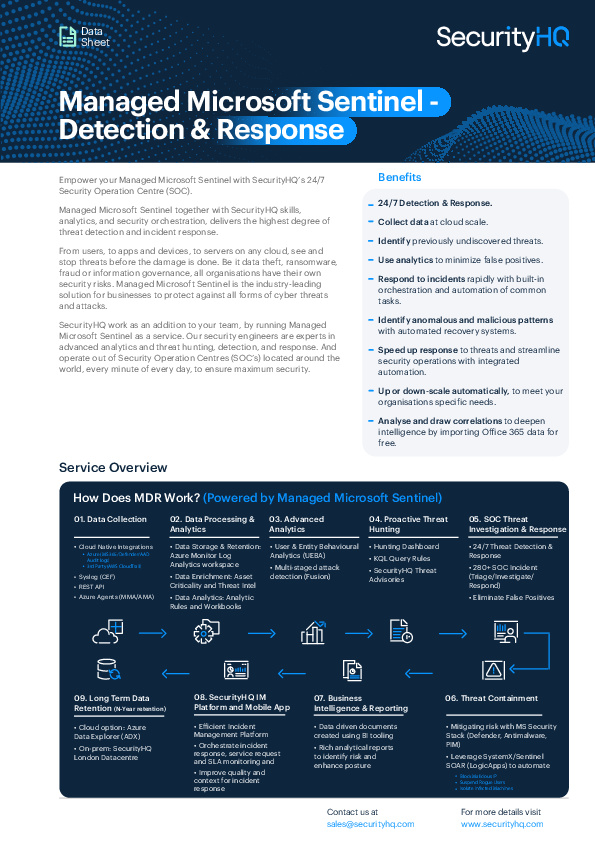 Empower your Microsoft Sentinel with SecurityHQ's 24/7 Security Operation Centre (SOC).
Having a Managed Microsoft Sentinel system worked on by SecurityHQ can be critical to stopping threats to your company.
This report shows how Security HQ security engineers are experts in advanced analytics and threat hunting, detection, and response.
The benefits of SecurityHQ's Managed Microsoft Sentinel service include:
24/7 Monitoring and Detection of Threats powered by real-time analytics and Enterprise-Grade & Gartner leading SIEM Technology.
Improved Speed of detection and response. SLA provides detection, analysis & notification within 15 minutes of a critical event.
Reduced Cost and Complexity and up/ Downscale Effortlessly.
Weekly Security Operation Meetings, to Illuminate Risk.
Download the datasheet to gain more insights.