As we celebrate the success of Empact Ventures' 2021 Super Connect for Good competition in partnership with Hays, we catch up with Liza Alem, Head of Marketing and Communication at AZmed.
Hays and Empact Ventures' 2021 Super Connect for Good competition was a resounding success. The virtual final, which took place in November, saw the regional winners go head-to-head by pitching live for the Super Connect for Good 2021 Overall Champion. Liza Alem, Head of Marketing and Communication at AZmed was crowned the France & BeNeLuX regional winner. AZmed brings together medical and technical expertise to shape the most relevant solutions and contribute to the adoption of AI applications in the health field.
Revolutionizing medical imaging with AI
AZmed is a French company founded in 2018 to improve doctors' working conditions and patient care. The first solution developed by the company, Rayvolve, is a computer-aided diagnosis tool able to detect all types of fractures on standard x-rays. Alem explained, "This state-of-the-art deep learning algorithm optimizes doctors' workflow, saving an average of 36% of their time, for improved fracture detection and a 20% reduction in diagnostic errors." Therefore, it helps doctors dedicate resources to life-threatening exams and spend more time with patients.
Rayvolve was the first software to obtain the CE marking in its category in 2019. In two years, the solution has been deployed throughout France (AP-HP, Hôpital Foch, CHUs, Group of radiology centers) and in 12 countries across three continents. Today, nearly 250 healthcare institutions are AZmed partners around the world.
Three companies are CE marked to commercialize fracture detection software on X-rays, including AZmed. All three are French start-ups that implemented AI algorithms for standard X-rays while others focused on CT Scans and MRIs. Alem stated that, "we differentiate ourselves from our direct competitors in several aspects. First of all, we are the first company to have obtained the CE marking for an AI medical device in our category in 2019." The company did not stop at fracture detection as it became the first company that has another CE marked algorithm specifically dedicated to chest pathologies. Thus, AZmed has, to date, the most complete offer on the market.
She added that, "secondly, we stand out through our speed of execution. In the last two years, we have greatly extended our commercial deployment." As of December 2021, AZmed counts 250 partners in 12 countries across three continents. This means that they have more partners, more images, and more feedbacks to make their algorithm the best possible.
Alem explained the final way AZmed differentiates itself is that "we have a unique R&D methodology because we emphasize "Domain Adaptation" which allows us to propose a customized algorithm to each healthcare institution." In addition to being trained with a database of over five million images, their algorithms are trained and optimized for each new partner with their images. Thus, they adapt to the machines that vary according to the manufacturer and the parameters. They adapt to the patients who differ between centers (some receiving more adult population, others more paediatric ones, the pathologies being more or less severe etc).
The company's latest major milestone is its partnership with GE Healthcare, the world leader in medical image diagnostics. A few weeks ago, AZmed announced this collaboration, which allows them to ingeniously integrate artificial intelligence into General Electrics' tools, making it easily accessible and relevant for healthcare professionals.
By partnering with GE Healthcare, AZmed enables healthcare professionals to become familiar with AI, saving time in the X-rays examination, with information in the right place at the right time and a secure diagnosis that offers an additional safety net, often in an emergency context.
Covid-19 response
The health crisis has revealed the limits of health organizations that force doctors to work in difficult conditions due to a lack of human and material resources. This increasing pressure on healthcare professionals raised a series of issues ranging from work overload, due to lack of personnel, to the quality of individual patient care.
Since its foundation, way before the Covid crisis, AZmed aimed to reduce patient care delays and improve the quality of care by saving time and accuracy for doctors. To this end, they have developed algorithms that automatically detect fractures on standard X-rays. Alem stated "in this time of health crisis, the interest of radiologists and emergency physicians for our solutions has only been accentuated, as they are under unprecedented pressure."
Fortunately, the Covid crisis has not slowed down AZmed's development because they are lucky enough to work remotely both on the collection of images (allowing the training of their algorithms) and on the deployment of the software. Indeed, when they integrate their Rayvolve software in a healthcare facility, they do it remotely, and they receive, analyze and send back the images through the cloud. Moreover, since the software is digital and the information needed to run the software is completely dematerialized, they did not have to adapt their product or organization when the health crisis broke out.
Thus, AZmed was able to help healthcare professionals work in this exceptional context by offering them a solution that saved them time and offered them a safety net. Alem explained, "we managed to communicate remotely with the healthcare institutions but also within our teams because everything was already done online."
"Finally, we are proud to have successfully developed and integrated a digital AI tool within the French and international healthcare systems in this time of major crisis," she added.
The Super Connect for Good 2021 competition
Alem shared that it was a real pleasure to participate in the Super Connect for Good Competition. She said "we had the chance to present the AI solution we developed alongside other extremely innovative companies. We met many people sharing our ambition: to develop technologies that will improve societies, whether it is in the healthcare field, the environment, education, etc."
"We are very proud to have been the winners for the France and Benelux region and we thank the entire Super Connect for Good and the Hays team. They introduced us to multiple people that we are very happy to work with, both in France and abroad," Alem added.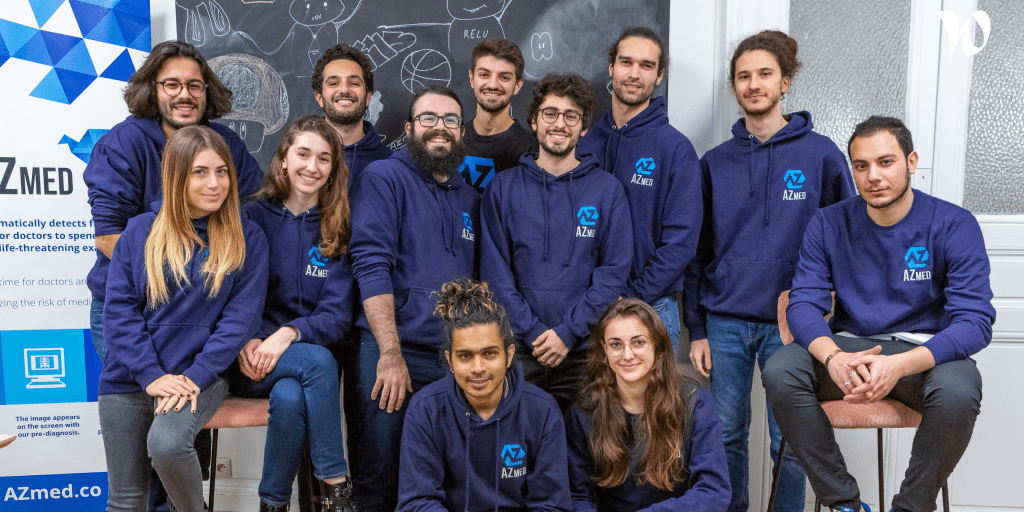 READ MORE:
About Liza Alem, Head of Marketing and Communication at AZmed
Passionate about health from a young age, Alem has always wanted to work in a company with a strong social impact, using technology to improve the medicine of tomorrow. After a bachelor's degree in international Relations and a master's degree in health Management and Artificial Intelligence, she joined AZmed to improve both doctors' working conditions and patient care.
For more news from Top Business Tech, don't forget to subscribe to our daily bulletin!