Super Connect for Good 2021 Meet the Judges exclusive: Marcus Orton, Innovate UK EDGE

As we celebrate the success of Hays' and Empact Ventures' 2021 Super Connect for Good competition, we catch up with Regional Partner and Judge for the North of England region, Marcus Orton, Senior Innovation and Growth Specialist, Innovate UK EDGE.
Hays' and Empact Ventures' 2021 Super Connect for Good was a resounding success. The virtual final, which took place in November, saw the regional winners go head-to-head by pitching live for the Super Connect for Good 2021 Overall Champion. We spoke to Regional Partner and Judge for the North of England region, Marcus Orton, The Senior Innovation and Growth Specialist, Innovate UK EDGE. Innovate UK EDGE is an integral part of the grant funding organization, Innovate UK, which focuses exclusively on innovation-led companies with high growth potential. Innovate UK Edge was launched earlier in 2021, and is an initiative dedicated to helping such companies along growth journeys to scale.
Orton joined Innovate UK a year ago as an independent consultant, working with medical device sector advisors and supporting companies with regulatory compliance, risk management, product development, assessments, and services. He was also a managing director of NHS spinout company SwabTech, which sought to bring blood recovery technology to the market. Though SwabTech was unable to obtain the funding needed to enter the market, it brought Orton to the "very exciting" opportunity to work with the Innovate UK team, operating in the North of the UK. Innovate UK EDGE provides a national service, is led by seasoned specialists with diverse experience and international track records at the business-end of innovation.
Orton's experience in product development, largely in medical devices, notably orthopaedic instrumentation and implant system development, positioned him well as a specialist in the organization. He shares that he joined a team with a holistic set of skills, including marketing, corporate finance, accountancy, local government and public sector, and support services, all from across various industries such as manufacturing, retail, hospitality and science and technology. "We're an extended team of advisors," he explains, "we can work either individually or as teams with clients from these sectors."
Navigating a turbulent climate
Drawing on his experience at Innovate UK EDGE, Orton reflects on the current challenges facing startups today. He notes that startups must balance a focus on present operations while also remaining aware of the future as a business progresses. He shares that many contextual economic factors have impacted companies of all sizes in recent years: Britain's decision to leave the EU, the Covid-19 pandemic, and the growing need for climate action vocalized at COP26. "These are immediate and long-term components to take into account, let alone rival and competitive competitor influences.
"At Innovate UK EDGE, we are a regular touchpoint and sounding board to what a startup's or SME strategy is, and how its business plan responds to that strategy and evolves with it, both in the context of the business developing and changing economy," he said.
As startups navigate this turbulent climate, Innovate UK EDGE provides a funded service "so that the cost to the participants in our work is primarily the time that they would invest in working with us," explains Orton. Leveraging knowledge from Innovate UK, The Knowledge Transfer Network, The Catapults, and grant funding bodies such as Innovate UK and the EU Horizon project, Innovate UK EDGE provides a wealth of knowledge and connectivity to the businesses they work with, to meet the wider economic challenges head-on.
In the context of the healthcare industry, Orton shares that "organizations are coming from Europe as they see the UK as a very promising economy to be working with. There is more investment going into the healthcare economy, and the demand is increasing, almost as a consequence of how successful our health system is in tackling existing challenges."
From an environmental aspect, society is taking a more active approach to mitigating climate change, which is reflected in emerging startups. "We're seeing the increased interest in electric vehicles and alternatives to carbon-based gas, which will enable us to live more environmentally responsible lives."
For both of these trends, Orton emphasizes, "if individual companies have an idea, they need to realize the work that is needed to bring that idea to market, to evaluate its potential and to engage successfully with relevant stakeholders; be they manufacturers, suppliers, or distributors. These are the themes we see across our work."
The makings of a great startup
"Creativity is at the heart of a good startup," says Orton, "And an openness to what is driving them to create a new solution. This can mean a driving passion and perseverance that is internal to the company, but a great startup also needs to have a realistic understanding that a solution can sustainably serve a market need, and that other bodies will engage with the need that they are responding to." Orton adds that this is an iterative process where startups need to remain flexible as they grow and learn from customers and market peers while remaining open and actively listening to stakeholders.
Scaling up
To those startups looking to scaleup, Orton reminds these startups that many people have been through this process before. "Speak to others who have been through the scaleup process. You don't have to like everything they say to you, but keep in mind; it's quite a journey. We're very privileged to work with a variety of companies in a short amount of time, and from this, we have gained an insight into a multitude of successes and failures, and being able to gain from this is key. It's important to remember that you're not on your own in this process."
"I've been impressed by the Super Connect For Good programme. These hosts have a great knowledge of how virtual environments work, run excellent programmes and have provided a platform for some really fantastic businesses." Orton emphasizes the importance of startups coming together to celebrate these accomplishments and the chance to meet other organizations that will support them in their journey. He adds that the quality of the companies he saw this year has given him hope that emerging technology will certainly have a role in overcoming the challenges that he previously outlined.
Innovate UK EDGE supports startups by facilitating grant funding applications, business cases, and presentations. He describes the quality of the presentations at the Super Connect for Good as sophisticated, but sobering. "While it's exciting to see such a high standard of presentations, it is also sobering, as so few recipients can be awarded grant funding. This is where our support extends into other aspects of supporting business growth".
Orton explains that there is a limitation on funding resources nationally, and if there is an successful appeal to the wider parts of the community, that have more resources, be it financial or otherwise, more businesses with much-needed solutions will thrive. "If investors took a lower return or placed more resources into businesses, the nation may see an overall improvement in economic progress." He continues, "We'd also like to see more government money going into social services, transport systems, and businesses to not only to improve the support for our society and communities, but as an investment to develop and strengthen the next generation of products, services and professionals."
READ MORE:
About Marcus Orton, Senior Innovation and Growth Specialist, Innovate UK EDGE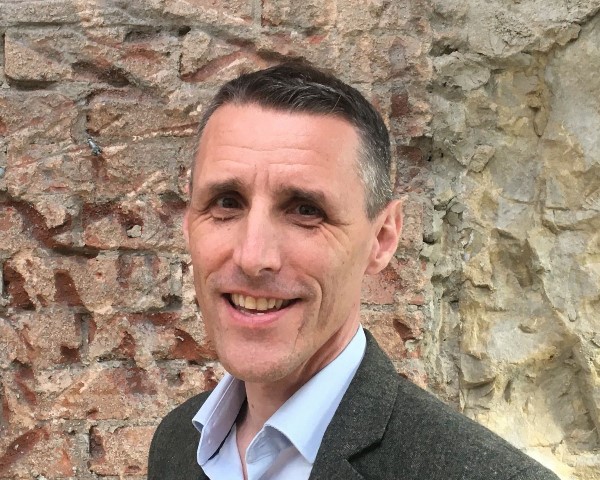 An experienced medical device developer, business leader and innovator, Marcus Orton is committed to delivering world-class products, services, business process solutions, sustainable and effective management of resources, founded on experience gained in leading multinational corporations, UK healthcare and academic organizations, startup and SME business settings.
As an innovation specialist, he provides product, business and regulatory development support and coaching. This work draws on work with medical device business teams, healthcare service providers and academic technology transfer and teaching programs. Services include gap analysis, planning, risk management, theme-based workshops, documentation review and direct support for the development of business plans, grant applications and product development projects.
As an NHS spinout, startup CEO, Orton leads the business and product development of an innovative enhancement to surgical blood recovery systems. While it did not succeed in reaching a commercial market position, the work successfully secured grant and investor resources, technology, supply-chain, and IP development. This drew on experience gained in medical device product development, product launch and scale-up delivery and has supported clinical innovation in orthopaedic medical device and surgical instrumentation sectors, the delivery of private healthcare change management, and technology transfer and transformation in academic research and business innovation management roles.
For more news from Top Business Tech, don't forget to subscribe to our daily bulletin!