Businesses are now digital-first. Amplitude, the digital optimisation system, is helping every business realise the impact of digital product innovation. We hear from Daniel Bailey is Vice President of EMEA at Amplitude, who tells Top Business Tech more.
Could you tell us a little bit more about Amplitude?
Amplitude is the digital optimisation system helping customers optimise the business value of digital product innovation. We enable our customers to innovate faster and smarter by answering the strategic question: "how do our digital products drive our business?"
The brain behind more than 45,000 digital products at over 1,000 enterprise customers, we work with 23 Fortune 100s to re-envision digital revenue strategy. Amplitude's software essentially tracks and analyses anonymised user behaviour in online products to deliver actionable behavioural insights that drive business profitability through three core elements.
The Behavioural Graph is the system's brain and enables customers to see what is happening on their platforms. It is the fastest, smartest and deepest database of customer behaviours, built for the complexity of modern digital products. Based on trillions of customers' actions to date, its Machine Learning predicts which actions lead to business outcomes, such as retention or churn.
Digital Product Analytics applications enable customers to predict what actions need to be taken to solve issues, delivered through an evolving set of applications built on top of the Behavioural Graph.
Finally, the Amplitude Recommend and Experiment products are a key part of our infrastructure. Recommend is designed to be a central system for all teams to leverage and contribute to a single, common data set and build a better digital experience in real-time. Amplitude Experiment uses an advanced A/B testing system, using end-to-end experimentation it integrates with customer data every step of the way to generate hypotheses for targeting users.
Amplitude was launched to recognise the lack of services that monitored what kept digital customers coming back to online platforms. Now supporting customers including Calm, Peloton and PayPal, Amplitude can collect vast amounts of data on user behaviour, providing insights on which online features are engaging their users.
How do you differentiate yourselves in the market?
Due to the impact of the COVID-19 pandemic, we're operating in a time where every organisation is already or is becoming a digital first business. However, the issue is while businesses are spending about US$6.8trn on digital transformation, many do not know how their customers are interacting and using the platform. Without this insight, businesses are missing opportunities to better engage and retain their customers by making critical changes to their digital products. This is where Amplitude comes in – our technology delivers this strategic and actionable insight.
We have a data set of over a trillion customer actions to date, which is continually growing each day. Using our machine learning technology, Amplitude enables organisations to design, build, measure and optimise digital products and every customers' unique experience in real-time. This real-time insight is what is needed for digital businesses to set themselves apart from the competition.
What was your last major milestone?
While we are only halfway through 2021, we have already experienced many milestones for Amplitude. As mentioned above, we launched Amplitude's Digital Optimization System as well as our new products Amplitude Recommend and Experiment. Alongside this, we hosted our first ever Digital Disruptor Summit in June in order to educate technology leaders on the power of data and analytics to drive digital-first growth.
In April this year, we launched the Amplitude Partner Ecosystem in EMEA, an industry-first program that brings together more than 40 founding partners to help customers accelerate and optimise digital transformation and product innovation strategies. By joining the ecosystem, partners can gain access to a range of resources and benefits, including Amplitude technical experts, training and certification programs, and joint sales and marketing opportunities, making it easier than ever to build and deliver innovative solutions to customer problems and cultivate new business opportunities.
Our goal at Amplitude is set on helping all businesses become the best they can digitally for themselves and their customers. Our product roadmap is a key and strategic part of delivering the best experiences to our customers. But, it doesn't stop there; we have big plans to continue to innovate and develop across all levels of our Digital Optimization System so that we can strengthen our technology and continue to provide the insight that is needed.
How has your company adapted to the outbreak of COVID-19?
During the last year and a half, Amplitude has experienced huge growth due to the impact of COVID-19. As businesses were forced to digitalise at a rapid rate in order to reach their customers due to global COVID-19 restrictions, they also needed to understand how to best engage and retain customers on their online platform, and we have helped them to do that. As a result, in mid-2020, we reached unicorn status, and now in June 2021, the company closed its Series F funding round of $150mn, bringing us to a $4bn valuation.
Building on this, we created and launched additional tools that help our customers understand and ultimately deliver the best for theirs. Businesses create complete personalisation tailored to user behaviour by putting customers at the heart of the digital experience. Amplitude fixes the gap where companies could not previously understand customer behaviour due to a lack of data, siloed systems and incomplete overviews, which in turn made true personalisation for individual needs impossible.
How do you see the industry changing in a post-COVID-19 world?
The world has already changed to become digital first, everything we do as organisations needs to be accessible digitally in order for it to survive in a post-COVID-19 world. We've already seen how businesses needed to adapt during the last year and this rate of innovation will need to continue in order to meet user demand and expectations. Personalised and tailored digital experiences have gone from a 'nice-to-have' to a
'must-have'. Therefore, to compete in a highly competitive market, businesses need to invest in optimising their digital products on an ongoing and real-time basis.
At Amplitude, we recognised that businesses need access to knowledge that will help drive their business forward – this is why we hosted our Digital Disruptors Summit earlier this month. Digital is the future, so we must provide our customers and prospects with the knowledge to innovate, transform and shape the world through disruptive digital products and allow them to understand the power of data and analytics to drive digital-first growth.
READ MORE:
About Daniel Bailey
President of EMEA, Amplitude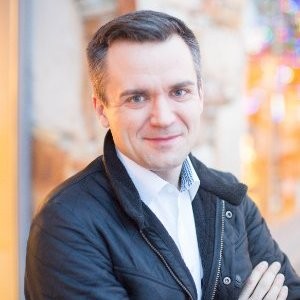 Daniel Bailey is Vice President of EMEA at Amplitude, leading the region's team to help businesses of all shapes and sizes, in all markets, to build a great product and customer experiences through our cross-platform, real-time data solution. Daniel has a history in enterprise previously working for Zendesk and Salesforce.
For more news from Top Business Tech, don't forget to subscribe to our daily bulletin!