WAICF – Dive into AI visiting one of the most popular tech events 2022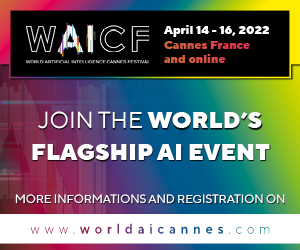 Discover all the exhibitors and activities that WAICF has prepared for you for 2021.
Every year Cannes held an international technological event called World Artificial Intelligence Cannes Festival, better known by its acronym WAICF. One of the most luxurious cities around the world, located on the French Riviera and host of the annual Cannes Film Festival, Midem, and Cannes Lions International Festival of Creativity. 
This year is not the exception, according to the WAICF website, David Lisnard, the Cannes Mayor leads the opening of this event to be held in the same city from April 14th to Saturday 16th.
We are talking about a festival designed with the intention of bringing businesses and individuals into AI, through a rich and diverse line-up, offering the attendees the opportunity to discover and understand the impact of AI in daily lives and at the same time, giving the spotlight to all the companies involved in technology that want to propose innovative ideas, novel information, and new findings.
They have mentioned that the objectives of the events are to develop the AI market, present innovations, and new products, offer a place for experimentation and discovery, and educate the audience on the benefits of technology.
To achieve this objective, they have contacted the world's leading organizations to attend this event, businesses such as Allianz, AT&T, Bosch, Ericsson, GE Healthcare, JPMorgan, Merck, Michelin, Nestle, Philips, Schlumberger, Siemens, Sony, Spotify, Chronopost, Samsung Research, Servier, United Nations, Vodafone, Humanitas Research Hospital, Twitter, Magna, Meteo France, HSBC, UBS, Nokia, The Coca-Cola Company, Bayer, Adecco, Mapfre, Sodexo, Renault, Novartis and more.
One of the questions that we should ask is about the ethics in technological advancement, and the WAICF is aware of this, bringing that discussion as part of the AI impact topic. Considering that in 2020 the global market for AI was valued at around $62.35 billion, by 2028 is expected to rise 40.2%, exposing that the pandemic has led humanity to trust more in robots; but there is no right ethical strategy developed. 
Last year EU created its "Coordinated Plan for AI in 2021" to analyze the AI ethical implications and designed a policy based on the results, then in November same year, UNESCO confirmed that 193 companies adopted the first global agreement in this manner. WAICF is keen to discuss these regulations and offer multiple perspectives from data collection to governmental or private development.
If you wonder how to arrive there from abroad, they have partnered with Air France and KLM, having up to 15%, as they provide the transfer from Nice Airport to your hotel and return during the event. For the stay, you can enjoy the services from any of the 23 hotels from BNetwork, another solution offered by the organizers.
The last day of the events is planned to choose the Cannes Neurons Awards at the Palais des Festivals et des Congress de Cannes. The ceremony starts with two finalists defending their positive IA project for society and the planet and the WAICF Honorary Committee, composed of 14 eminent personalities from the tech industry, selects six finalists, and at the end of their presentation, the public can decide which one is the best.
On the 23rd of February, according to the local press ActuIA, the selected projects to demonstrate their ideas to win a prize in three categories were announced, being the following the best options: "Inclusive AI" having Wizard AI and Sama as competitors, "Sustainable AI" decided between Alcemy GmbH, Innovation Lab by LACROIX and "Creative AI" to be chosen between ASC27 and DMAI.
For more details about the WAICF Honorary Committee next, you have a list of the 14 judges and their companies:
Teki Akuetteh Falconer, Senior Partner at Nsiah Akuetteh and Co. And Founder and Executive Director at Africa Digital Rights Hub. 
Mitra Azizirad, Corporate Vice President at Microsoft AI and Innovation. 
Dr. Fatmah Baothman, Board President of AI Society at King Abdulaziz Univerisity. 
Marnie Benney, Independent Contemporary Art Curator.  
Roberto Cingolani, Italy's Minister of Ecological Transition and Chief Technology & Innovation Officer at Leonardo Company.  
Pascale Fung, Director of CAiRE at Hong Kong University of Science and Technology. 
David Gurlé, President at Symphony. 
Yann Le Cun, Vice-President, and Chief AI Scientist at META AI. 
Jean Mane, President at V. Mane Fils.  
Wonki Min, Ambassador for Science, Technology, and Innovation of the Republic of Korea.  
Francesca Rossi, Fellow and AI Ethics Global Leader at IBM. 
Michael Schönstein, Head of Strategic Foresight and Analysis at German Federal Ministry of Labour and Social Affairs.  
Joseph Stiglitz, Co-chair of the High-Level Expert Group on the Measurement of Economic Performance and Social Progress at Roosevelt Institute. 
Dr.Feiyu Xu, Senior Vice-President at Global Head of Artificial Intelligence.  
Looking forward to the presential visit, you might consider some Covid-19 restrictions, such as proof of being fully vaccinated, having a PCR test or flow test taken within 48 hours, as it will be required to use face masks. At the same time, the WAICF will provide face masks, hand sanitizer, floor markings to help maintain social distancing, constant cleaning and sanitizing of the public areas, and monitoring the number of attendees. 
Events like this one bring out innovative ideas and gather the most knowledgeable personalities to keep improving the future of technology and particularly the future of AI, therefore tbtech suggests you visit their website and do not hesitate to book your pass today. 
Click here to discover more of our webinars
For more news from Top Business Tech, don't forget to subscribe to our daily bulletin!