Number of Shopify stores globally triples during the pandemic

Genus AI looks at the e-commerce sector and how it continues to expand with the pandemic acting as the main catalyst as the sector strived to fulfill the changing consumer behavior. 
The e-commerce sector continues to expand with the pandemic acting as the main catalyst as the sector strived to fulfill the changing consumer behavior. The sector's growth is evident by the number of live websites on platforms like Shopify.
According to data obtained by Genus AI, between March 2020 and January 2022, the number of Shopify live websites surged 201.53%. At the onset of the health crisis, the platform hosted 1,287,547 websites that have recorded a triple growth to 3,882,345. Therefore, the platform has added a staggering 2,594,798 new live stores in under two years.
Elsewhere, the United States accounts for the highest number of Shopify live stores as of January 2022 at 2,666,627, a growth of 178.53% from March 2020's figure of 957,393. The United Kingdom ranks second with 156,466 live stores, followed by Australia at 101,795.
Germany recorded the highest growth rate between March 2020 and January 2021 at a whopping 480.18%, among the top six countries with the highest number of Shopify live stores. Data on Shopify live websites is provided by technology profiler BuiltWith and internet archive tool Wayback Machine.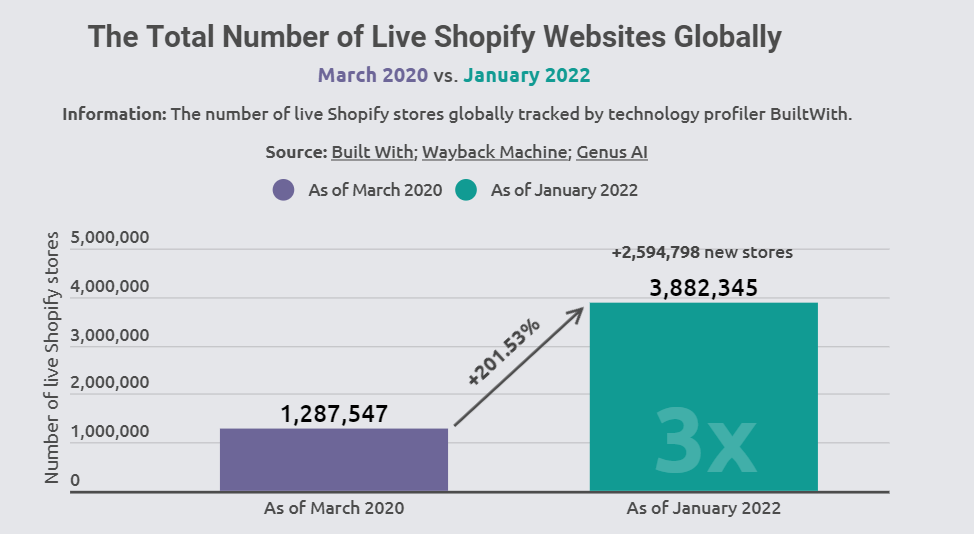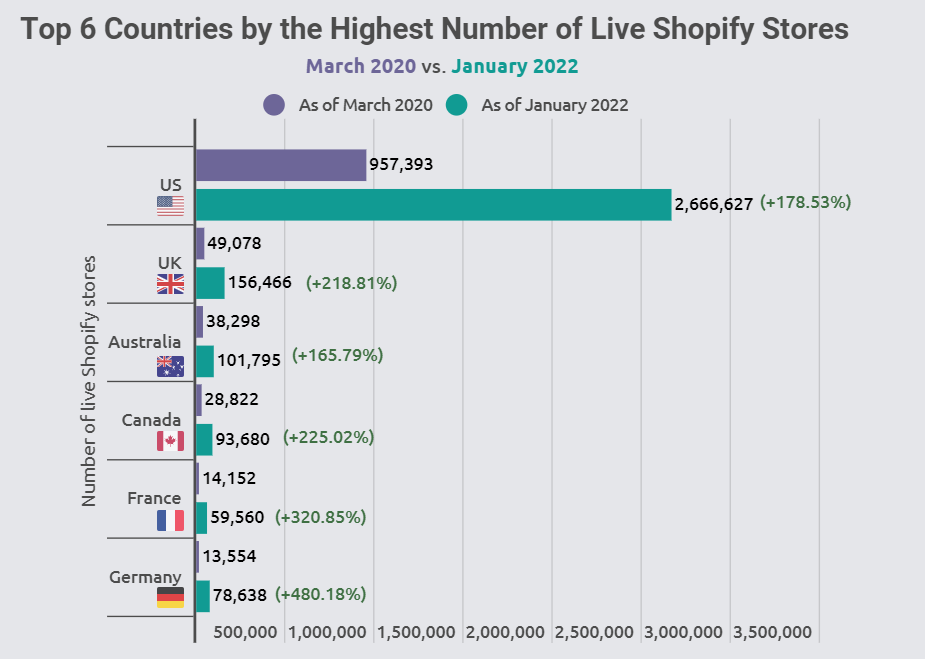 How Shopify gained from the pandemic 
From a glance, Shopify, which provides infrastructure for retailers to set up their stores online, emerged as a pandemic winner. Amid the health crisis, most businesses were forced to close their stores, with online presence emerging as the difference between surviving and going under.
The growth can be tied to Shopify's user-friendly status that enables businesses to create e-commerce websites without the need for technical knowledge or coding skills. For example, users can change the website's front end, do stock counts, pull analytics, check what's selling with just a click of the button.
The increasing online store trend is playing a crucial role in changing the outlook of the entire retail business. Businesses are opting for an online presence to enable potential customers to access the listed products anytime, anywhere. Notably, retailers that are yet to join the online bandwagon will potentially shift based on the growth.
It is essential to mention that some businesses are attempting to balance online and physical retail stores. Some retailers are integrating elements of their online presence into their physical stores by leveraging software that enables shoppers to try items in the physical store virtually. This integration is guided by the view that businesses aim to cater for all classes of customers, especially with most economies reopening.
Emerging competition in the e-commerce sector
The emergence of more online stores has altered how consumers shop and the range of providers from which consumers can buy products and services. Consequently, this has increased competition in the space.
The competition has resulted in businesses exploring how to enhance consumer choice and prompt and facilitate innovation in product distribution. In addition, the competition has been accelerated with the cross-border part of eCommerce.
As competition ramps up, retailers increase their advertising budget, targeting mainly digital platforms. For instance, through social media platforms like Facebook, owners of Shopify stores are almost guaranteed their websites and products will be displayed to the target audience. These changes have made it more expensive to advertise on specific platforms.
Worth noting is that the newly added live Shopify websites mainly consist of smaller players that are not equipped to compete with established entities like Amazon. In this line, smaller businesses focus more on customer satisfaction, a significant rating booster. Therefore, poor ratings mean that businesses cannot hold on to a vast customer base.
Businesses striving to stand out amid increased competition
Overall, businesses are compelled to distinguish themselves from the competition to stand out and attract new customers. As a result, players in the space have resorted to generating creative adverts by leveraging AI. The use of AI is helping businesses generate high performance ads, predict which ads perform better, and launch visually appealing campaigns on social media platforms. 
READ MORE:
Additionally, the influx of e-commerce players is compelling businesses to set up credible, secure, and user friendly websites and provide unique products or services. A professional website contributes to converting traffic into customers.
For more news from Top Business Tech, don't forget to subscribe to our daily bulletin!