Upgrade Branch Infrastructures with Fortinet Secure SD-WAN
As the use of business-critical, cloud-based applications and tools continues to increase, distributed organizations with multiple remote offices are switching…
---
As the use of business-critical, cloud-based applications and tools continues to increase, distributed organizations with multiple remote offices are switching from performance-inhibited wide-area networks (WANs) to software-defined WAN (SD-WAN) architectures. SD-WAN offers faster connectivity, cost savings, and performance for Software-as-a-Service (SaaS) applications as well as digital voice and video services. But SD-WAN has its own shortcomings—especially when it comes to security.
Fortinet delivers Secure SD-WAN as an integrated feature of its industry-leading Fortinet next-generation firewall, powered by the industry's first SD-WAN ASIC to enable better application experience, higher performance, and better cost efficiency. The Fortinet solution boosts application performance through instant identification and intelligent routing. To help implement network changes that ensure business continuity with limited IT staff and infrastructure resources, Fortinet's broad product portfolio with built-in SD-WAN offers flexible business policies from a centralized Fabric Management Center console.
To learn more, download our Whitepaper.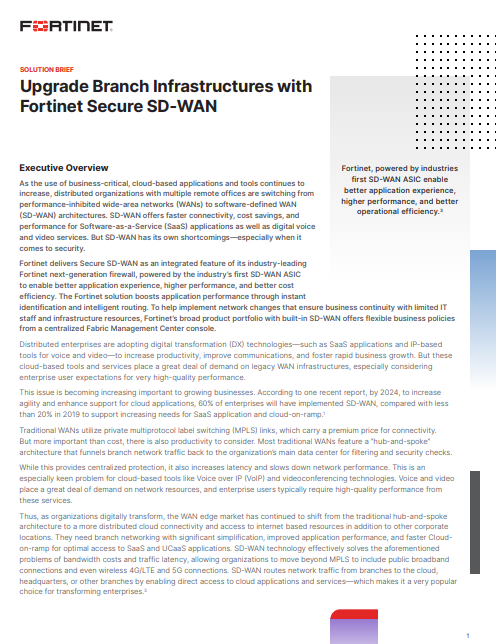 ---