Shell Lubricants for Driveline: Spend More Time in the Field
Keeping agricultural equipment working efficiently and reliably is key to business performance The success of your agricultural business depends on…
Keeping agricultural equipment working efficiently and reliably is key to business performance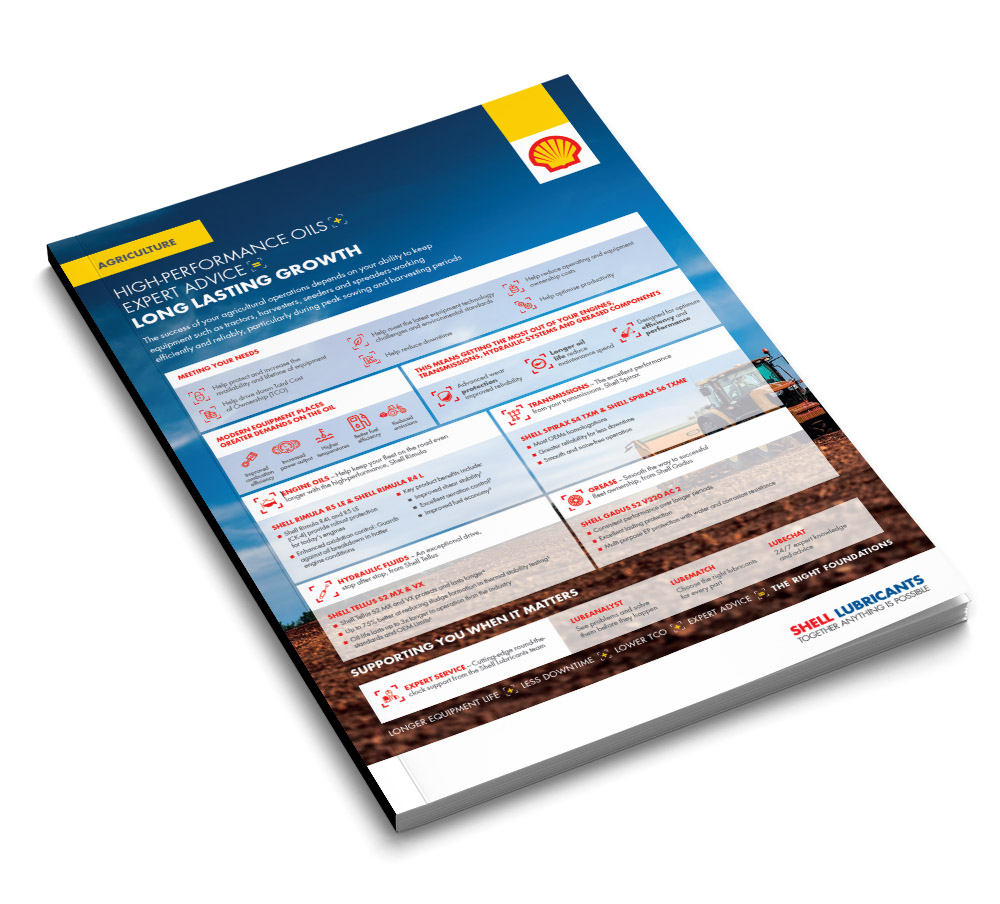 The success of your agricultural business depends on your ability to keep your equipment working efficiently and reliably, particularly when sowing and harvesting.
Yet two in five (41%) farm managers say they often experience breakdowns because of ineffective lubrication, and the same number (42%) admit lubrication is rarely a priority.
You need expert advice and a simplified lubricant portfolio that is suitable for today's connected machines – helping to increase uptime, minimise downtime and extend equipment life, meaning you'll spend more time in the field and less in the repair shed.
This is why we've introduced Shell lubricants for Driveline: a suite of high performing lubricants and services that adds up to more than the sum of its parts – making your equipment much more efficient and productive.
Putting this into perspective, customers leveraging Shell Technical Services have seen a marked improvement in their operations. This has delivered over $68M in documented value savings to Shell's B2B customers.
Read the findings from our latest global research into Total Cost of Ownership (TCO) and maintenance in agriculture.
Discover how businesses are improving profitability with the latest technology and lubrication best practice.
41% of agriculture businesses say they often experience breakdowns because of ineffective lubrication
In spite of this, 42% admit lubrication is rarely a priority
This means agriculture companies are incurring avoidable costs and delays due to equipment breakdowns resulting from ineffective maintenance
Yet by working with the right partners, farmers and farm managers can get the advice they need to prevent unplanned equipment, and ultimately enhance their competitive advantage