How Cloud Enables Modern Management For Midsize Firms
As midsize firms turn to cloud to enable the agility needed to compete in the future of work, most will…
---
As midsize firms turn to cloud to enable the agility needed to compete in the future of work, most will remain in a hybrid state for the foreseeable future. A shortage of resources and stakeholder alignment are the biggest threats to the success of these endeavors.
In January 2020, Dell commissioned Forrester Consulting to evaluate the unique challenges faced by midsize firms in their efforts to embrace cloud and improve employee experience (EX). Forrester conducted an online survey with 995 business and information technology (IT) leaders involved in decision making for procurement of devices at their midsize (100 to 999 employees) organizations.
KEY FINDINGS
› Leaders lack a unified strategy as they increase technology investments. Firms continue investing more in technology products and cloud services, but business and IT leaders lack a unified approach.
› Midsize firms struggle with acquiring resources needed for a successful transformation. Transformation efforts are complex and even more costly for midsize firms. Given their size, they also lack the in-house cloud expertise and struggle to reskill in-house talent.
› A unified, modern IT and security approach is key. Midsize firms will not be successful in their efforts if they take a siloed approach to modern management. Firms must realize that modern management is not just a new way to manage PCs, but rather a strategy for improving EX.
Learn more about Dell Technologies solutions powered by Intel® vPro® Platform.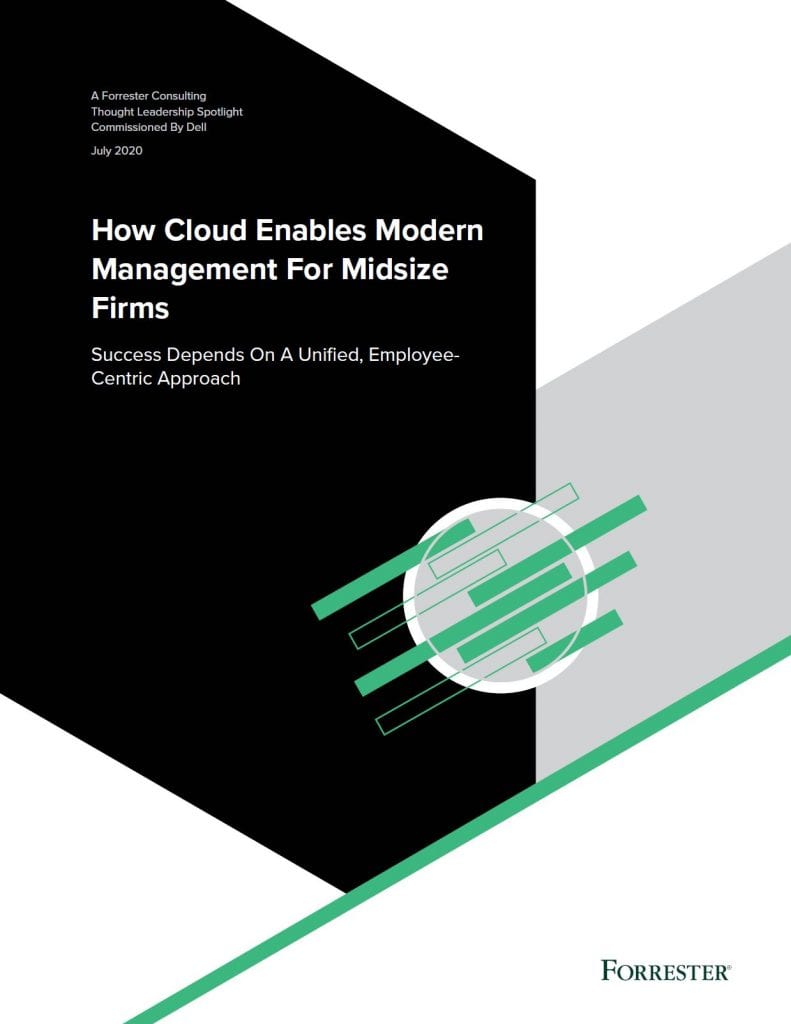 ---