As Empact Ventures round off 2019 with the fourth in their run of Super Connect Series events, we reflect on their overwhelming success and talk to some of the companies involved
It is often said that networking is not just about connecting people with people, it's also about connecting people with ideas, and people with opportunities. It's a process of enrichment and of learning. A wealth of insight can be gained from listening to and learning from other businesses who tread those paths time and again, boosting growth and building lifelong connections in the process.
We know where we want to go, but sometimes we just don't know how to get there. That's precisely what Empact Ventures aims to address.
By super connecting businesses of all sizes through a range of tech talks and innovative pitches on AI, IoT, Cybersecurity, FinTech, MedTech and more, the Super Connect Series aims to facilitate growth through access to the right people, relevant information and innovative ideas, as well as highlighting investment opportunities and funding advice.
Speaking about the Bournemouth event in November, Kosta Mavroulakis, CEO and founder of Empact Ventures, said: "It was great to have so many tech startups pitching on the day, some with live demos & even more so taking part our signature Super Connect sessions to match-make people."
Kosta's hands-on approach is key to the event's success. Kosta and his team go above and beyond, identifying the kind of challenges a business might face and where there might be an opportunity to help. Using this, Empact Ventures generate a roadmap for the event, for each business, which aims to expose businesses to the right people either on the day or post-event.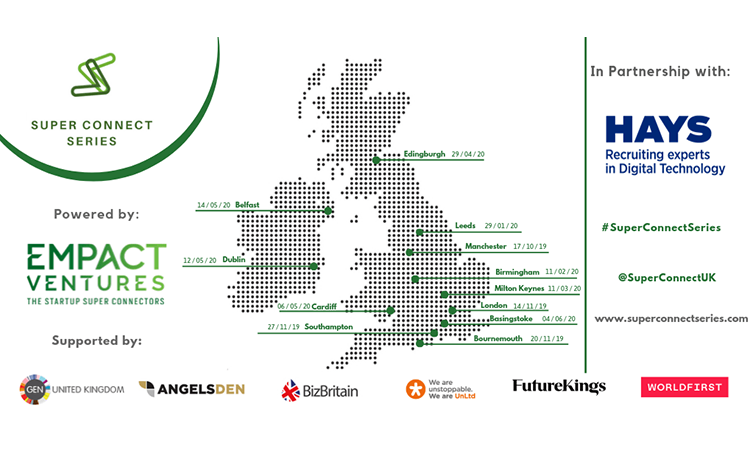 Finn Morgan, Dorset LEP's Business Engagement & Dorset Gateway Manager added: "We're proud to sponsor initiatives such as the fantastic Super Connect events, which help to super-charge our ambitions to drive the region's economic growth in key areas such MedTech and AI. The latest Super Connect event once again presented excellent collaborative and networking opportunities for start-up and scale-up businesses in Dorset."
Empact Ventures has taken its unique brand of matchmaking nationwide, aiming to illuminate and inspire through success through not only networking but stories, pitches and education. Sponsored by the global recruitment firm Hays, the series has been an overwhelming success, garnering much praise for its initial run in 2019.


---
---

Gunnar Bless, CEO and co-founder of Zasteo, a FinTech startup developing a community banking service, said that the Super Connect Series' range of topics is helpful as it exposes both new and established businesses to an abundance of networking opportunities.
"One event might be focused on AI, the next one on Fintech," he said. "This, combined with the fact that SCS always moves to different locations, supporting the local startup and business infrastructure, means that each event always generates a wealth of connections.


---
"If there is at least a remote fit for a connection, SCS will deliver."

Gunnar Bless, CEO and co-founder of Zasteo
---

Making new connections is high on the agenda at SCS events, and Gunnar has benefitted from this directly.
"Via SCS [Zasteo] have connected to other startups, got introductions to funding opportunities and found the doors open for discussions with large corporations like Barclays, connections which otherwise would be hard to obtain.
"If a company is looking for certain corporate connections with the aim of collaboration, Kosta will make such introductions. The same if a company is looking for support with Marketing or Legal needs. If there is at least a remote fit for a connection, SCS will deliver."
Next year, the Super Connect series will visit eight more locations across the length and breadth of the country, with a whole host of new speakers, pitches and opportunities. Kicking off 2020 in Leeds, SCS will turn their attention to AI and MedTech before moving on to Birmingham in February to tackle RetailTech and cyber security.
Next year, the Super Connect Series will visit the following locations:
29th January 2020 – Super Connect Leeds (AI & MedTech)
11th February 2020 – Super Connect Birmingham (AI, RetailTech, Cyber Security)
11th March 2020 – Super Connect Milton Keynes (AI & IoT)
29th April 2020 – Super Connect Edinburgh (AI, Smart Cities, MedTech)
6th May 2020 – Super Connect Cardiff (AI)
12th May 2020 – Super Connect Dublin (AI, FinTech, Cyber)
14th May 2020 – Super Connect Belfast (AI, IoT & Cyber Security)
4th June 2020 – Super Connect Basingstoke (AI, AR/VR, 5G)



Get super connected with Empact Ventures by signing up here.