Hays, the leading recruiting experts and global super connectors Empact Ventures recently hosted an event in Leeds as part of their Super Connect event series to inspire tech start-ups and scale-ups across the UK and Ireland.
The event brought the best emerging tech start-ups and scale-ups in Leeds together with decision-makers at corporates, brands, SMEs, non-profits, investors, grant bodies and funding providers to facilitate collaboration and funding support.
The theme of the event was AI and MedTech and it involved a series of innovative talks and pitches on this topic. It was sponsored by The National Institute for Health Research (NIHR) Surgical MedTech Co-operative, CityFibre and Future Kings.
Introductory talks were from Kosta Mavroulakis (Founder & CEO, Empact Ventures) and Zjak Grobbelaar (Business Director, Hays), which were followed by a talk from keynote speaker Chris Stening (Consumer Director, CityFibre). Ian Sharp (CEO, Future Health Innovation) and Harry Thirkettle (Chief Medical Advisor of mHealth) also held a fireside chat. The event also involved a discussion panel chaired by Stuart Clarke (Festival Director, Leeds Digital Festival). Speakers included Vee Mapunde (Programme Director, National Institute for Health Research MedTech Cooperative), Ian Sharp (CEO, Future Health Innovations), Pete Wheatstone (Patient Representative, National Institute for Health Research) and Dr James Gupta (Co-Founder & CEO, Synap).
---
---
Throughout the day, there were pitches from 11 AI, HealthTech and MedTech startups and scale-ups that were from around Leeds (e.g. Synap, SeeAI), the North (e.g. QV Bioelectronics) and across the UK (e.g. My mHealth, Medical Chain).
This event was part of a regional roadshow in 12 cities and towns across the UK and Ireland from October 2019 to June 2020 following a successful pilot in five areas including Bournemouth, Bristol, London, Cambridge and Leeds.
The next Super Connect event will be held in Milton Keynes on 11th March 2020.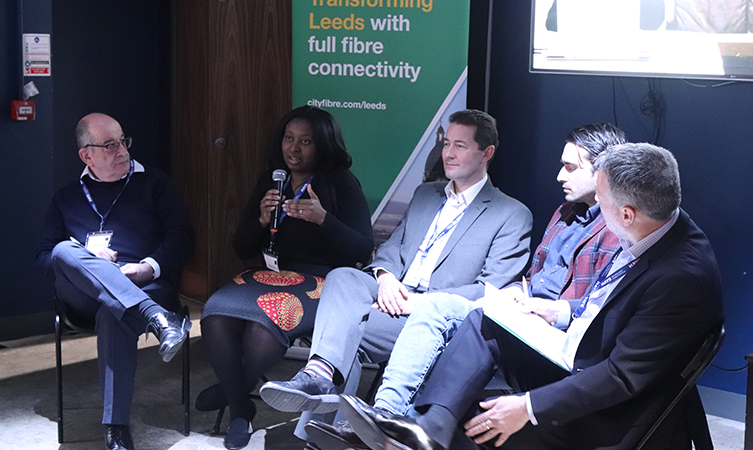 Kosta Mavroulakis, Founder and CEO of Empact Ventures, said: "We are delighted to have brought back the Super Connect Leeds event to the area following our 2 events in Leeds Digital Festival 2019. The turnout, energy and quality of those in the room from across the local ecosystem in the private and public sector from startups to healthcare organisations underlined the fact that Leeds is one of the top UK tech clusters for AI, HealthTech and MedTech."
James Milligan, Director of Hays Digital Technology, commented: "Our Super Connect Series event in Leeds was a unique opportunity for start-ups and scale-ups to access the businesses and decision-makers who will elevate their organisation to the next level. We hope this event series across the country will encourage professionals in businesses of all sizes with a passion for technology to better engage, connect and collaborate with others in the industry."
Zjak Grobbelaar, Business Director at Hays, said: "We had a fantastic reception to our Leeds event from the local tech community as well as the wider Yorkshire region. The event really highlighted everything that Leeds has to offer in terms of opportunity, talent, connections and initiatives. We are very proud here at Hays to be part of the ever-growing tech community here and look forward to the next Super Connect Series event."
Kim Johnston, City Manager at CityFibre said: "It was great to see so many inspiring start-ups and scale-ups come together to showcase new innovations in Health and MedTech at the Super Connect event. The Yorkshire Region has always had a strong tech ecosystem that supports emerging ideas, and we're proud to be a part of this collaborative digital revolution."
Vee Mapunde, Programme Director of the National Institute for Health Research Surgical MedTech Co-operative said: "This event exceeded our expectations. The Empact Ventures team were able to bring together start-ups and other organisations in the MedTech ecosystem which resulted in a very productive environment. We have certainly got our work cut out for us now with following up the discussions."
To find out more information about the Super Connect event series, please visit www.superconnectseries.com.
---
Press Release: February 2020