Patsy Nearkhou, marketing manager at Talkative tells us how contact centres can effectively cope with the current Covid crisis.
We are all living in unprecedented times. Although only a couple of weeks ago we were going about our daily business, our morning commutes, working at the office and socialising with friends and family, our present reality is far removed from this. Despite the swift and dramatic change of circumstances, businesses still have to communicate effectively with their customers. In many cases, this is more important than ever before.

With social distancing and self isolation, your customers rely heavily on having sleek, accessible digital channels in order to gather information or solve their problems. This can put increasing pressure on your contact centre, in multiple ways. Many agents are having to work from home, and contact centres are trying to cope with interaction volumes much higher than normal, causing a strain on contact centre efficiency and decreasing customer satisfaction.

However, there are ways to help improve this situation. Below are some effective ways to help you maintain and improve your contact centre efficiency, helping you to boost agent productivity whilst keeping them safe, and improving customer experience during these turbulent times.
Enable home-working with browser-based console
A home-working solution is paramount for many contact centres at the moment, so it might be time to consider implementing a browser-based solution to enable your agents to effectively, and safely, work from home. Talkative offers a browser-based contact centre console, allowing agents to remotely login and work from any location. Without the need for desktop apps or downloads, the cloud-based contact centre solution is easy to use and quick to set up. The solution can be used as a standalone software, or integrated seamlessly (and quickly) with your existing contact centre environments (such as Mitel or Salesforce Service Cloud).

With fast, remote deployment, the Talkative solution can be set up and ready to use within hours.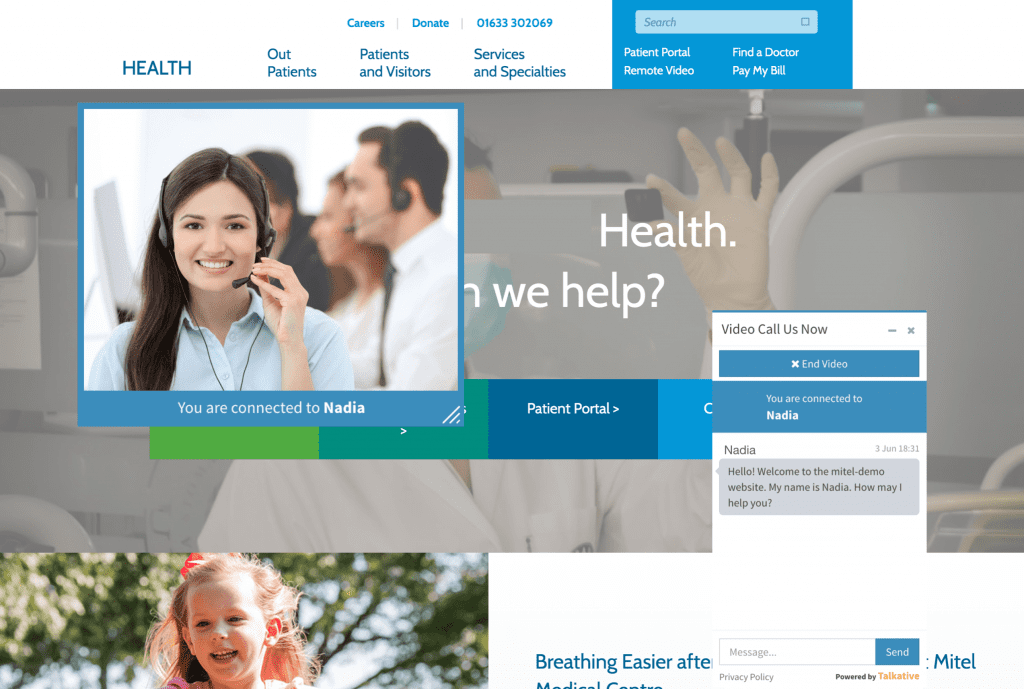 Agents can manage multiple interaction types concurrently, including website live chats, phone calls, emails and video calls through the single browser-based console. As well as this, supervisors can manage workflows, queues and agent performance through a centralised dashboard, helping to maintain overall contact centre efficiency even when working from home.

Offer embedded video to improve accessibility and service
Many customers will still require face-to-face communication, despite the need for isolation. Without the ability to schedule a personal consultation, offering video calls is a great way to offer this service remotely. This is particularly true for healthcare professionals, educational services and even online retailers.

There are multiple ways to use video as a contact channel. You can use a free video conferencing tool, such as Zoom, to schedule appointments and consultations with customers. This ad hoc approach is simple yet effective, especially for smaller scale businesses.

Alternatively, you can embed a video calling option into your website, allowing customers to escalate chats or calls into video calls whenever necessary. The video calls can then be routed into a separate queue where an agent or consultant can pick it up, as they would a phone call.

With either of these options, you don't need to worry about investing in expensive equipment either- the webcam and microphone on your laptop will work just fine. Video calling is a great way to improve your contact centre accessibility, for those who are hard of hearing or require more specialist care.

Remember to keep morale high
Contact centres are usually bustling, vibrant places to work. The whole team is normally together, making it a loud and dynamic workplace. Most contact centres will run incentives for their teams and provide communal rewards, like snacks and treats. All of this helps to keep the office culture positive and morale high, encouraging productivity and ultimately positively affecting contact centre performance.

Of course, remote working cannot be further away from what many agents are used to, making it easy for morale and productivity levels to drop. Schedule regular team conference calls, run exciting incentives and games to keep energy levels topped up. This can have a huge impact on the team's overall performance, as a positive and dynamic culture produces happier, more engaged agents, even if they are working remotely.
---