Are we entering the "no-code" age?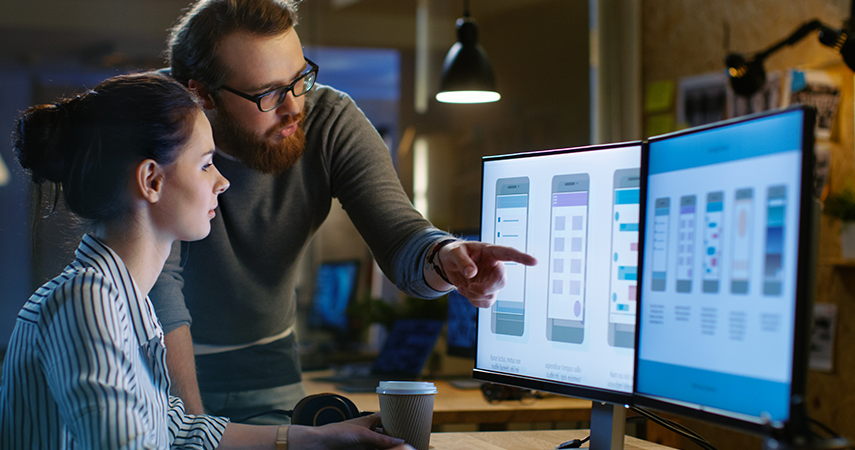 Vishwajith A, DronaHQ's Assistant Vice President of Sales, discusses the shift to low-code and no-code app development, and the rise of citizen developers

Marc Andreessen is a genius. He triggered the internet revolution with Mosaic and Netscape before going on to predict the whole "software is eating the world" thing back in the early nineties.
Some 2,500 years before that, the Greek philosopher Heraclitus wrote: "There is nothing permanent except change"
So, what do the words of an American software engineer and an ancient philosopher have to do with one and other? Let's take a look through the lens of contemporary business practices to understand the correlation.
We look back fondly on the 80s and 90s as a time when a trip to Blockbuster to rent the latest VHS was one of the highlights of the week. That faded slowly as on-demand services eventually sprang up, but we still watch movies – more so than ever, in fact – it's just that the model has changed. Amazon and Netflix are media titans, and their monthly subscriptions have made them immensely profitable. Thirty years ago, nobody could've predicted this.
The 90s also gave us the start of the internet revolution, a time when businesses were vying for an edge on their competitors, racing to design, build and host a website in the new digital landscape. It wasn't cheap, and with few 'experts' many people had to learn to configure the sites themselves. Nowadays, it is very different. It's affordable and quick, and there are an abundance of web designers on hand, should you need them, or 'out of the box' solutions like Squarespace and WordPress.
There are innumerable examples of how the internet has changed business models. Uber is one of the biggest ride-hailing company, and they don't own a single car. WeWork has one of the world's biggest real estate portfolios, and the ownership of those buildings is somewhat dubious. Airbnb is one of the worlds biggest hoteliers, but they don't own any hotels.
Andreessen and Heraclitus are interconnected. Software really is eating the world, and it is constantly changing the way in which it does so.


The rise of citizen developers
The world has gone digital, and now it aims to go one step further. One of the latest businesses trends surrounds digital transformation across every vertical and every sector. The main barrier of entry for an organisation is often the timeline and the budget, leaving businesses with something of a headache. Well, here's the painkiller: low-code and no-code platforms.
With the adoption of low-code/no-code platforms, organisations are seeing a lower barrier of entry for digital transformation. Boasting reduced development time, reduced cost and easier to find resources, low-code/no-code is marking a shift in the digital transformation landscape.
There is now a whole new world of "citizen developers", a non-existent phrase in the early 2000s, now becoming increasingly popular. Citizen developers are, fundamentally, non-IT people within an organisation, running IT-centric things. They can be project managers, marketers, salespeople, juniors or anyone else, really.


---
---

With the pace at which low-code/no-code (LCNC) platforms are evolving, it would be an understatement to say that, in the near future, every non-IT person will be able to build their own app without any coding.
The LCNC market is growing at a compound annual growth rate of 44%+ from 2017 to 2022. Between 2019 to 2021 it is expected to be even higher.
The reasons for adopting an LCNC platform are numerous, but the three that most compelling reasons are: to accelerate digital transformation, to reduce IT backlog and to reduce dependency on hard to hire skill resources.
Gartner estimates that by 2024, close to 70% of application development will be completed on an LCNC development platform. A study by Outsystems found that out of the survey respondents, 51% are already using an LCNC platform. 37% of users are satisfied with the frequency of software release compared to the 26% who use traditional methods, and 12% of users who use LCNC platforms say that their backlogs have improved.
The average cost of building an app is $150,000+. Complex apps can go above $300,000+. More than 75% of the apps take over 3 months to launch, and 40% take over 6 months. Forrester research estimates that accelerating business transformation will become the primary motivation to adopt an LCNC platform by 2020.


A whole new world of no-code app development
According to Gartner, by 2021 market demand for software application development will grow at a rate at least five times faster than the capacity to deliver it. This looks to be a huge bottleneck, meaning that current backlogs in app development are going to increase leaving few options for programmers to catch up, without including non-developers in the process. That's where LCNC platforms come in, greatly assisting developers to reduce the backlog and hit deadlines. Rather than fearing the rise of LCNC platforms, it will become normal to see traditional developers and citizen developers co-exist and mutually help in building apps better and faster.
DronaHQ believes in empowering citizen developers, as well as supporting developers, by creating a whole new ecosystem of app building, allowing businesses to unleash the immense potential of low-code/no-code app development.