In this week's Founder Feature, we're talking to Alex Hughes, CEO & Co-founder of Binumi Pro.
For many businesses, cost-effective and high-quality videos are hard to come by, so too are the expensive cameras, editing software and other tech needed to turn them into impactful information. However, most of us are equipped with a smartphone, and this is what Alex Hughes recognised when he founded Binumi Pro, a London-based company making high-quality video production affordable for businesses of all sizes.
Read more about Alex's founder journey below.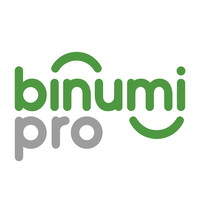 ---
Q: Could you tell us about your company and what you're striving to achieve?
A: Binumi Pro is committed to democratising video, ensuring that everyone can quickly and easily create and distribute video content – be it a marketing team for social channels, an internal comms team to create induction videos, or a finance team introducing a new payroll system. Or simply a smaller organisation for whom existing solutions are just too expensive and slow.
---
Q: What made you decide to take on the challenge of founding your business?
A: After 15 years in the event filming and production business, myself and my co-founder Christopher Bo Shields noticed that clients were increasingly asking us to integrate their self-shot smartphone footage into videos. We realised that the tech in smartphone cameras is able to deliver footage as high quality as professional video kit, but with the added opportunity of capturing the moment in a way never previously possible. With stablisation, better lighting and professional editing, you've suddenly got pro video production in the hands of the people most suited to creating that content.
---
Q: What is the core technology driving your start-up's product/service?
A: Binumi Pro is a video content platform that allows companies to create their own video using our propriety filming kit and app. Shot footage goes straight up to the cloud which is edited the same day by our team of in-house professional editors and returned fully brand compliant. We are democratising video by enabling professional levels of video content to be created way more cost-effectively.
We've launched a scalable video storage ecosystem called The Reef to allow organisations to create, collaborate and curate their content securely. In the old days video was handled by the marketing department handing a brief to a production company. But now everyone across the company needs to have access. The Reef responds to that need by offering a new way to use video across a business – it's a place where video can live and breathe.
---
Q: Who are you and what is your story?
A: Alex Hughes, CEO and Co-founder
Alex started his career working in digital platform strategy at brands like ITV and MTV, before entering the world of consultancy. In 2006 he partnered with Christopher Bo Shields to launch Amigo, an agency providing dedicated creative services and facilities to the events industry, including video production. Binumi Pro was created to deliver professional, on-brand, timely video content in an instant.
A: Christopher Bo Shields, Chief Creative Office and Co-founder
Having started his career in AV engineering, Christopher has led video production agencies for 20 years. In 2006 he partnered with Alex Hughes to found Amigo, an agency providing dedicated creative services and facilities to the events industry, including video production. Using his experience in video production he co-founded Binumi Pro to deliver professional, on-brand, timely video content in an instant.
---
Q: Tell us some of the biggest obstacles you've had to overcome?
The biggest challenge for us has been client on-boarding. We have an academy that allows clients to learn best practice for shooting on a smart phone. This has been so successful we are running over 20 a week. We are now making the academy an online course that people can use to educate their wider teams.
---
Q: What's most exciting about your traction to date?
The most exciting thing for us is seeing clients make multi-location and multi-camera videos. The platform allows users to shoot videos across a number of countries and still have the final product compiled and passed through compliance on the very same day. Something that normally took weeks is taking hours and at a fraction of the cost. Also, the levels of creativity our clients are demonstrating can be quite awe-inspiring. We were used to being behind the cameras and the sole guardians of creativity, but now the keys to the car really have been handed over!
---
Q: Do you have a plan B if your venture isn't successful?
We launched Binumi Pro after years of leading a highly successful video production company, which we currently run alongside Binumi Pro. We are also developing a new solution for virtual events which will be launched very soon.
---
Q: How much money did you need, how easy it was to raise, and how much money did you really need (like if you did it again how different would funding would be)?
It took three years of development and hundreds of thousands of pounds of self-funding, along with the help of some existing clients who recognised what we were trying to achieve. We've thrown a lot into bringing their dream to life.
---
Q: Do you see this as UK centric or will you conquer the world by going global?
The beauty of Binumi Pro is that it works as a Software as a Service model, so it can be used anywhere in the world, at any time of day, with no variation in service levels. This is a truly global offering.
---
Q: What's one piece of advise you'd give to budding innovators taking the same journey?
I have been making corporate videos for 20 years so I really trusted my gut feeling of what direction to follow. If you know your industry and marketplace, embracing blind faith isn't always a bad thing!
---
Learn more about Alex Hughes and Binumi Pro here: www.binumipro.com
---