Raul Perdigão Silva, Global Head Inside Sales at Pipedrive shares his advice on how to remain sensitive to businesses and individuals as we progress through this pandemic.
With lockdown measures relaxing nationwide, some salespeople might be preparing for a return to the status quo. However, given how drastic an effect the pandemic has had on consumer behaviours, it is unlikely that we are going to see sales return quickly to the way it was before the pandemic. Just as salespeople were forced to adjust to techniques during the pandemic, they will also need to acclimatise to the new obstacles presented by lockdown lifting. As outlined by Pipedrive's latest webinar poll, 61% of businesses have modified their offering in response to the crisis (169 respondents). And with the majority of respondents thinking that the current 'sales crisis' will last another 4 – 6 months, it is likely that more change is still needed as the sales crisis continues.
In light of this, salespeople need to reflect on how they can develop their offering after the crisis and what new tactics brought on by the pandemic will help moving forward. Salespeople need to truly understand customers and be sensitive to their current situation. The below details how salespeople can overcome the economic crisis by focusing on empathetic practices.
Don't be a pretender
If a salesperson were to phone a customer they had never spoken to before and ask how their family is, most people would see this as disingenuous. Instead, the salesperson should try to bring value to cold prospects by offering something that solves an immediate need. While this shouldn't be done in a purely transactional way, customers will prefer transparency over false interest in their personal lives. By sincerely trying to offer a product that can help them, you are engaging in a more human interaction they can positively respond to. If you can, offer free resources to help them at this time or insights about issues facing their industry – that will always be appreciated. Conversations will naturally develop from there and create positive associations with yourself and company.
Be genuine
If you already have a relationship with a customer then it is completely appropriate to ask how their family or business are. Personalised messages that are appropriate for the relationship will be greatly appreciated and have far more cut through than generic ones. However, this should be done at the discretion of the salesperson. Not all customers will appreciate this type of conversation – use intuition to decide if this is something they will respond positively to. When you really know a person, it is far easier to treat them with compassion and understand their needs and, thus, what you can offer them which may be of interest. As such, salespeople should ask (1) how urgent are the customer's needs? and (2) how strong is your relationship? Using these two criteria, the diagram below from Pipedrive shows recommended actions to engage customers and develop sales during turbulent economic times.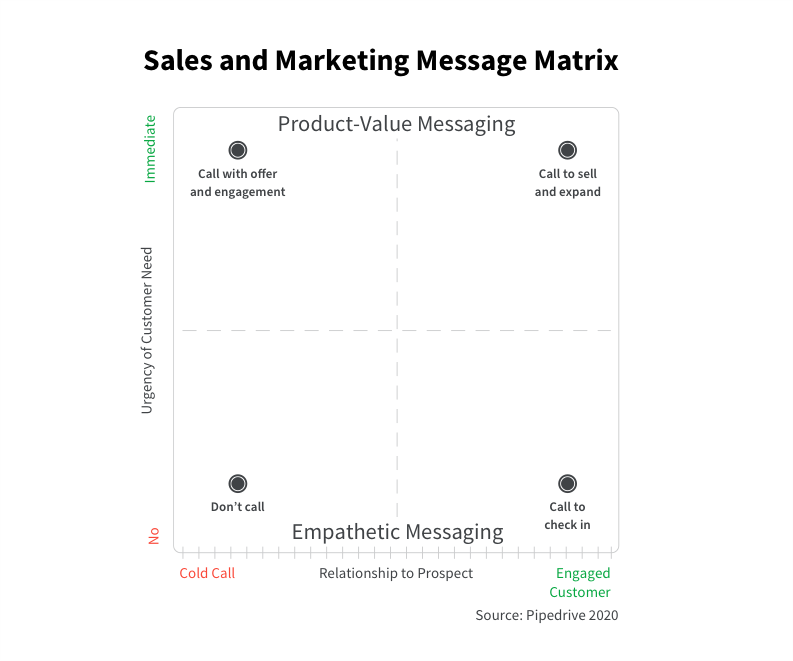 Don't call
If your potential customer is completely unknown to you, this is where the most empathy is needed. In this context more, salespeople need to be attentive to the customer's likely scenario. Reach out with a friendly email introducing yourself and explaining your offering but don't pick up that phone, it's not appropriate to be cold calling. If they respond and engage, give them a call but unless they do, leave them be.
Call with offer and engagement
If you don't know the potential customer but your prospecting indicates that the customer has an immediate need for your product, there is a case to phone them. However, in line with the empathetic practices outlined above, you should ensure you are phoning with an offer that provides clear value to them. It's essential to ask the right questions and listen deeply to their responses in order to present how your offering could be a solution to their pain points. Though they might have a clear need for your product, this does not mean they will respond to generic pitches that don't consider them as an individual.
Call to check-in
If you have a strong relationship with your customer but they might not presently have a need for your product, there is still good reason to call them. However, reaching out at this time isn't about selling – this would be without tact – the objective is to strengthen your relationship for potential future sales.
Call to sell and expand
If you have a working relationship with the customer and research indicates they have an immediate need for your product, a call is definitely warranted. It is appropriate to engage to ensure they have a need for your product while also understanding them on a personal level. But, don't force a sale based on familiarity. If they don't show interest, the call was simply worthwhile to further that relationship.
In conclusion, at this time – and beyond – empathy should prevail. It is hard to build trust without face-to-face meetings and care needs to be taken that salespeople and customers see each other as real people. More than just showing your moral values as an organisation or individual, an empathetic approach will lead to more sales. It is important to be aware of your customer's needs in any context, but now more than ever going the extra mile to engage your customers will pay dividends.