Since Bitcoin burst onto the scene and started a revolution in 2009, a lot has changed in the cryptocurrency landscape, and 2020 looks set to be an important year for digital assets. Yet still, there's no shortage of myths and misconceptions surrounding crypto.

As part of our company profiles series, we interviewed Shaun Kemp, Marketing Lead at CoinBurp, to discuss how they are challenging common misconceptions, how crypto stacks up to traditional currencies in terms of safety and its role in the ongoing Brexit saga.

---

Q: Could you start by giving us an overview of CoinBurp? When was it founded and what's your USP?
A: CoinBurp CEO and co-founder, Peter Wood originally setup up a profitable brokerage, BitBroker. BitBroker saw a £100 million turnover and a £3 million profit in just 4 years, which resulted in the creation of the self-funded CoinBurp. CoinBurp came to market in June 2019 with an aim to fill a gap within the cryptocurrency market and where Peter Wood looks to replicate his previous success and implement his knowledge.
Peter Wood envisaged a platform that enables everyone to be able to buy and sell cryptocurrency with ease, coupled with an on-boarding process that is completed in under 20 minutes. The simple 3-step trade form makes the buying and selling of cryptocurrency easy for anyone. The common misconception is that cryptocurrency is only for the technically minded, with CoinBurp that is not the case.
CoinBurp looks to disrupt the market by targeting unconfident retail traders and provide a trading platform for everyone. Our long-term vision is to become an international brand and part of the banking ecosystem.
CoinBurp addresses common industry pain points by providing services that exceed our competitors which include; a minimum deposit of £5/€5; free deposits; instant GBP deposits; no trading fees; onboard within 20 minutes; and a 5-star Trustpilot rating.


What challenges in crypto trading does CoinBurp address?
Through common perception and our own research, we have identified that simply registering onto a competitors platform and to buy and sell crypto isn't as easy as some make out. CoinBurp's registration process is quick and easy, with precise and efficient KYC checks.
Education is another hurdle CoinBurp aims to jump and put at the centre of everything we do. We have a continuingly growing FAQ's page, provide free eBooks, constant social media posts and a one-on-one customer support system to provide a high level of service for customers which is very much lacking in the UK market.
A more obvious challenge is the lack of transparency within the crypto sector as a lot of customers don't actually know who they are dealing with. CoinBurp is a growing company in the heart of London with the entire team displayed across social media and our website.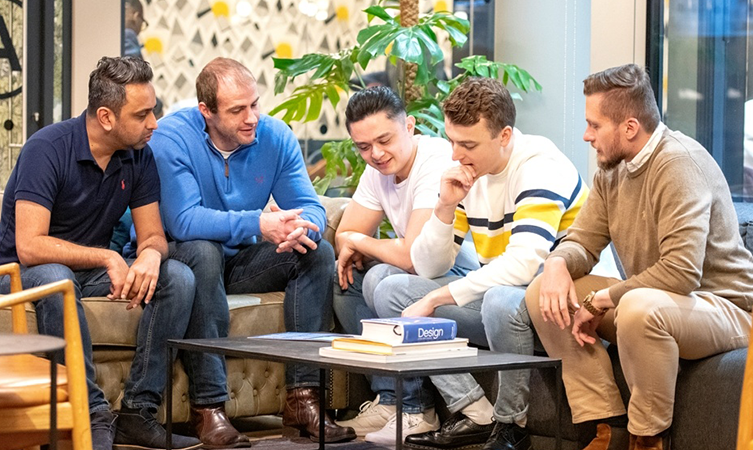 Could you tell us how the looming threat of Brexit, be it deal or no deal, impacts the crypto contingent?
When it comes to the public services sector, yes Brexit will have a profound effect on affiliated businesses. If Brexit were to happen, CoinBurp has expanded services and offerings to the point where such events will not impact us compared to other sectors.
We are based in the heart of the City of London which is perceived as the Fintech Capital of Europe. It has an ever-growing number of start-ups and established companies, all of which have a positive impact on the city. Job creation has increased by 61% over the past year according to recruitment firms across London. This growth makes financial technology, including CoinBurp, to be considered the fastest growing sector in the London economy.
Brexit has given Fintech companies and the investment community pause for thought, with many risk factors to consider. This has not hindered growth by any means but still provides uncertainty in Europe whilst negotiations continue in the weeks, months and possibly years ahead.


Does crypto offer a level of safety where uncertainties mire traditional financial markets?
The most recent knock to the reputation UK banks came in the form of a Which? report, which found that major banking brands have been hit by no less than five IT meltdowns a week over the last year. This has impacted millions of customers; shutting them out of their internet banking, disrupting online payments and even leaking personal data.
RBS and Santander came out as the worst, according to the Which? report, suffering 18 breakdowns each out of a total of 265. Runners up include high-street staples: Barclays (17), Tesco Bank (16) and First Direct (15). TSB had suffered just two meltdowns in the past year, but the severity of them led to a damning report, critical media attention and ultimately an announcement that the bank is closing one in six of its branches in the UK.
Meanwhile, cash machines are nearly non-existent in some parts of the country – and whichever way you look at it, it's clear that these traditional financial institutions are crumbling around us.
As a result, consumers are increasingly looking towards alternative means of money management. Fortunately, a legitimate, legal and investable option has arisen in the past decade: cryptocurrency.
Cryptocurrency allows users to invest in a digital asset which allows for financial independence, maximum security protecting one's assets and full autonomy of personal finances. With this in mind, there is no surprise that the number of blockchain wallet users has increased from less than nine million in 2016 to well over 42 million in 2019. And, its surging popularity is all set to continue.


---
---

Have you had to prepare for Brexit in any way?
CoinBurp has started increasing our offerings thus making our service available to a wider audience and not limiting ourselves just to the UK market.
Regarding data, we have always ensured that all customer data is kept within an encrypted database and continue to undergo strenuous testing to ensure no unlawful action can occur on our website.
Peter Wood, CoinBurp CEO added, "CoinBurp is watching developments closely, and will ensure we continue to provide our customers with first-class user experience and service".
The current UK cryptocurrency market is unregulated and sees a lot of companies taking advantage of this. We do our utmost to comply as an operating financial institution and in preparation for the FCA to start regulating crypto within the UK.


What does the future look like for CoinBurp?
CoinBurp has had a successful year since launching in May 2019, onboarding 2500+ new customers and facilitating 2500+ trades, adding EOS and the Euro to our list of currencies, expanding our website and improving our customer journey.
We are now crowdfunding through Crowdcube and look to raise £300K + to improve our customer experience, introduce new payment methods, detailed price charts and expansive marketing to acquire new customers and educate those looking to get involved but don't have the experience or knowledge to do so.
With the funds that we raise we look to deliver an extensive marketing action plan to drive new customers to the CoinBurp trading platform. We will continue to upgrade our technology stack and grow our team with industry-leading talent.


---
Learn more about CoinBurp on LinkedIn, CrowdCube or their blog.