Bodyswaps Joins HTC's VIVE X

Bodyswaps, the VR soft skills training specialist, announced its backing from HTC's VIVE X, joining the most active investor portfolio in XR with over 100 companies in the Vive X portfolio. Now a VIVE X company, Bodyswaps will receive additional funding and business support enabling their ambitions to revolutionise soft skills training.
"With Vive X's support and investment, we plan to make our solution accessible on more platforms, expand our library of soft skills simulations and develop our analytics solutions to provide clients with behavioral data at scale" Christophe Mallet, Co-founder, BODYSWAPS
"We are pleased to announce Bodyswaps as one of the latest startups in Europe to receive the backing of VIVE X. We have had a focus on Enterprise VR with our latest group of investments and believe soft-skills training is an area with particularly high growth potential. Bodyswaps stood out because of its innovative and scalable approach to VR learning that cuts across many different industries." Dave Haynes, Director of Vive X & Developer Ecosystem, HTC Vive.
---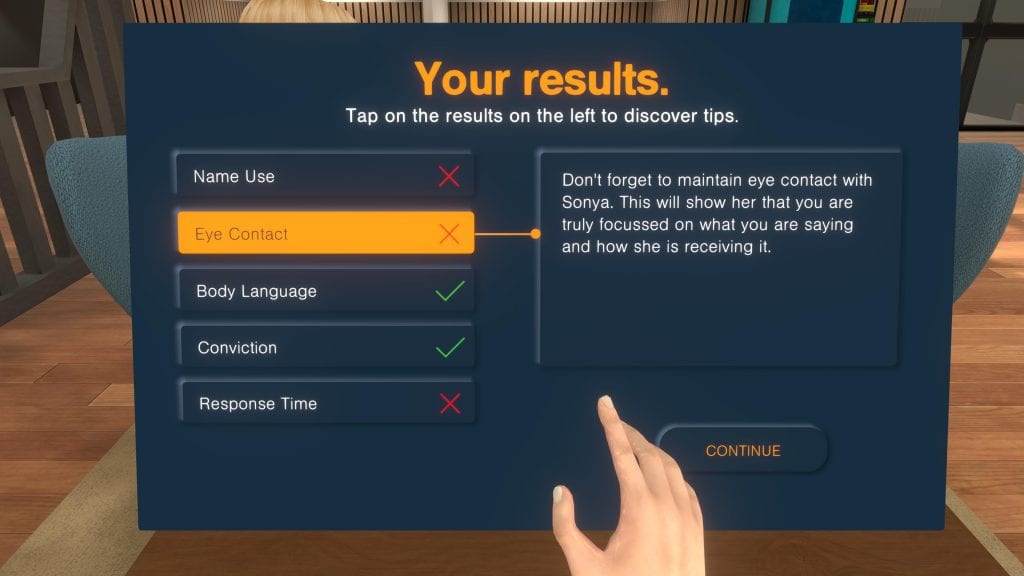 ---
Bodyswaps is a true UK immersive tech success story, with co-founders Julien Denoel and Christophe Mallet conceiving the idea at Digital Catapult's immersive tech accelerator, Augmentor. After being commissioned by the Humanitarian Leadership Academy to create the award winning Safeguarding VR: Bodyswaps is on the way to becoming one of the leading pioneers within the VR training sector. In addition to their newly acquired funding, from not only Vive X but also Innovate UK, Bodyswaps plan to offer a software as a service product to transform remote soft skills training at scale.
As of June 2020, Bodyswaps will release their first batch of off-the-shelf soft skills simulations, allowing learners to practice listening, communication and inclusive management skills at any time and from any location. The new platform is the only remote VR learning tool to create innovative role-play scenarios using AI where learners can act with their own voice and swap perspectives to watch themselves back and learn through self-reflection. Results so far show users reporting unprecedented levels of engagement as well as a significant improvement in confidence to apply newly acquired skills to real world situations.
Bodyswaps will join a prominent group of AR/VR visionaries and entrepreneurs. Vive X's mission is to help cultivate, foster and grow the global AR/VR ecosystem by supporting startups and providing them with operational expertise and funding. In addition to equity investment, Vive X works closely with participating companies to help them operationally, including through commercial deals.
---