New Dell EMC PowerStore Delivers High-End Enterprise Storage Features at Midrange Price Point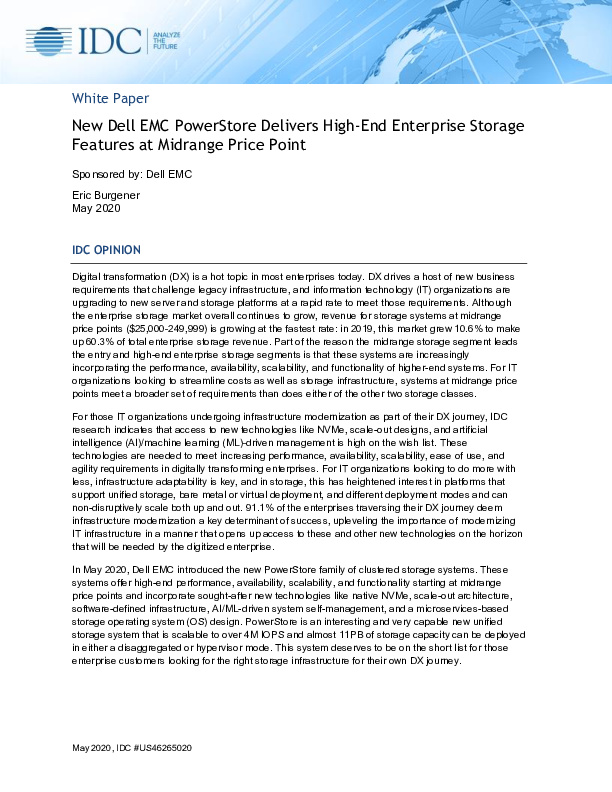 Digital transformation (DX) is a hot topic in most enterprises today. DX drives a host of new business requirements that challenge legacy infrastructure, and information technology (IT) organizations are upgrading to new server and storage platforms at a rapid rate to meet those requirements. Although the enterprise storage market overall continues to grow, revenue for storage systems at midrange price points ($25,000–249,999) is growing at the fastest rate: in 2019, this market grew 10.6% to make up 60.3% of total enterprise storage revenue.
Part of the reason the midrange storage segment leads the entry and high-end enterprise storage segments is that these systems are increasingly incorporating the performance, availability, scalability, and functionality of higher-end systems. For IT organizations looking to streamline costs as well as storage infrastructure, systems at midrange price points meet a broader set of requirements than does either of the other two storage classes.
For those IT organizations undergoing infrastructure modernization as part of their DX journey, IDC research indicates that access to new technologies like NVMe, scale-out designs, and artificial intelligence (AI)/machine learning (ML)–driven management is high on the wish list. These technologies are needed to meet increasing performance, availability, scalability, ease of use, and agility requirements in digitally transforming enterprises. For IT organizations looking to do more with less, infrastructure adaptability is key, and in storage, this has heightened interest in platforms that support unified storage, bare metal or virtual deployment, and different deployment modes and can non-disruptively scale both up and out. 91.1% of the enterprises traversing their DX journey deem infrastructure modernization a key determinant of success, upleveling the importance of modernizing IT infrastructure in a manner that opens up access to these and other new technologies on the horizon that will be needed by the digitized enterprise.
Learn more about Dell Technologies solutions powered by Intel® Xeon® Platinum processor