Why Corinium's Data & Analytics Live event is a must-attend this June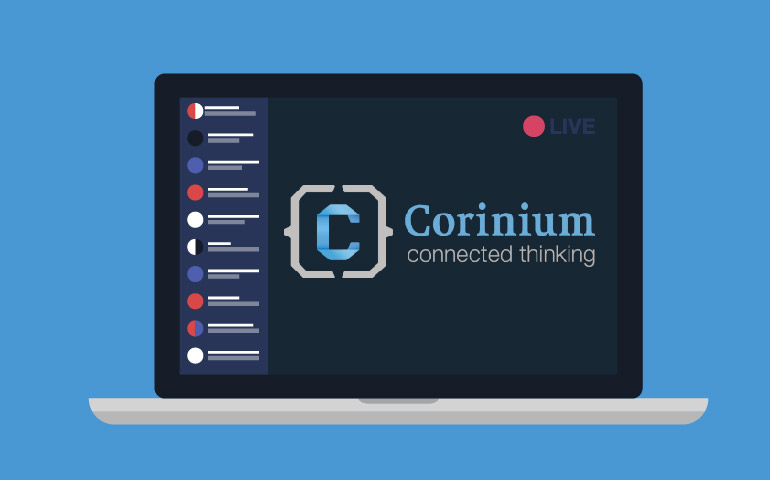 Corinium Intelligence's Data & Analytics Live: Europe will run from 22-23 June 2021. Top Business Tech brings you the low down of the event.
What a year it has been. As the world went into national lockdowns and remote work, the pressure on technology to accelerate has been more critical than ever. The driving force behind personalisation and expansion in technology has always been data and analytics. Yet, so many organisations are far from truly harnessing their own data to its full potential. Corinium Intelligence has launched Data & Analytics: Live Europe 2021, a chance for decision-makers across all sectors to connect via its virtual platform from 22nd June to 23rd June to meet this growing demand head-on.
What to Expect
The two-day event will provide analytics leaders with the chance to connect and collaborate and embed data analytics into digital transformation strategies to drive value. There will be a wealth of speakers at the event from such as ENGIE, BNP Paribas Fortis, Facebook, Siemens, Condé Nast and many more, who will share insights on the democratisation of data, scaling solutions, and future innovation.
The perks of a digital event
Digital and hybrid events are quickly becoming the norm, and quite right too; there are many benefits to be had:
The Virtual Interactive Expo has downloadable content and a live chat for delegates to interact.
Delegates can stream talks in real-time or on-demand.
Delegates can win prizes and play interactive games and take part in social media engagements and contests.
A digital event provides delegates with the chance to see more speakers back to back and engage with them via Q&A sessions.
Exclusive VIP discussions by Elite invite-only.
Delegates, sponsors and speakers will have the chance to break off into 1-2-1 meetings and group sessions
The event will have side events and online workshops for representatives to collaborate better.
Events:
Tuesday 22nd June
8.30 – 9.00am BST: Keynote Presentation: No Governance? No Democracy! – Building the Foundations of Becoming Data-Driven Within Your Organisation
9.00 – 9.30am BST: Keynote Presentation Reserved for Oracle
9.30 – 10.15am BST: Panel Discussion: Don't Jump the Gun: Why Great Foundations are a MUST When Scaling Your Data Programmes
10.15 – 10.45am BST: Speed-Networking Session
10.45 – 11.15am BST: Employing Machine Learning and Data Science to drive Data Curation
11.15 – 12.00pm BST: Panel Discussion: Learning to Love the Machine: Mythbusting, Building Trust and Managing Expectations of AI Benefits
12.00 – 1.00pm BST: Networking Break | Invitation-Only Virtual Roundtable
1.00– 1.30pm BST: From Finance to Every Function: Exploring Data-Driven Transformation with Genpact and Coca-Cola
1.30 – 2.00pm BST: Breakout Presentation 1: Data Literacy as the Key to a Data-Driven Organisation; Breakout Session 2: Implementing a Distributed Data Stewardship Model
2.00 – 2.30pm BST: Networking Break | Speaker Meet & Greet
3.00 – 3.45pm BST: Panel Discussion: Maximising Value from Your AI Strategy: Creating Reliable and Scalable Models
3.45 – 4.30pm BST: Virtual Roundtable 1A: Data Avengers Assemble: Building a Great Team
4.30 – 5.30pm BST: Happy Hour | Speaker Meet & Greet
Wednesday 23rd June
8.30 – 9.00am BST: Keynote Presentation, Accelerate the Value of Your Data and Drive its Monetisation
9.00 – 9.30am BST: Don't Put the AI Cart Before the Data Horse: Putting AI in Perspective
9.30– 10.15am BST: Panel Discussion: How Can You Master Creating an Agile and Secure Cloud for your Data Storage?
10.15 – 10.45am BST: Speed-Networking Session
10.45 – 11.30am BST : Panel Discussion: Optimising Customer Experience Beyond Data
11.30 – 12.00pm BST: Breakout Presentation 1: Creating A Governance Strategy for Machine Learning Deployment; Breakout Presentation 2:Building the Data Village: The Organic Way or the Hard Way
12.30 – 1.30pm BST: Networking Break (Invitation Only Virtual Roundtable) Creating a Culture of Safe Data Sharing to Accelerate Insights
1.30 – 2.15pm BST: Panel Discussion: Using Data Science to Deliver Fantastic End-To-End Personalisation
2.15 – 2.45pm BST: How Active Data Governance Unlocks Valuable Insights and Creates Efficiencies
2.45 – 3.15pm BST: Networking Break | Speaker Meet & Greet
3.15 – 4.00pm BST: Virtual Roundtable 2A: Maintaining Data Quality to Maximise Value from Your Data; Virtual Roundtable 2B: How Do We Govern Data Democratisation?; Virtual Roundtable 2C: Unlocking the Real Possibilities for ROI Using Data Analytics
4.00 – 5.00pm BST: Happy Hour Speaker Meet & Greet
Speakers
The list of confirmed speakers is extensive:
Blake Brannon, Chief Strategy Officer, OneTrust
Edosa Odaro, Head of Data, AIG
Jack Lampka, Head of Data Science, MSD Deutschland
Rob Cowell, Principal Technologist, Pyramid Analytics
Jerome Amand, Director of Finance Process, Data and Integration, The Coca-Cola Company
Amaresh Tripathy, Global Analytics Leader, Genpact
Victor Azria, Director of Data, JCDecaux
Devina Nembhard, Co-Founder, Black in Data
David Langton, VP of Product, Matillion
Louise Maynard-Atem, Data Insights Lead, GBG
Sadiqah Musa, Co-Founder & CEO, Black in Data
Eddie Short, Chief Data & Analytics Officer, 02 (Telefónica)
Francisco Montalvo, Chief Data Officer,Telefónica Group
Thierry Grima, Group Chief Analytics Officer, ENGIE
Tonia Sideri, Head of AI & Analytics, Novo Nordisk
Niladri Dutta, Global Director, Head of Data Strategy & Execution (MS-IT & ADM), Ericsson
Maria Requeman Fontecha, Head of Data Science, Credit-Suisse
Unai Obieta Jimenez, Chief Data Officer, The Adecco Group
Jerome Vandenbesselaer, Chief Data Officer, SGS
Jo Coutuer, Chief Data Officer, BNP Paribas Fortis
Ole Busk Poulsen, Head of Data Governance & Information Architecture, Nordea
Raffaele Lillo, Chief Data Officer, Axa Italia
Javier Donoso Rebuelta, Global Head of Data Insights & CRM, BBVA
Christian Koblmiller, Chief Data Officer, International Committee of the Red Cross
Muhammad Saleem, Head of Data Architecture, BAE Systems Applied Intelligence
Daniel Knüsli, Head of Analytics Solutions, Swiss ReInsurance
Luca Giordano, Head of Data Governance, Intensa Sanpaolo
Susan Wegner, VP, AI & Data Analytics, Lufthansa Industry Solutions
Sébastien Foucaud, Chief Data Officer, HRS
Maria Tarasidou, Global Data Programme Manager, Facebook
Henning Ochsenfeld, Head of Industrial AI, Siemens
Johanna Sarviharju, Chief Experience Officer, Reima
Sid Shah, Global Head of Analytics & Insight, Condé Nast
Vipul Parmar, Global Head of Data Management, WPP
Anwar Mirza, Data Strategy & Governance, FedEx Express (Netherlands)
Hiek Van der Scheer, Chief Analytics Officer, AEGON
Bram Nauts, Data Governance & Data Strategy, Chief Architect & Data Management, ABN AMRO Bank
Camilla Björkqvist, Global Data & Analytics Transformation Director, Danone
Manuel De Francisco, Global Head of Analytics, eBay
Natalia Lyarskaya, Chief Data Officer, ZestMoney
Richard Benjamins, Chief AI & Data Strategist, TELEFONICA
Nirali Patel, Director of Data Analytics, Openreach
Martin Squires, Director, Advanced Analytics, Pets at Home
Nick Blewden, Head of Data Product Development, Lloyd's of London
Premal Desai, Head of Data & AI, The Gym Group
Laura Varsandan, Global Head of Analytics, Gett
Anna Baecklund, Head of Data Science, ICA Gruppen
Minna Kärhä, Data & Analytics Lead, Finnair
Charles Southwood, Regional VP, Northern Europe & MEA, Denodo
READ MORE:
Corinium's Five Reasons to Attend Data & Analytics: Live Europe:
1. Learn from the most successful leaders in the data world, and explore the strategic issues that matter to you. We have years of experience in creating data events that deliver genuine insights.
2. Enjoy the convenience of an online event. There's no need to spend time & money on travel, no time out of the office, and you can fit the event around your schedule or catch up on-demand.
3. Interact with the data community's leading lights. Our technology and live broadcasts mean you can put your specific pain points & questions to our expert speakers, and get direct, actionable answers.
4. Hear case studies from Europe's most experienced data & analytics leaders. Learn their actionable takeaways on what works and what doesn't for the challenges you face.
5. All for free! There's no fee to register and no travel costs. All you need is access to the internet, from anywhere in the world, on any device!
Click here to register now as Top Business Tech's VIP members.
For more news from Top Business Tech, don't forget to subscribe to our daily bulletin!